Valencia fans throw stuff at Barcelona players, Leo Messi rages
October 23, 2016
You throw seeds, Messi scores winners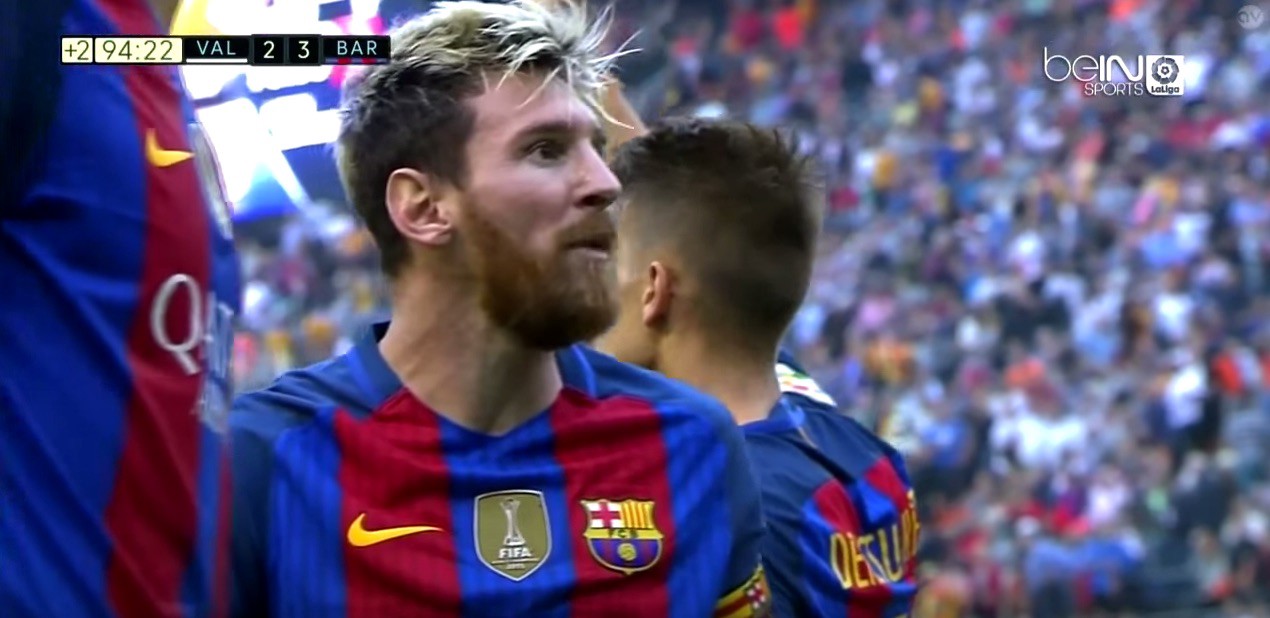 It's not unusual to provide guests in your home with snacks and beverages, but Valencia fans did this to Barcelona players in a manner that was decidedly more hostile than hospitable.
It started when former Valencia player Paco Alcacer, who joined Barca in a €30 million transfer last summer and was greeted with shouts of "traitor" and "mercenary" before the match, was hit with a bag of sunflower seeds as he walked to the bench.
https://twitter.com/JaaviRcd99/status/789869736049909760
This situation was more awkward than unsettling, though. The man who threw the seeds appeared to be more intimidated than his target and he nearly crawled out of his skin when Jeremy Mathieu tossed the bag of seeds back in his direction. If human beings could will themselves out of existence, he would have done it in this moment.
For a bit, things went better for Valencia on the pitch. After Lionel Messi opened the scoring in the 22nd minute, the home side made a comeback with two goals in a span of four minutes. But Luis Suarez went on to equalize and Messi gave Barca a 3–2 win by converting a penalty during stoppage time.
Losing in this fashion only angered Valencia supporters even further, though, prompting them to throw bottles at the celebrating Barca players.
https://twitter.com/AwayDaysVideos/status/789960030552555520
Neymar and Suarez went down clutching their heads, which infuriated Messi to the point where he turned to the crowd and cursed them out.
https://www.gettyimages.com/license/617272026
A few years ago, Messi might have let his goal do the talking and tended to his injured teammates. But this is the new Messi. The bleached hair and heavily tattooed Messi. And this Messi is ready to throw down any time and any place. So keep your bottles and your sunflower seeds to yourself. Because he will fight you.

Contributors
Howler
TAGS
WELL, IT DEPENDS ON WHAT YOU MEAN BY "FREE."
Enter your best email for full access to the site.