The legendary origins of Columbus' demonic tifo for USA-Mexico
November 12, 2016
The first and best tifo to be based on a DT post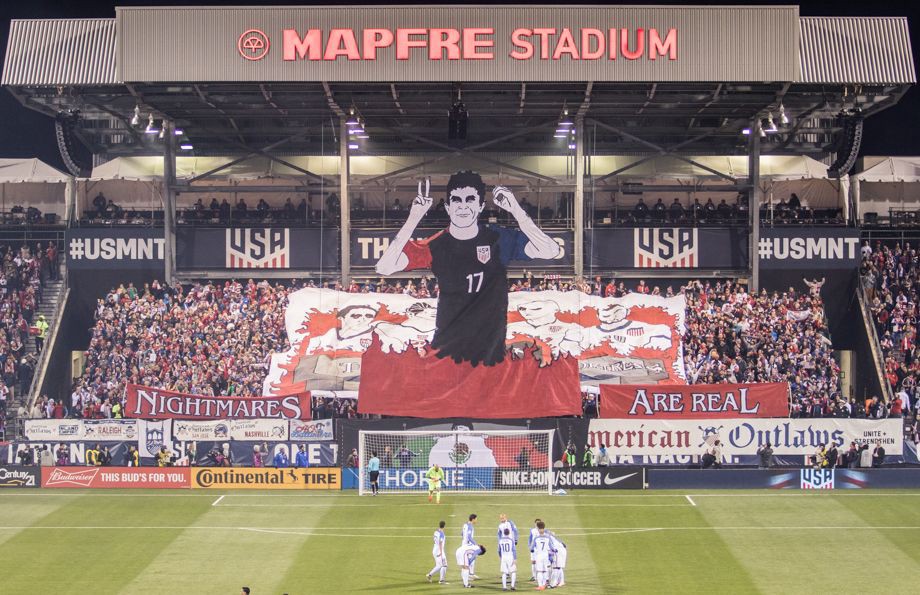 For US fans, the best part of Friday night's 2–1 loss to Mexico was the fearsome tifo featuring Christian Pulisic hoisted in the America Outlaws' end of Mapfre Stadium before kickoff. What made it especially incredible for Dirty Tackle readers, and myself in particular, is the fact that it was inspired by a spooky DT post from our more exclamation pointy days in 2013 about Columbus, Ohio's "dos a cero" tradition.
http://sports.yahoo.com/blogs/soccer-dirty-tackle/terrifying-mexican-football-legend-columbus-ohio-204636753–sow.html
The section of the tifo behind demon Pulisic reminding Mexico of all their 2–0 losses in Columbus with his fingers featured the words "tiny demon fortress" and stars of previous dos-a-cero matches Josh Wolff, Oguchi Onyewu, Michael Bradley, and Landon Donovan—all of whom are referenced in "The terrifying Mexican football legend of Columbus, Ohio." The phrase itself comes from this section:
They strategically placed Columbus, Ohio in a territory so nightmarishly bland that even They call it "flyover country." It is a territory that only exists to make life miserable for Mexican footballers. And it's there that They built their first "soccer specific stadium" — a term that loosely translates to "tiny demon fortress." A David-like hovel that can only fit less than 25,000 people in a land of Goliath sporting cathedrals. Few Mexicans have been inside the Columbus Demon Fortress, but those who have say that it is a horrible place where the chants of "USA! USA!" penetrate the skull with their thunderous volume and maddening repetition. It contains rows of metal benches that offer terrible lumbar support and the scoreboard spews flames and black smoke when it has been too long since the last non-believer has been offered as a sacrifice.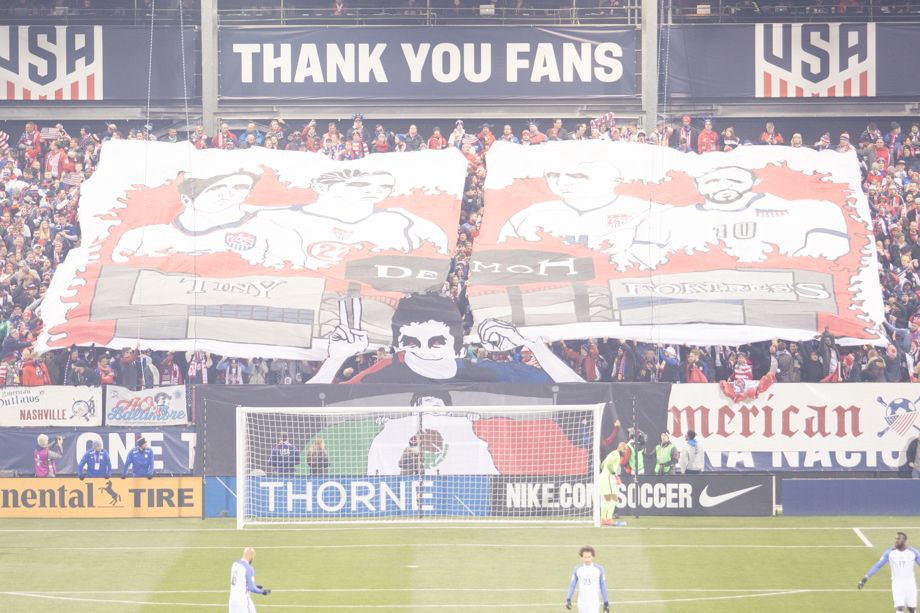 The tifo was designed and brought to life by the extremely talented and admirably dedicated Columbus Crew fans at #TIFOSWEAT.
#DosACero throwback tifo for @AmericanOutlaws (is that a 2-0 Pulisic sneaking in at the end?) #USAvMEX pic.twitter.com/Mg4rJOrdhN

— E Pluribus Loonum (@EPluribusLoonum) November 12, 2016
I'm pretty sure this is the first time a DT post has been turned into a tifo and I'm very sure this one will be hard to top. I couldn't be more proud. And I'm glad the people of Columbus feel the same way about their tiny demon fortress.
Special thanks to Evonne Segall for bringing this to our attention!

WELL, IT DEPENDS ON WHAT YOU MEAN BY "FREE."
Enter your best email for full access to the site.