How a soft interview with a friendly journalist won the latest round of the news cycle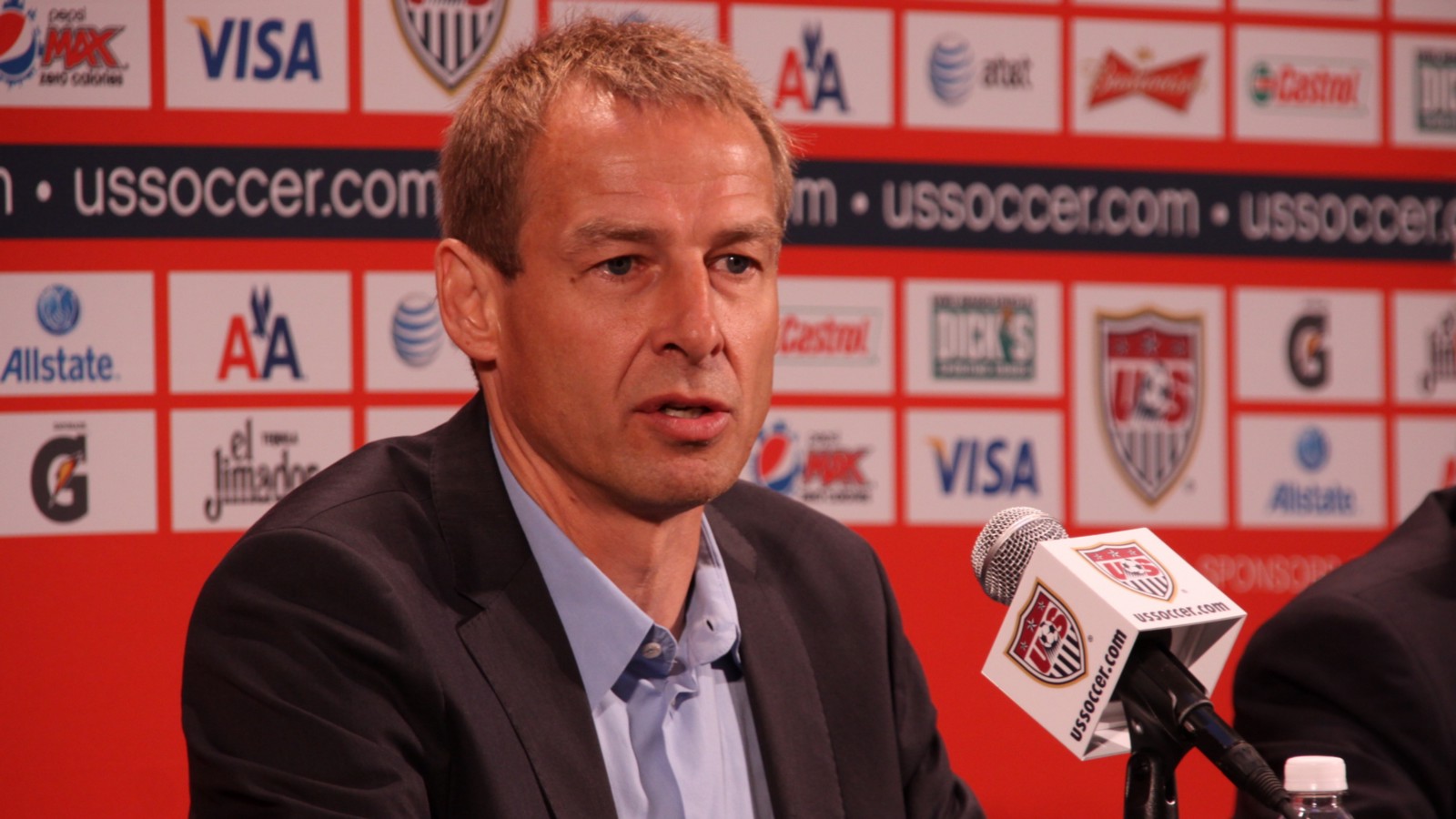 "The fact is, we lost two games," Jurgen Klinsmann told Sam Borden of the New York Times in a story published Sunday. "There is a lot of talk from people who don't understand soccer or the team." Borden is not the "friendly" journalist referred to in the headline, but the quote is instructive.
It's from one of only two one-on-one interviews Klinsmann has allowed since his team lost its first two matches of the CONCACAF Hexagonal. Curiously, for a man in such a wonderful position to educate the American public about soccer, to teach us what went wrong against Mexico and Costa Rica, and to show us why the criticism he has received since those losses is so misguided, he chose to give both interviews to reporters who don't cover the technical side of the game.
Borden writes for a general interest sports page and has said that he is "not an X's and O's tactics guy," so it is regrettable but perhaps not surprising that when Klinsmann told him, "I am not saying I have nothing to be blamed for," he did not follow up with a line of questions designed to draw out some of the coach's thinking after this extremely rare admission of personal responsibility. Ultimately, this type of story isn't really in Borden's wheelhouse, and it is the other interview, with Erik Kirschbaum of Reuters, with which I really take issue.
In May, Kirschbaum published a book called Soccer Without Borders: Jürgen Klinsmann, Coaching the U.S. National Team and the Quest for the World Cup. The book was written with Klinsmann's deep participation. It doesn't just read like an unquestioning infomercial for everything Klinsmann believes; it literally publishes his "Ten-Point Plan" that will help the United States to one day win the World Cup. (In Point One: Change the mentality, Kirschbaum writes that Klinsmann "has gone out of his way to schedule as many exhibition matches as possible against the world's top-ranked teams. This has helped the Americans discover that the other teams may not be much better, if at all, than they are, and that in soccer every team is beatable." I'm waiting for the paperback to be issued with a blurb from Clint Dempsey, who was on the field when the U.S. beat Spain in the 2009 Confederations Cup semifinal, that says, "Gee, thanks coach!").
Great to see an old friend in Germany last night. @J_Klinsmann pic.twitter.com/pAKcFoYFQt

— Erik Kirschbaum (@Erik_Kirschbaum) November 4, 2016
Whether Kirschbaum and Klinsmann are technically collaborators is unclear; the book's copyright belongs to Kirschbaum and nowhere does the author disclose whether Klinsmann was paid for his time or the use of his name in creating and marketing the book. But it's such a fine line that I'm shocked Reuters has continued to allow Kirschbaum to cover Klinsmann without so much as a disclosure. It's a clear conflict of interest.
And it is made worse by the fact that other trusted soccer news outlets from Sports Illustrated to The Guardian to ESPNFC to The Sporting News immediately spun off their own news items based entirely on the Reuters piece without linking Kirschbaum's name to it. As far as I can tell, For the Win alone called it out. So if Joe Reader clicks on one of those links trying to learn a little bit about this soccer thing (bless his heart), and even if he has the wherewithal to make a connection between the names, he wouldn't have the information necessary to do so. This is the journalistic equivalent of laundering dirty money, a way to make biased reporting look clean.
The sites that aggregated the Reuters news didn't even know they were doing this, and if you read any of these pieces, you probably weren't aware that you were reading an interview that was conducted by the friendliest, least critical reporter it would be possible to assign for the job.
It was a real pleasure helping writer and journalist Erik Kirschbaum on his book about mehttps://t.co/Xg9TVLkD58 pic.twitter.com/MHwmCLJBC3

— J_Klinsmann (@J_Klinsmann) July 12, 2016
This isn't the first time Kirschbaum has used his access to provide Klinsmann with a megaphone to defend his own performance. On November 4, a few months after Klinsmann's U.S. lost in the semifinal of the Copa Centenario, Kirschbaum wrote a piece with this headline: "U.S. on right track after tough 2015." Contrast the tone with the headline that accompanied Kirschbaum's piece on Joachim Löw, whose Germany team lost in the semifinal of the more competitive European Championship days later: "Germany's Loew to stay on despite Euro disappointment." That's two quite different takes on a pretty similar outcome.
Not to belabor the point, but in Soccer Without Borders, Kirschbaum rejects the "many former players now working as newspaper columnists… eager to pounce on Klinsmann and extract revenge for the way he was shaking everything up, challenging their beliefs and many of the things they had represented. Their uninformed criticisms—"
I'm just going to let that one hang; the casual dismissal of all those former players who, like the American public, just aren't informed enough to have a sensible opinion about soccer or Klinsmann's performance as a coach.
And I'll end with two thoughts of my own. Disclosure: I'm an American, so read on at your own risk.
First, I find the substance of one of those uninformed voices to be distressingly similar to what we're hearing today. Here is German World Cup winning captain Philipp Lahm, writing in his 2011 book but sounding a whole lot like Klinsmann's current American critics:
We practiced little more than fitness. Tactical things were neglected. The players had to get together before [the games] to discuss how we wanted to play. After six or eight weeks, all players knew it wouldn't work with Klinsmann. The rest of the season was damage limitation.
Toni Kroos echoed this: "During [Klinsmann's] time at Bayern I personally missed everything: An idea of how to play football, adequate communication — and success."
Second, for all the praise Klinsmann receives for revamping an old and failing German national team—and to be fair, the team's current coach credits him with making changes that lay the groundwork for his own success ("He put a new manager in place, sports psychologists and American fitness trainers")—it's worth remembering that Rudi Völler, the coach who preceded Klinsmann, got that team to the final of the 2002 World Cup, and that Joachim Löw, who succeeded him, actually won the damn thing. Yes, shady refereeing ensured that Germany played South Korea in the 2002 semifinal instead of Italy or Spain, but Völler beat the teams he faced. Klinsmann meanwhile came in third, on home soil, in 2006.
For the record, that's equal to the best ever finish by the United States at a World Cup. Then again, what the hell do I know?

Contributors
Howler
TAGS
WELL, IT DEPENDS ON WHAT YOU MEAN BY "FREE."
Enter your best email for full access to the site.