The U.S. hit bottom with 4–0 loss to Costa Rica
November 16, 2016
The Jurgen Klinsmann era appears to have run its course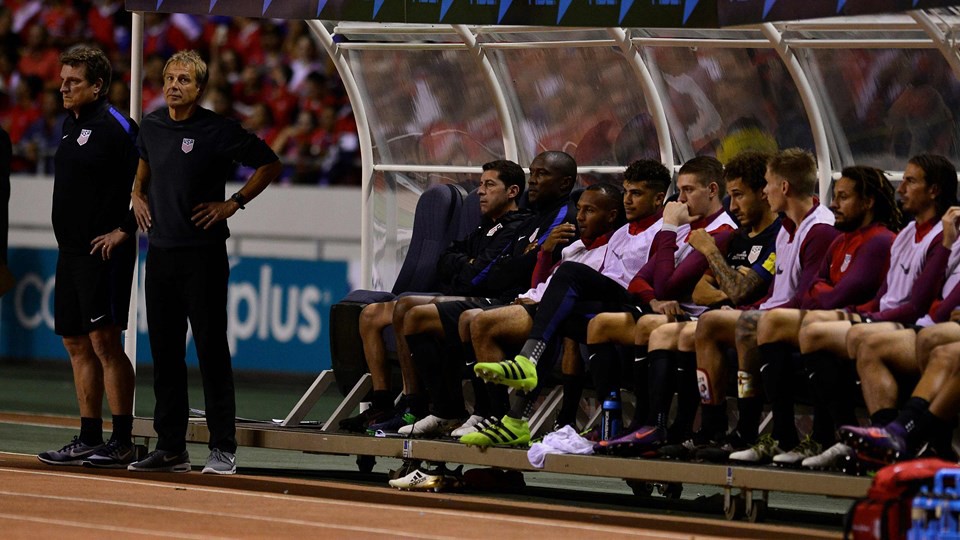 Losing in Costa Rica after losing to Mexico at home to start the Hexagonal round of CONCACAF World Cup qualifying was always a distinct possibility for the U.S. Even with the "dos a cero" streak against Mexico and a 4–0 win over Costa Rica in the Copa America group stage last summer, both those teams are arguably better than the U.S. So it's not the fact that they've lost to both of these teams in a matter of days that's the problem. It's the how that's the killer.
In spite of a grievous tactical miscalculation from the start against Mexico, the U.S. could have come away with a respectable 1–1 draw…had it not been for a defensive lapse that allowed Rafa Marquez to score an 89th minute header for the win. Against Costa Rica, the U.S. conceded shortly before halftime, then completely lost control of all bodily function and allowed three goals in a span of 10 minutes after the break.
Check out @bguzan's face save from the first half. (Credit: @beINSPORTSUSA) #USAvCRC pic.twitter.com/LAO2wMVRpC

— U.S. Soccer MNT (@USMNT) November 16, 2016
This was the first time they conceded four goals in a World Cup qualifier since 1968 (the dark ages of U.S. soccer) and the result leaves them bottom of the table, having conceded more goals than Trinidad & Tobago. As Bobby Warshaw wrote after the Mexico loss, Jurgen Klinsmann is proving incapable of leading this U.S. team. These weren't just losses, these were losses that demonstrated bad ideas, poor communication, and clear motivational issues.
Of course, these were only two matches and the U.S. has plenty of time to regroup and qualify for the 2018 World Cup. But the manner in which they reached this position is undeniably troubling and demands questions be asked as to whether a new leader is required to right the ship.
It's entirely possible that a new manager does no better than the current one. I doubt anyone looks at this group of players and thinks they have the untapped ability to go out and consistently run the table (aside from Christian Pulisic, who is still just 18 years old) right now. But at this point it's difficult to come up with an argument for keeping Klinsmann and not giving change a try.
It's been six years since Klinsmann took charge of the team, which is an exceptional period of time for an international manager—or any manager of the modern era, for that matter. Even the most successful international managers see their command over a team unravel if they stick around long enough. And Klinsmann seems to have reached that point.
As Bobby mentioned in his pre-match Q&A session (watch the video below) and Grant Wahl later echoed, former U.S. coach Bruce Arena is a likely short-term replacement for Klinsmann just to get the team through the World Cup should a change be made. Obviously that's not a step forward, but you have to bandage your head wound before you can put on a new hat.
The U.S.'s next qualifiers aren't until the end of March, so if a change is to be made, this might be the last, best time to do it before the World Cup.
[facebook url="https://www.facebook.com/whatahowler/videos/1518627514821258/" /]

Contributors
Howler
TAGS
WELL, IT DEPENDS ON WHAT YOU MEAN BY "FREE."
Enter your best email for full access to the site.