Fiorentina v Palermo is a match to keep an eye on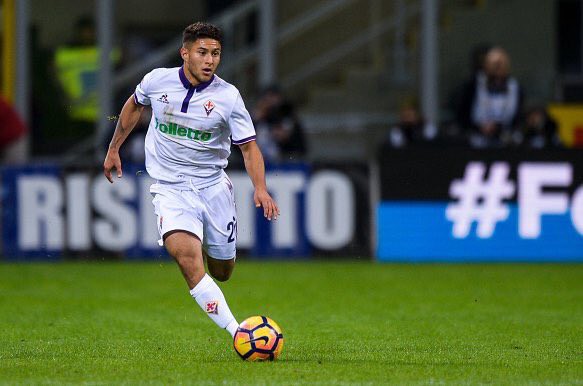 If you tune in to the Fiorentina match against Palermo this Sunday (BeIN, 2:45 ET), you might be expecting a mid-table Serie A team that is poised to advance out of its Europa League group playing one of the league's bottom-feeders. And on the face of it, that's exactly what you're getting.
But last week, Fiorentina became a whole lot more relevant for American fans, as 18-year-old Josh Perez made his debut for the club. Josh is the nephew of U.S. denim kit-er Hugo Perez, emerging for the U.S. U-20s at a time in which the Klinsmann-for-Arena swap is causing American fans to wonder aloud what lies beyond the '18 World Cup. He is, not at all surprisingly, the first American to feature for the Italian side.
And, judging from this video (lovingly put together by Stars and Stripes FC editor Rob Usry), he has the flair and finishing acumen that looks outstanding in a six-minute highlight video, yet justifiably gets fans excited for what might be on the horizon.
Of course, Perez's ascendency isn't Pulisic's, and 15 minutes in Serie A certainly doesn't equal the resume that the emergent Captain America's building at Dortmund. But in the gulag that American fans find themselves until international play resumes in March, there's precious little opportunity for optimism—other than Arena's recent revelation (the one many of us arrived at months ago) that Michael Bradley is best as a No. 6, an MLS Cup featuring peaking Jozy Altidore and possibly-improved-by-flu Jordan Morris, the possibility of shiny new names on the Camp Cupcake roster in January—and precious European game minutes for America's teenagers.
This Sunday, if you see Perez on the roster, or see a fourth official hoist a green No. 26 on a substitution board sometime during the match, raise a fist in celebration. You'll need that in three months when the Yanks try to get their tickets to Russia punched.

Contributors
Howler
TAGS
WELL, IT DEPENDS ON WHAT YOU MEAN BY "FREE."
Enter your best email for full access to the site.