Qatar says they're giving stadium workers "cooled helmets" so everything is OK now
December 21, 2016
The coolest gift for the poorly treated migrant laborer on your holiday list!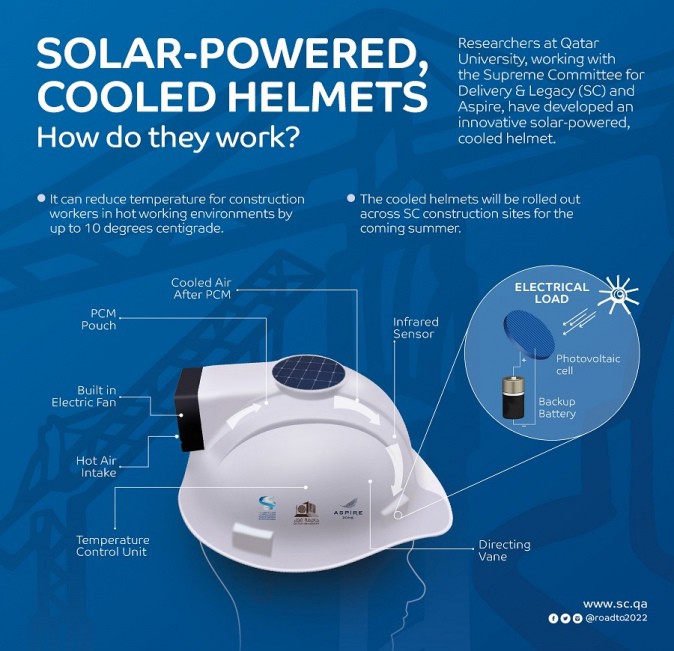 From the country that didn't bring you the solar-powered cooling clouds they promised comes the "innovative" solar-powered cooling helmet for workers constructing the 2022 World Cup stadiums. So all those human rights activists might as well pack it in.
From Qatar's informally named Supreme Committee for Delivery and Legacy:
An innovative cooled helmet designed and developed by leading researchers in Qatar has the potential to significantly reduce the skin temperature of construction workers by up to 10 degrees centigrade. This will allow for safer and more comfortable working conditions in the summer months, according to researchers working on the new system at Qatar University.
The solar-powered helmet has been rigorously tested, patented worldwide and put through the production stage by a group of Doha-based scientists in cooperation with the Supreme Committee for Delivery & Legacy (SC) and Aspire Zone Foundation (Aspire). More units have now been ordered with the objective to incorporate them for the coming summer period across SC projects.
Now that's all fine and good, but how does this thing work? Dr. Saud Abdul-Aziz Abdul-Ghani, Professor at the College of Engineering at Qatar University, explains:
"The material we use inside the helmet is Phase Changing Material (PCM) contained in a pouch, and this increases the total load of the helmet only by 300 grams. This provides cooling in hot conditions for up to four hours straight."
So what are they supposed to do for the other 10 hours they have to work each day?
"People when working in the sun will get cool air coming down at the front of their faces. When they go for a break, they throw it into a refrigerator and pick up a cold pack and put it into their helmets," concluded Dr. Saud.
"What's a break?" —Qatar stadium worker
"We did research on the best areas to lower body temperature, and it was the head and face. The additional cost is just twenty dollars in comparison to a normal passive helmet, but the results are felt immediately in terms of less lost time on site due to heat-related complaints."
So when the workers aren't paid, at least they can sell the helmets for a bit of cash. I guess that's something.
Now that they have these helmets figured out, they should move the tournament back to summer from November-December and have the players wear them. Maybe modify them into a Petr Cech style scrum cap.
Of course, that won't happen—and I have my doubts that these helmets for the stadium workers will, either. Again, Qatar University was also who put together the idea of the artificial cloud that would hover over stadiums. This was a serious proposal that collapsed quicker than, well, an artificial cloud once Qatar was awarded the 2022 World Cup.
And if they actually do get these helmets out to workers, it's probably just a matter of time before they start exploding like Samsung phones.

WELL, IT DEPENDS ON WHAT YOU MEAN BY "FREE."
Enter your best email for full access to the site.