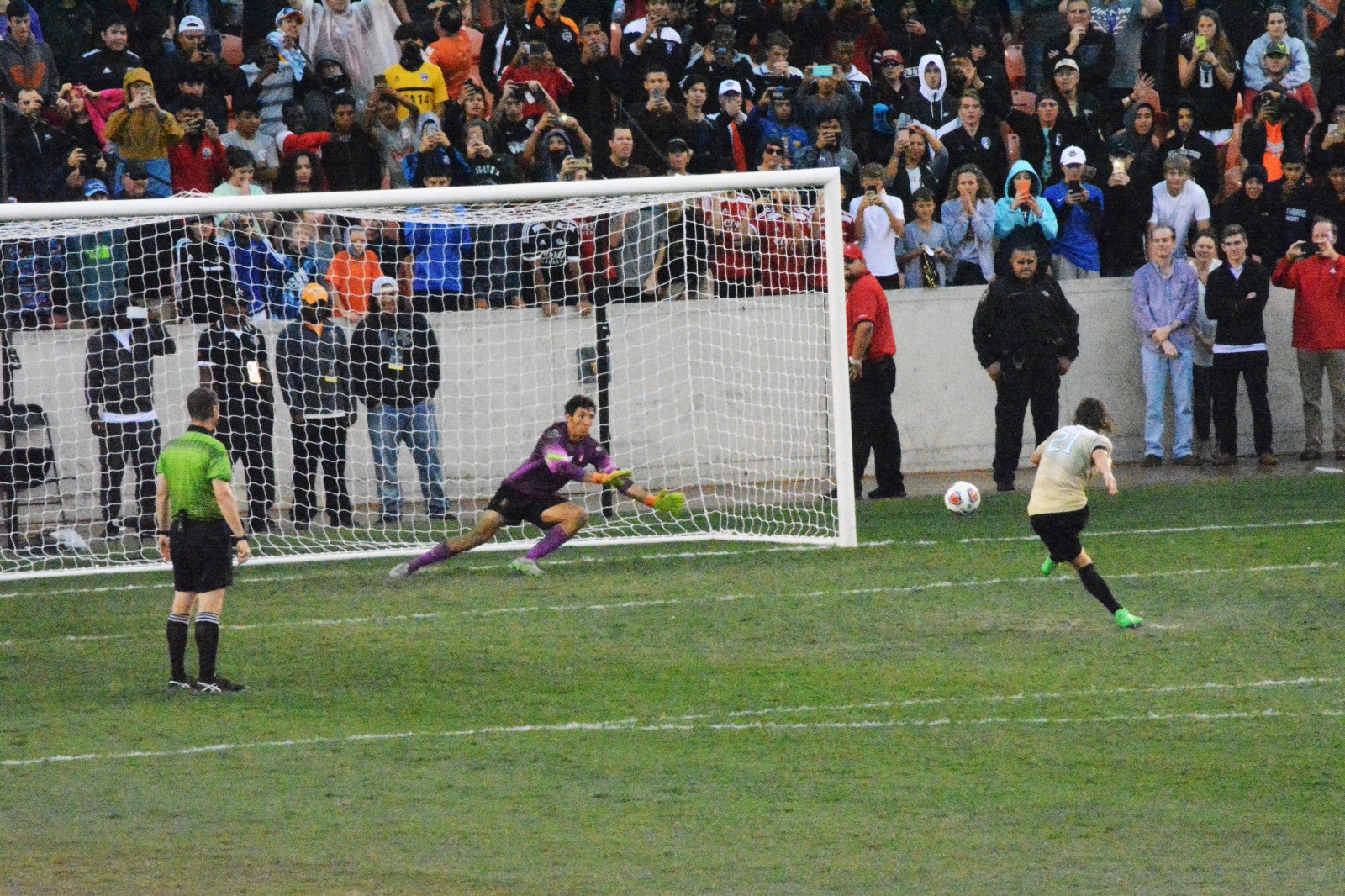 Stanford became the first school to repeat as NCAA D1 National Champions since Indiana in 2003–04 thanks to the gloves of Andrew Epstein.
Named the Most Outstanding Defensive Player for the tournament, junior goalkeeper Epstein was part of a Cardinal defense that didn't allow a single goal throughout the playoffs.
Despite it being the second straight year in which he kept a clean sheet in the College Cup final, Epstein couldn't believe his eyes after denying two straight Wake Forest players in the shootout to win it for his team.
"I think the first thing that went through my head actually was, 'No, no, it's not over yet. Stop running, they are going to call it back for some reason.' Then, when they were 20 yards into the run, I was feeling pretty confident that it was for real," Epstein said.
Just moments prior, it looked as if the Demon Deacons were about to wrap it up. Cardinal defender Tomas Hilliard-Arce had just missed Stanford's fourth penalty, sending it well into the stands high and to the right. Then, Wake Forest forward Jon Bakero converted to make it 3–4.
The dream had nearly slipped away. But Epstein, a Third Team All-American last year, and a Second Team selection this year, was up to the task. He read the shooter brilliantly to prolong the shootout.
Hayden Partain stepped up for the Demon Deacons, and the Stanford keeper knew exactly where the senior midfielder was going to go.
"The fifth, he was just a little tighter so it was just hard to hit it across his body, so I felt good going to my left," Epstein said.
Confidence returned for Epstein after making that save. In Friday's shootout against North Carolina, neither keeper made a save in 10 rounds as Stanford progressed when a Tar Heel player completely missed the target.
Sam Werner made it 5–4 with the next kick, and then it was Epstein's time to shine once again. He doesn't even know how, but there was something that told him to dive in the right direction to save Brad Dunwell's effort.
"Then, the sixth, I don't know if I read it, if I saw it, if I felt, I don't know. It felt good to go that way, so I did," Epstein said.
Another save from Andrew Epstein! The Stanford Cardinal are the 2016 NCAA Champions! #CollegeCup @StanfordMSoccer pic.twitter.com/86eEwnfWb3

— NCAA Soccer (@NCAASoccer) December 11, 2016
A First-Team Academic All-American, Epstein's soccer IQ and intuition on the decimated playing surface in Houston certainly matched his brilliance off the pitch. Well, it probably didn't, because he's an Electrical Engineering major with a 3.7 GPA. Hopefully he can find some time to study before finals this week.
Undoubtedly this season's final was more tense than last year, when Stanford defeated Clemson 4–0 thanks to two goals from Jordan Morris. Maybe that's what made this win, and those two crucial saves, that much more meaningful.
Back to back! So proud of @StanfordMSoccer #🏆🏆

— Jordan Morris (@JmoSmooth13) December 11, 2016
Cardinal captain Drew Skundrich knew the team was talented coming into the season, but couldn't have foreseen bringing another national title back to Palo Alto.
"For me, it is very, very special. I think we look at the squad we had last year and said, 'Wow, we had some incredible individual players, some incredible talent all over the field,'" Skundrich said.
Losing Morris, who won the MLS Cup with the Seattle Sounders on Saturday night, was tough, but Foster Langsdorf actually scored more goals this season (15) than Morris did last year (13). And coach Jeremy Gunn dispelled notions that this year's squad was less talented or individually-led than the 2015 Cardinal team.
In the end, it came down to one player's brilliance. Epstein may have been part of a defensive unit that didn't concede a goal throughout the entire postseason, but his safe hands carried the team to that title.
As a high schooler, Epstein played with the United States U-14 and U-15 teams, and started a match for the Colorado Rapids reserve team in 2013. He will return to Stanford for his senior year, but his future afterwards looks just as bright as his smile did in Sunday's post-match press conference.
With its #CollegeCup victory today, Stanford has extended its incredible streak to 41 consecutive school years with an NCAA team title! pic.twitter.com/uv6WWon9Ba

— NCAA (@NCAA) December 11, 2016

Contributors
Howler
TAGS
WELL, IT DEPENDS ON WHAT YOU MEAN BY "FREE."
Enter your best email for full access to the site.