What the French forward's taxes tell us about France and politics in 2016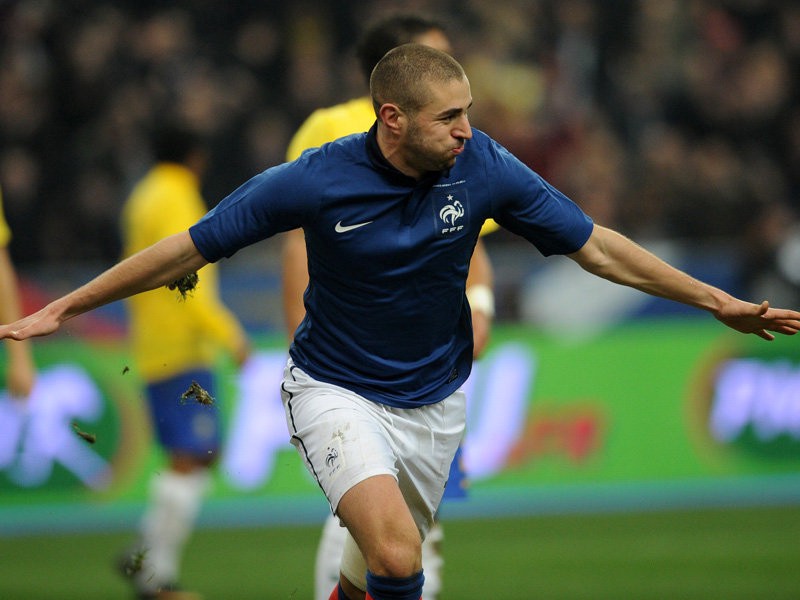 In France, Karim Benzema is a complicated figure. His every movement triggers a referendum on national identity—itself a fraught subject at the best of times. He is not an openly political figure in the manner of Lilian Thuram, but we don't always get to choose the parameters of our relationship with politics. Sometimes it is foisted on us, as it has been with Karim Benzema. He is the Muslim child of Algerian immigrants in a country where all of those words trigger identitarian heart rending.
It is, however, misleading to claim that all of Karim Benzema's actions produce equal amounts of public attention. Institutional racism is a system in which debits are heavily weighted and actions rarely credited. To wit, here's an excerpt from a story about Karim Benzema's taxes that was published in L'Équipe as part of the recent Football Leaks revelations:
Karim Benzema, like a number of his Real Madrid teammates, does not pay income tax on his image rights in Spain, where he works. But unlike Cristiano Ronaldo or Luka Modric, the forward has chosen not to park this income in a tax haven…but instead to pay his taxes in France. That revelation was made by Mediapart as part of the Football Leaks revelations that have been shaking up the soccer world for more than a week. The site explains that Karim Benzema is "a fiscal patriot": the corporation charged with collecting his image rights, named BOB (Best of Benzema), is based in his hometown of Lyon and 90% owned by the player himself, with his father and mother holding the remaining ten per cent.
You likely have not heard about this story because image rights aren't exactly a sexy topic. Holding companies and transfers of income are not tangible; they exist in an invisible ether that makes them hard to appreciate. You cannot watch money move on TV. That, perhaps, is why coverage of this incident pales in comparison with the national exorcism devoted to previous episodes.
Karim Benzema does not sing the French national anthem. He is famous for this, at least in circles where such a piddling offense can result in attention. Those are not circles in which one wishes to belong. "It's not because I sing that I'm going to score a hat trick," he has told reporters in France. "If I don't sing the Marseillaise, but then I score three goals once the game starts, I don't think anyone is going to say that I didn't sing the Marseillaise at the end of the game." This is a measured and reasoned statement, even if you disagree with it. Here, for the sake of contrast, is an excerpt from a press release from France's xenophobic National Front party about Benzema's refusal to sing the anthem:
This soccer mercenary, who earns 1484 euros each hour, has shown an inconceivable and unacceptable contempt for the national jersey that he is lucky to wear.
Playing for the French national team is above all about representing your country, it's about your pride in being French, it's nobly representing France's values and symbols of which the national anthem is one. Singing the Marseillaise is a duty for all athletes who have the honour of representing the nation at the highest level.
[H/T Laurent Dubois]
This is not just nonsense, but a revelatory brand of nonsense. Football prioritizes purely symbolic demonstrations of national allegiance. Wear the shirt. Sing the anthem. Kiss the badge. None of these things really benefit the nation. At best they cheer up the citizenry and provide moments of unity. Those things have value, but you can't subsist on them.
Taxes, on the other hand, are essential and largely unseen. They pay for things such as roads and healthcare and education. Moreover, they offer a more universal benefit to the public than private philanthropy. Taxes are, in other words, generally the most important contribution soccer players can make to the cause of social solidarity.
Karim Benzema: "Paying my taxes in France? It is not an achievement." (AFP)

— Get French Football News (@GFFN) December 7, 2016
We are currently in the midst of a political moment where small-yet-visible actions dramatically outweigh large-yet-invisible ones. Saving a few hundred jobs, for instance, seems to count for more than an industry-wide program that flies under the radar. This has always been a problem in politics, but it is all the more pronounced in our current polity. Soccer is more naturally suited to the small-yet-visible brand of politics: national teams and their players are rich in symbolic value even if they often say and do little. The case of Karim Benzema's taxes is a specific insight into the double standards that French society has long applied to the forward, but it is also a reminder that soccer has a nasty habit of rewarding the least consequential political actions.

WELL, IT DEPENDS ON WHAT YOU MEAN BY "FREE."
Enter your best email for full access to the site.