Home
Dirty Tackle
FIFA shocked to learn that Carli Lloyd isn't the only women's player in the world
FIFA shocked to learn that Carli Lloyd isn't the only women's player in the world
January 10, 2017
A startling revelation from The Best FIFA Football Awards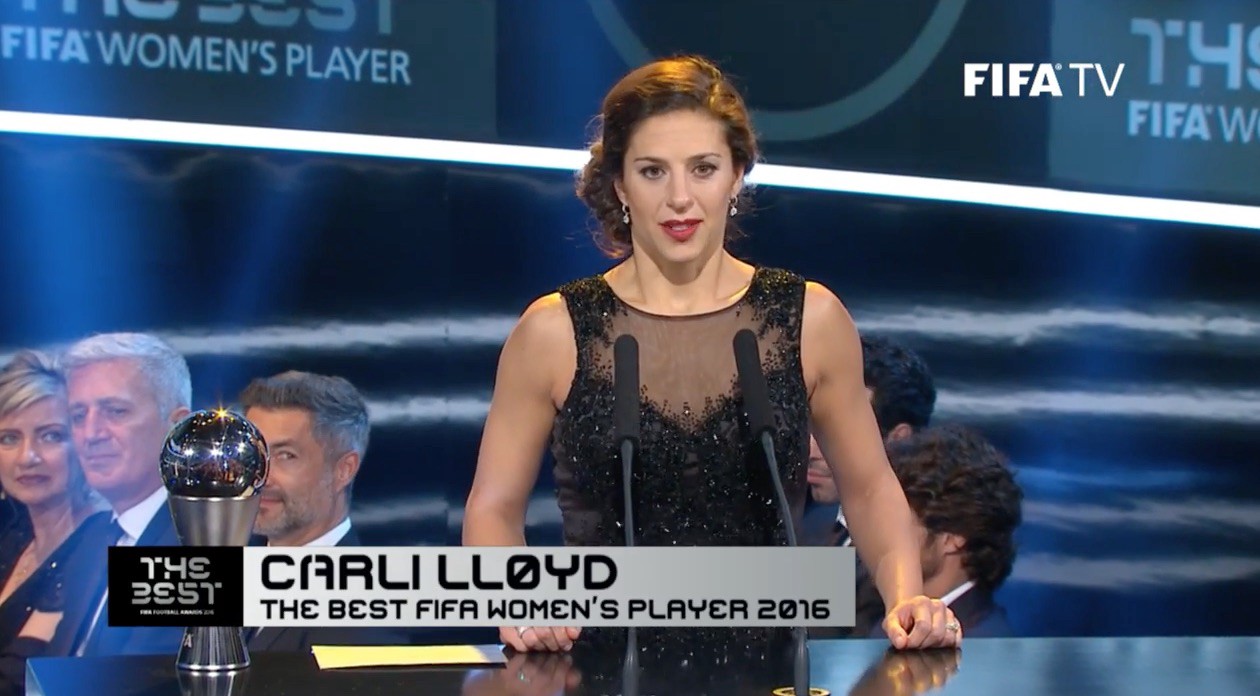 FIFA executives and voters were surprised to learn that U.S. captain Carli Lloyd was not the only women's footballer playing the game over the last 12 months. Lloyd won FIFA's women's player of the year award for the second consecutive year despite only reaching the quarterfinals of the 2016 Olympic tournament and losing the U.S.'s female player of the year award for 2016 to Tobin Heath.
"We were pretty sure Carli Lloyd was still playing since she won this award last year," FIFA president Gianni Infantino said after The Best FIFA Football Awards in Zurich. "But we couldn't think of any other women to nominate, so we went with Marta, who we guessed was retired, and 'Melanie Behringer'—which was a name we thought we had just made up on the spot. So imagine our surprise when we arrived here tonight and learned that Marta is still playing, Behringer actually exists, and they told us that thousands of other women are currently playing the game at a professional level. It was quite a shock, to say the least. But we already engraved Carli Lloyd's name on the trophy, so what were we going to do?"
Melanie Behringer was the favorite to the win awards among people who actually watch women's football, as she was the top scorer at the Olympics, where she won gold with Germany, and won the women's Bundesliga with Bayern Munich. But for FIFA's award, which is decided by votes from national team captains and coaches, fans and media, Behringer finished third.
Women's player vote:
Carli Lloyd: 20.68% of total votes
Marta: 16.60% of total votes
Melanie Behringer: 12.34% of total votes

— Rob Harris (@RobHarris) January 9, 2017
Even Lloyd herself was surprised to hear her name called, saying "I honestly wasn't expecting this" upon reaching the podium. She then went on to thank U.S. federation president Sunil Gulati, who was in attendance, even though he is currently resisting the fight for equal pay led by Lloyd and her teammates. This was presumably done sarcastically.
When asked if this experience will prompt FIFA to pay more attention to the women's game, Infantino replied, "I don't know about that, but I would like to congratulate Carli Lloyd on already being named The Best FIFA Women's Player for 2017, 2018, and 2019! What an achievement."

Contributors
Howler
TAGS
WELL, IT DEPENDS ON WHAT YOU MEAN BY "FREE."
Enter your best email for full access to the site.