Home
Dirty Tackle
Player in Guam gets booked for celebrating goal by removing shirt for marriage proposal
Player in Guam gets booked for celebrating goal by removing shirt for marriage proposal
January 14, 2017
The referee isn't a romantic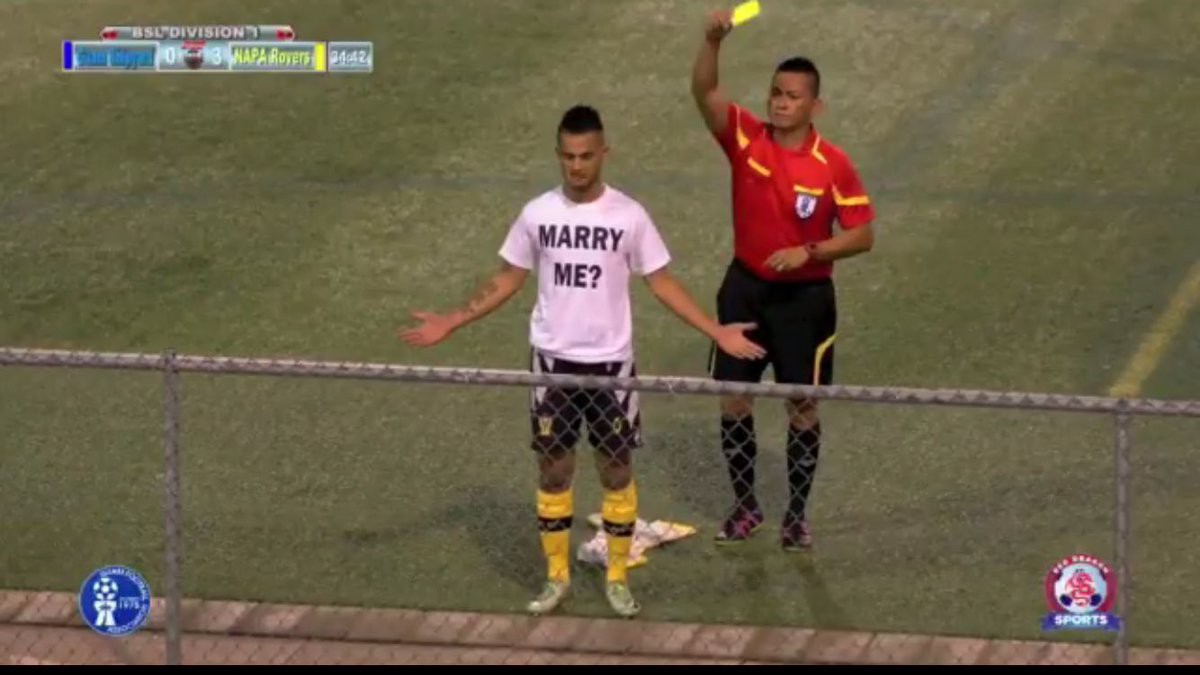 Ashton Surber, who plays for NAPA Rovers in the Guam Premier League, came up with a rather unique idea for a marriage proposal. He made up a T-shirt that read "Marry me?" and wore it under his kit during a match against Guam Shipyard, hoping to pop the question after scoring a goal.
This is a gutsy move for a number of reasons, not least of which is the uncertainty of scoring the necessary goal. But Surber not only scored—he did it with a lovely overhead kick from close range. He then got up and ran towards his significant other and pulled off her shirt to reveal the message. While he waited for response, the referee jogged up behind him and showed him a yellow for removing his shirt, most likely unaware of the meaning behind the act.
https://www.youtube.com/watch?v=kDQxlKKWq8o
Surber posted the video above to YouTube (complete with modified soundtrack) along with the caption:
the only goal that could ever matter in my life, is the one i score to make you my wife… yesterday i asked my biggest fan if she would watch my games for the rest of her life…she said yes. #goals #literally
I wanted to give my biggest fan the proposal she'll remember for a lifetime and then some…
The booking didn't have any impact on the result as Surber's Rovers went on to win 5–1, though it would've been clever planning if he got himself booked a second time so he could get hitched and have a quick honeymoon while serving his suspension.

WELL, IT DEPENDS ON WHAT YOU MEAN BY "FREE."
Enter your best email for full access to the site.