Shanghai Shenhua should have done some more Googling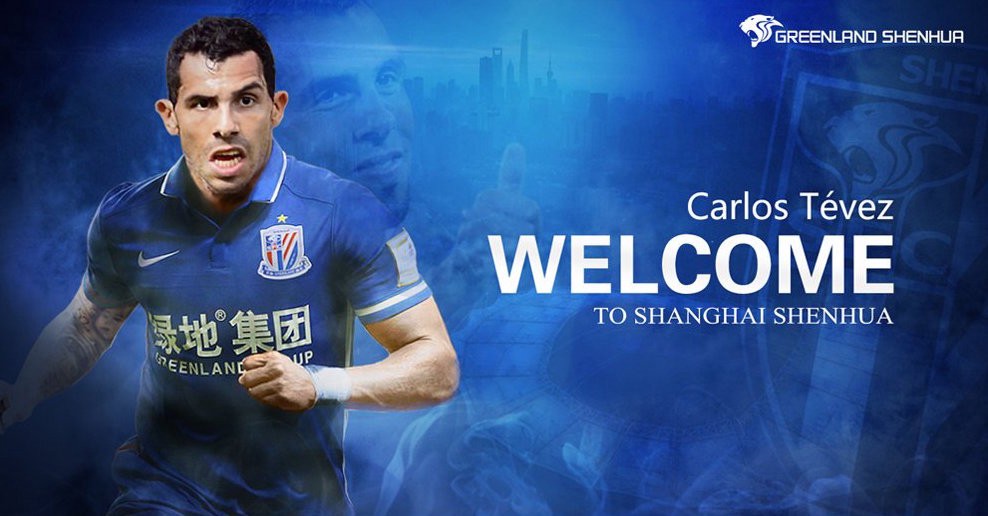 Carlos Tevez, Argentina's lovable scamp of a striker, is officially headed off to Chinese Super League club Shanghai Shenhua, where he will apparently become the highest paid player in the world. This, it must be noted, is a rather strange development for a player who turns 33 in a couple months and whose career has been on the wane for years. For the three weeks until Cristiano Ronaldo's next contractual strop, however, it will be mildly amusing for what's left of Carlos Tevez to be the sport's biggest earner. Go east and get paid, young-ish man!
For Shanghai Shenhua, this is surely a coup. A few years ago, it would have been hard to imagine the club landing Tevez. In their excitement, however, they may have glossed over one of the striker's most famous traits: his homesickness. This, like his goalscoring exploits, has been a common occurrence throughout his career. And so it's probably for the best that Shanghai Shenhua manager Gus Poyet—late of Sunderland—learn this story.
At the striker's first few stops outside of Argentina—Corinthians, West Ham, and Manchester United—homesickness didn't seem like much of a problem. There were, to be sure, other issues—namely third-party ownership—but Tevez didn't really speak out about his desire to go home until after he joined Manchester City in 2009.
While Tevez was back home enjoying an extended injury layoff from his new club in 2010, one of his teammates offered this kernel of insight into the mindset of the team's star (from the Independent):
Team-mate Roque Santa Cruz has been quoted as saying the club captain wants to be back "among his people" in Argentina and that he thinks Tevez will return to his homeland after his current deal with City ends in 2014.
Two months after that break, the striker put in for a transfer request, which was explained by BBC Radio 5 live football correspondent Ian Dennis accordingly:
The striker is believed to be homesick and over the last couple of months there have been suggestions he's considering quitting football altogether.
In a recent television interview he said he was tired of football and tired of people who work in football.
In September 2011, Tevez refused to warm up as a substitute for a Champions League match against Bayern Munich. Shortly thereafter, he was exiled to Argentina. In February 2012, however, Roberto Mancini softened his stance on Tevez's behavior. From the Mirror:
Roberto Mancini expects Carlos Tevez back in training this week, but still wants an apology from the striker.
The Manchester City boss is ready to shake the hand of the controversial star, who has been in self-imposed exile in his native Argentina since November.
Tevez did indeed return to Manchester City, which went on to win the title in May. That good will lasted multiple months, until Tevez revealed the Manchester-free plan for the rest of his career in January 2013:
I've already said I want to retire wearing a Boca shirt, it's my dream as well as my family's. After the World Cup, we'll see. I could finish my contract next year and go to Boca.
Instead of executing basically any part of that plan, he signed a three-year contract with Juventus in June of that year. For a while everything seemed fine. Then, at the end of the 2014-2015 season, a familiar refrain was heard once more:
"Carlos is homesick and misses Argentina. But he has a contract with Juventus until June 2016. There are no conditions to terminate his contract before then," [Juventus director Giuseppe Marotta] told Italian broadcaster Rai.
Despite those fighting words from Marotta, Tevez had played his last game in Italy. He returned home to Argentina and Boca Juniors.
And now he's off to China. This is sad in the sense that Carlos Tevez's life is a complicated way of proving that you really can never go home again—or at least that's what Shanghai Shenhua management may try to tell him in a few months when the homesickness kicks in again.

Contributors
Howler
TAGS
WELL, IT DEPENDS ON WHAT YOU MEAN BY "FREE."
Enter your best email for full access to the site.