Home
Dirty Tackle
Tim Howard joins old guard in vilifying foreign born U.S. national team players
Tim Howard joins old guard in vilifying foreign born U.S. national team players
January 19, 2017
Abby Wambach and Landon Donovan have company in their baseless panic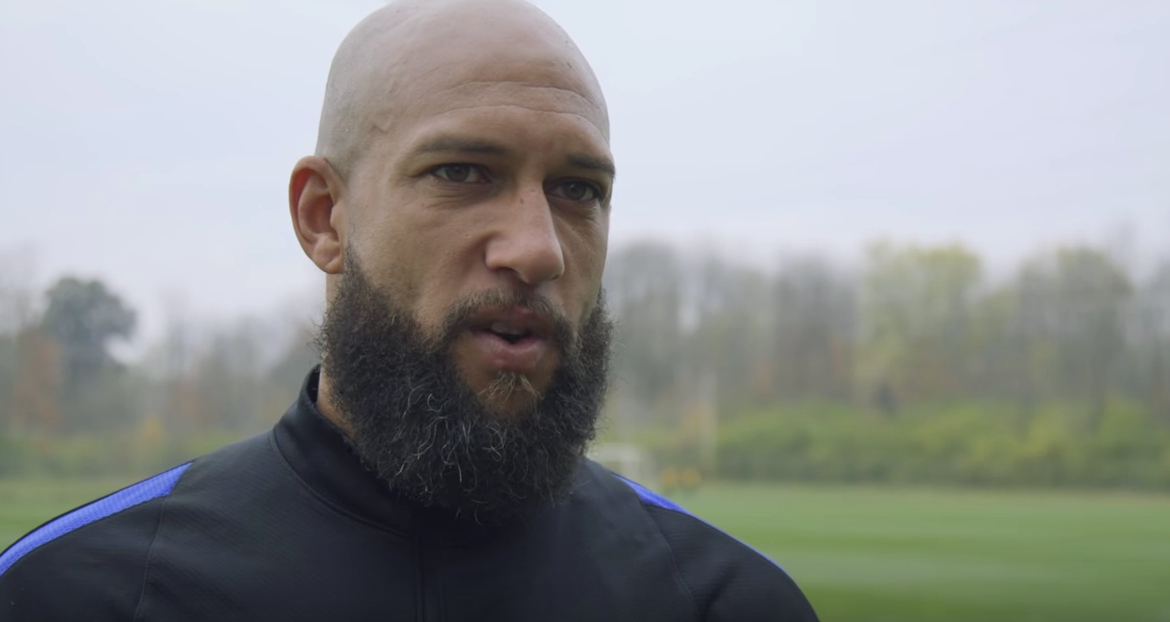 Tim Howard has found his scapegoats for the U.S. losing their first two matches in the fifth round of CONCACAF World Cup qualifying and they're a familiar one. Yes, according to Howard, it's all the fault of those damn foreign born members of the team that recently fired manager Jurgen Klinsmann brought it. But Howard is confident that new/old manager Bruce "Players on the national team should be–and this is my own feeling–they should be Americans. If they're all born in other countries, I don't think we can say we are making progress" Arena will fix everything.
Howard told ESPN:
"[Arena] will bring an atmosphere where wearing the U.S. shirt will matter again. It will mean everything. And that's always been our foundation. No matter how good you think we've gotten at football, our foundation has always been our hard work, our willingness to go down to places and put in a shift. I think we got away from that a little bit."
And he told USA Today:
"I think it slips away because you bring in …," Howard began, before pausing for thought. "Jurgen Klinsmann had a project to unearth talent around the world that had American roots. But having American roots doesn't mean you are passionate about playing for that country."
"I know there were players that came in that it didn't matter as much to," Howard said. "If you get enough of those players, one or two can get found out, but if you get enough of those players you lose sight of what you are all about. While it was a good idea in theory, it had its flaws. Bruce will 100% get that back."
Fans of the U.S. have heard this before from Abby Wambach and Landon Donovan and the argument against foreign born internationals remains as absurd now as it was then. To repeat, foreign born players have been a part of the U.S. team and many, many others—from bad ones to World Cup winners—since the beginning of international football. This is nothing new, nor is it unique to the U.S. team.
But what makes Howard's comments even worse than Wambach or Donovan's is 1) Howard took a year off from the national team after the 2014 World Cup, so he's in no position to question anyone's passion for the team, and 2) Unlike Wambach or Donovan, who spoke out after retirement, he's saying this as an active member of the team. In other words, he has to face the players he's questioning in the dressing room. How exactly are these comments going to help the team handle the challenges they face in qualifying for the World Cup as a unified force?
If the response from Jermaine Jones, one of those foreign born members of the team, are any indication, they are already causing tension.
From ESPN:
"It's dangerous stuff where you have to be careful what you're saying," said Jones, who signed with the LA Galaxy on Wednesday after spending half a season alongside Howard with the Colorado Rapids.
"With all the respect for Timmy, I feel it's not if you're half American or full-American. It's more what you have in here [taps his chest].
"If you go on the field and you give everything for this country, then of course sometimes there's a situation where you're not playing good.
"But it's normal. That can happen to everybody, and that's what you have to understand."
Howard has tried to muddy his very clear comments by saying that the lack of commitment is "not exclusive" to foreign born players, but that's obviously not what he said in the first place and the damage has already been done.
Maybe the real problem for the U.S. team is mistrust and resentment of foreign born teammates (and maybe coaches, too) from those who feel they have more of a right to be on the team than others who have the very same right. Maybe Tim Howard and those who share his sentiment should worry more about improving themselves than questioning the arbitrarily defined commitment of others.

Contributors
Howler
TAGS
WELL, IT DEPENDS ON WHAT YOU MEAN BY "FREE."
Enter your best email for full access to the site.