Home
Dirty Tackle
Vaping managers and diving Spider-Men: Oddities of the FA Cup third round
Vaping managers and diving Spider-Men: Oddities of the FA Cup third round
January 7, 2017
Strange things happen in the FA Cup and not all of them are magic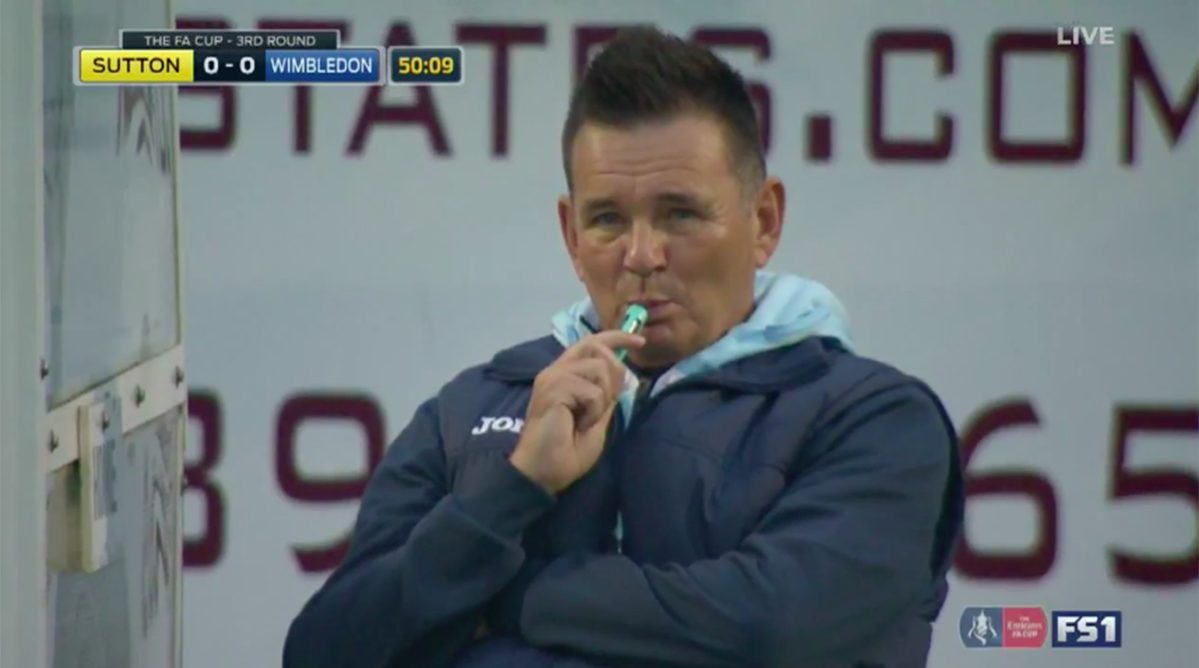 The FA Cup is a unique competition where the world's top pros intermingle with the part-timers in the hope of winning the world's oldest football tournament. A few people have made the third round of this year's FA Cup campaign a bit more unique than usual, though.
For example, Paul Doswell, manager for non-league side Sutton United, was casually vaping on the touchline during his side's scoreless draw with Wimbledon to force a replay.
Back in the old days, it wasn't uncommon to see a manager smoke a cigarette, cigar, or pipe in the dugout, but modern stadium regulations and health concerns have largely made this practice a thing of the past for just about everyone except Napoli manager Maurizio Sarri.
But Paul Doswell likes to do things differently. He even pays Sutton to be their manager. So to see him puffing on a vape pen during an FA Cup match is actually one of the less weird things he does.
Not to be outdone, recently sacked former Crystal Palace manager Alan Pardew was in attendance wearing a cravat and looking like he sailed up to Gander Green Lane in his yacht with Mrs. Howell.
Alan Pardew. Watching Sutton United whilst wearing a Cravat. More Magic Of the FA Cup pic.twitter.com/6H457BnOuL

— Men in Blazers (@MenInBlazers) January 7, 2017
Meanwhile, Wolves fans had a steward crowd surfing before their match at Stoke, which the visitors won 2–0.
A steward crowd surfing with Wolves fans in the concourse at Stoke 😅 https://t.co/v8sIFAGM7q

— The Away Fans Videos (@TheAwayFansVids) January 7, 2017
A day earlier, Man City's 5–0 win at West Ham was capped off by a bizarre scene where one pitch invader tackled another, who was dressed as Spider-Man.
Realizing that nothing could top this, the referee decided to forego added time and end the match here.
https://www.gettyimages.com/license/631107772
The FA Cup has become a music festival without the music.

WELL, IT DEPENDS ON WHAT YOU MEAN BY "FREE."
Enter your best email for full access to the site.