The expansion of soccer in America is intersecting with morality and urban planning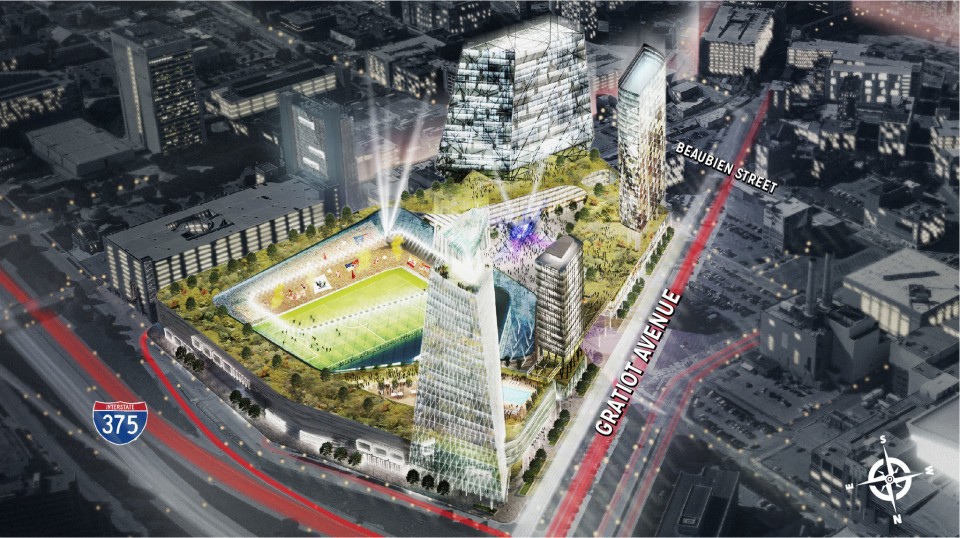 Soccer teams—in both their idealized and practical senses—are parts of larger communities. They may choose to meaningfully engage with their surroundings or be aggressively indifferent, but that doesn't change the underlying reality: decisions made by teams are wont to affect more than the on-field product and its fans.
To wit, Cleveland Cavaliers owner Dan Gilbert is now offering to build a jail complex for the city of Detroit in return for being able to turn the Wayne County jail construction site into a downtown soccer stadium. The Wayne County jail, it should be noted, was abandoned during construction due to cost overruns and is consequently something of a boondoggle. Anyhow, here's Dana Afana of Michigan Live with the details:
Gilbert's Rock Ventures LLC submitted the offer to build a new consolidated criminal justice center that would include adult and juvenile detention facilities as well as a new criminal courthouse in exchange for the transfer of the Gratiot Avenue jail site.
On the Gratiot site, Rock Ventures proposes building a $1 billion commercial development that would include a Major League Soccer Stadium in partnership with Detroit Pistons owner Tom Gores.
The county halted work on its 2,000-bed Gratiot Avenue jail project in June 2013 when it became clear it was on pace to run tens of millions over its $300 million budget.
Wayne County Executive Warren Evans, after stabilizing the county's finances, was set on resuming construction of the jail this year.
The proposed trade, to be fair, is by no means the obvious choice for America's most odious stadium deal. The finer points of financing are unclear, but it does not appear Rock Ventures is asking for reams of taxpayer funding, ending the disastrous jail project would save the city future upkeep costs for the boondoggle, and the downtown jail location was never good urban planning. But in a country with a shockingly large incarcerated population, Dan Gilbert is still offering to build a massive jail so he can build a massive entertainment complex in a prime location.
This is an explicitly moral case. If you are wholly untroubled by the extent of America's jail system, there is little to bother you here. You should be bothered—and scholars have argued persuasively to that effect—but this column will not settle that debate. Opposition to building more jails, it should be noted, is not the same as opposition to the existence of all jails. Some crimes demand punishment, but the carceral state's growing footprint reflects its inherently expansionist logic. That needn't be the way forward.
Even if you're unconcerned by the effects of building more prisons, there is ample reason to find these kinds of deals troubling. Large stadium deals impose top-down visions of urban planning: large entertainment complexes that rich benefactors say will bring about considerable benefits. The math around some of these projects is better than others; I cannot pass specific judgment on Detroit's. The motivating logic of such stadium construction, however, is that [prospective] team owners know what's best: not just for their teams, but their communities. Stadia are posed as gifts bestowed on the area, even if they weren't being clamored for.
Cities like Detroit already have grassroots soccer teams. Detroit City FC is not offering to fund a prison complex—and one imagines that it's not only because they could never afford to do so. American soccer doesn't offer many such opportunities for community clubs to engage in urban planning. The process, then, for thinking about how stadium projects affect the community at large tends to be myopic. Stadia are treated as ends unto themselves. A stadium deal, in this model, is the unavoidable cost of spreading soccer. [To that end, a great many American soccer fans have held their breath recently as St. Louis' MLS bid tried to get public funding for its stadium.] That needn't be the case.
The logic of Major League Soccer's business model—its single entity and aversion to promotion and relegation—ensures that most discussions of urban contexts end up sounding a lot like the Detroit deal: large-scale trades that reshape the urban landscape. Community soccer groups, in addition to their charms and athletic merits, allow for a more deliberative process. Try asking communities what they want; it's not actually prohibited. That sort of calculus might well view the construction of a massive jail and an equally massive entertainment complex in somewhat less glowing terms.

Contributors
Howler
TAGS
WELL, IT DEPENDS ON WHAT YOU MEAN BY "FREE."
Enter your best email for full access to the site.