Home
Dirty Tackle
Lille respond to sexist banner by offering free tickets to women
Lille respond to sexist banner by offering free tickets to women
January 31, 2017
Proving that sign wielding idiots don't make Ligue 1 stadium admittance policy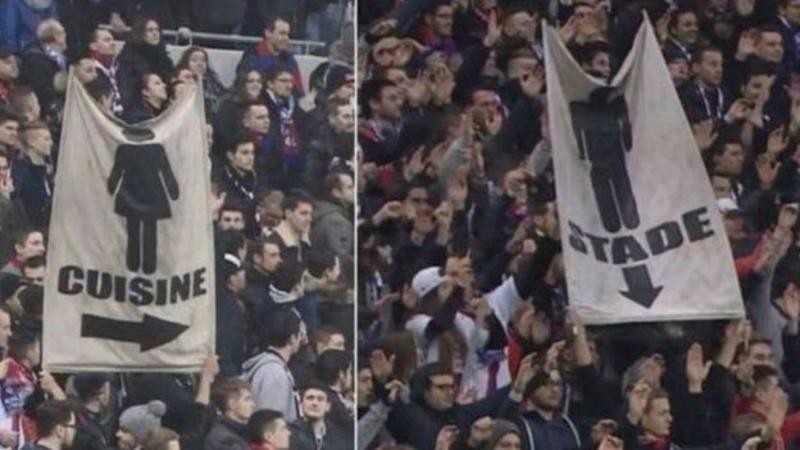 During Saturday's Ligue 1 match between Lyon and Lille, two banners were held up by someone in the Lyon end, who may or may not have time traveled there from the 1920s. One banner suggested that men remain in the stadium and one suggested that women go to a kitchen.
Why this person felt the need to waste their time making these banners instead of doing literally anything else remains unclear, but they made it onto the television broadcast of the match and captain of the Lyon women's team, Wendie Renard, tweeted "Lyon supporters… Can you give me an explanation on that banner: the men in the stadium, the women in the kitchen? #equality"
Supporters lyonnais… Pouvez-vous me donner des explications sur cette banderole : les hommes au stade, les femmes en cuisine 🤔? #égalité pic.twitter.com/eo8b43Ipvk

— Wendie Renard (@WRenard) January 28, 2017
Lyon president Jean-Michel Aulas responded, saying "The club will get tough and file a complaint against the creator of this banner."
le club va sévir et portera plainte contre l'auteur de cette banderole : déplacée et heureusement relayée par 1 individu identifié

— Jean-Michel AULAS (@JM_Aulas) January 29, 2017
Lille went on to win the match 2–1 and on Tuesday, they came up with the best response to the banners by offering women free entry to their upcoming match against Lorient.
Mesdames, chez nous vous êtes les bienvenues ! 😜

➡️ https://t.co/dcEBJIwAy7 pic.twitter.com/YP3qzUram5

— LOSC (@losclive) January 31, 2017
Not only is it a clever response from a PR standpoint, but it's also an important one. While Lyon's efforts to punish the perpetrator demonstrate a necessary rejection of this exclusionary sentiment, Lille's offer goes a step further by actively trying to break down social barriers—both seen and unseen—and make women feel welcome at their ground in a gesture of positive reinforcement. A combination of Lyon's response and Lille's should be seen as the ideal course of action for clubs faced with similar incidents in the future.

WELL, IT DEPENDS ON WHAT YOU MEAN BY "FREE."
Enter your best email for full access to the site.