Home
Dirty Tackle
Western Sydney Wanderers ban 14 fans for oral sex banner at Sydney derby
Western Sydney Wanderers ban 14 fans for oral sex banner at Sydney derby
February 22, 2017
Supporters group then doubles down on homophobic depiction of opposing manager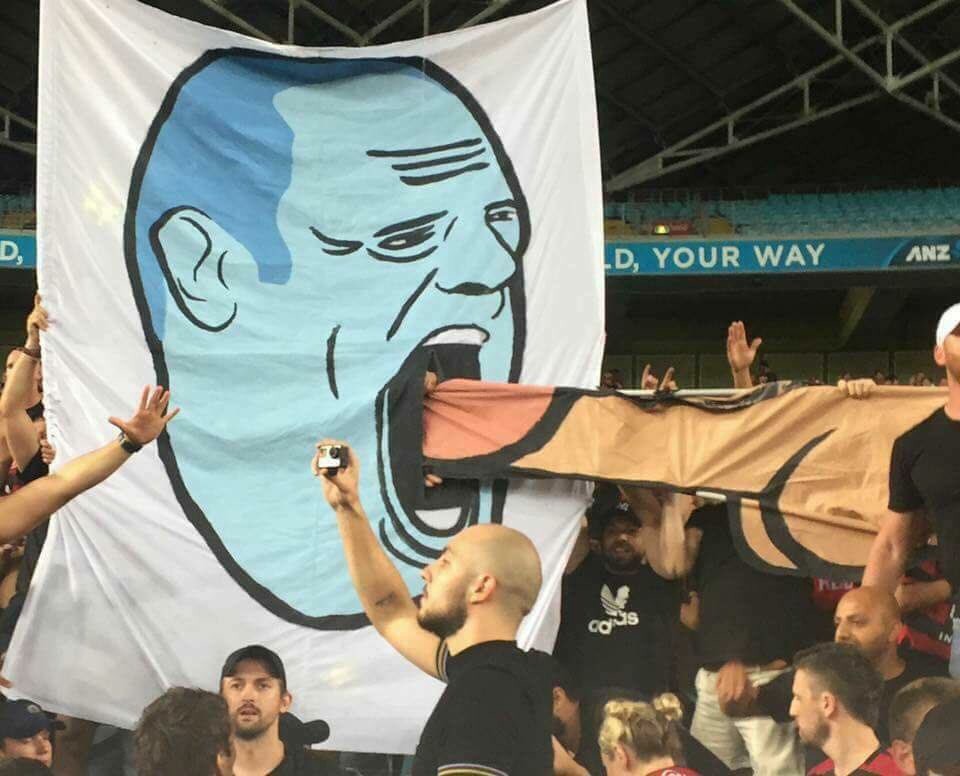 Fourteen members of Western Sydney Wanderers supporters group Red and Black Bloc have been given 18-month stadium bans by the club for having a banner depicting Sydney FC manager Graham Arnold with a penis going in and out of his mouth during the Sydney derby. The banner was likely inspired by one Spartak Moscow fans made involving Zenit's lion mascot several years ago.
From the Sydney Morning Herald:
Of the 14 supporters banned by the club, Fairfax Media understands several are part of the RBB's core leadership group. It's understood FFA is pleased with the Wanderers' strong response on Wednesday but is unhappy that it's taken four days for the club to issue such a harsh condemnation of the RBB's actions. The governing body will not comment on the Wanderers' banning of their fans until Thursday, once it has ruled on the show-cause notice. Sources suggest the Wanderers will likely still face sanctions, despite taking a hardline approach.
https://twitter.com/wscsm1/status/833306923747381248
Instead of apologizing, the group has dug in their feet over their homophobia and posted a response on their Facebook page, along with designs for a potential merchandise line.
We find it ironic that it takes the FFA barely 24 hours to respond to a banner deemed 'offensive', but take over 12 months to even commence an appeals process agreed upon in December 2015.
Clearly football in this country is in the wrong hands.
Football belongs to the people, not a dictatorial body or the likes of so called expert commentators.
The sport doesn't belong to the FFA, nor does it belong to the likes of Robbie Slater.
Fuck off with your pandering to mainstream media.
But, since this banner has been so popular, we are considering a new line of relevant merchandise, and as everyone has an opinion, let us know yours regarding the merch.
Awesome, would purchase.
I'm offended angry and disgusted
Perhaps 18 months isn't long enough.

Contributors
Howler
TAGS
WELL, IT DEPENDS ON WHAT YOU MEAN BY "FREE."
Enter your best email for full access to the site.