Home
Dirty Tackle
Dries Mertens booked for attempting Three Stooges routine with opponent's nose
Dries Mertens booked for attempting Three Stooges routine with opponent's nose
March 25, 2017
"Why I oughta…"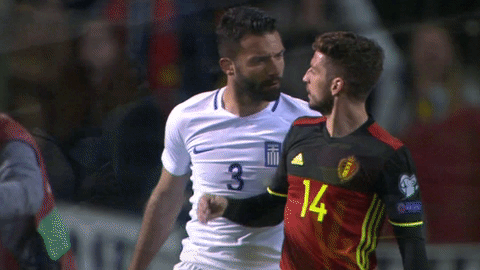 When we last left Dries Mertens, he was pretending to urinate on the corner flag like a dog after scoring a goal for Napoli. Now, on international duty with Belgium, he's acting out a half-baked nose-pinching scheme he must have gotten from an old episode of the Three Stooges.
Mertens' unwilling partner in this odd display was Greece defender Georgios Tzavellas. The Belgian tried to grab Tzavellas' nose once, but the defender was able to evade his fingers, so Mertens—being the weirdo that he is—decided to give it another go. Tzavellas wasn't having it, though. You would think that having a stranger be nice enough to make sure you don't have anything dangling out of your nose would at least get a "thank you," but apparently not.
Mertens was booked for this, but Tzavellas was eventually sent off in the final minutes of the match, which ended 1–1.

Contributors
Howler
TAGS
WELL, IT DEPENDS ON WHAT YOU MEAN BY "FREE."
Enter your best email for full access to the site.