Home
Dirty Tackle
Journalist sleeps during Luis Enrique press conference, Sunderland owner's wife sleeps during match
Journalist sleeps during Luis Enrique press conference, Sunderland owner's wife sleeps during match
March 21, 2017
Sometimes football can put you to sleep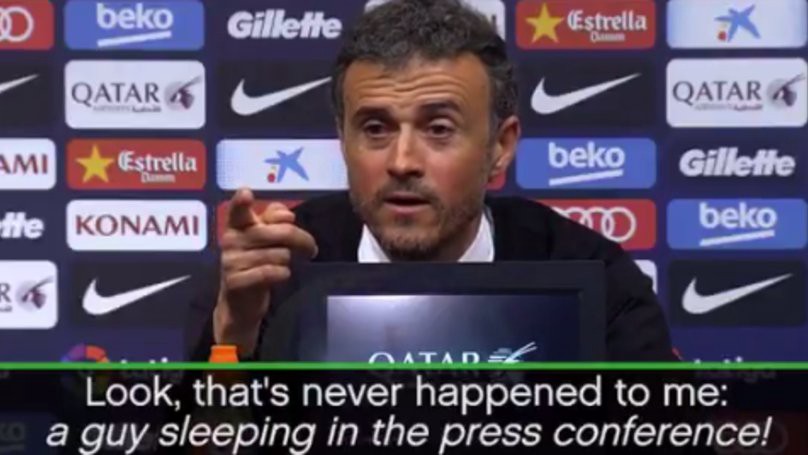 Listening to people talk about football can be boring, even if it's a part of your job. Following Barcelona's 4–2 win over Valencia, one journalist dosed off during Luis Enrique's press conference. Enrique noticed and ground the question session to a halt, making the sleepy journo the center of attention.
"Good morning!"

WATCH: One journalist sleeping on the job has a rude awakening from #FCBarcelona coach Luis Enrique#FCBValencia #FCBlive pic.twitter.com/vN9AU0iRJs

— Omnisport (@OmnisportNews) March 20, 2017
Football matches themselves can be quite boring, too. Especially when they're played by Sunderland. During Saturday's match against Burnley, Eve Short, wife of Sunderland owner Ellis Short, was caught drifting off to a dreamland where she was anywhere other than the Stadium of Light by TV cameras.
https://twitter.com/martincoutts/status/843247350323843072
In her defense, falling asleep is the proper response to a scoreless draw between Sunderland and Burnley. The fact that a person with their eyes closed is more compelling television than what was happening on the pitch is telling.
I think the lesson from these two incidents is to always stay heavily caffeinated at all times.

Contributors
Howler
TAGS
WELL, IT DEPENDS ON WHAT YOU MEAN BY "FREE."
Enter your best email for full access to the site.