The People's Republic of China is on a mission to become a global soccer powerhouse, pursuing its goal with the dead-eyed determination only an authoritarian behemoth can muster
by Matthew Moir | illustration by Noah MacMillan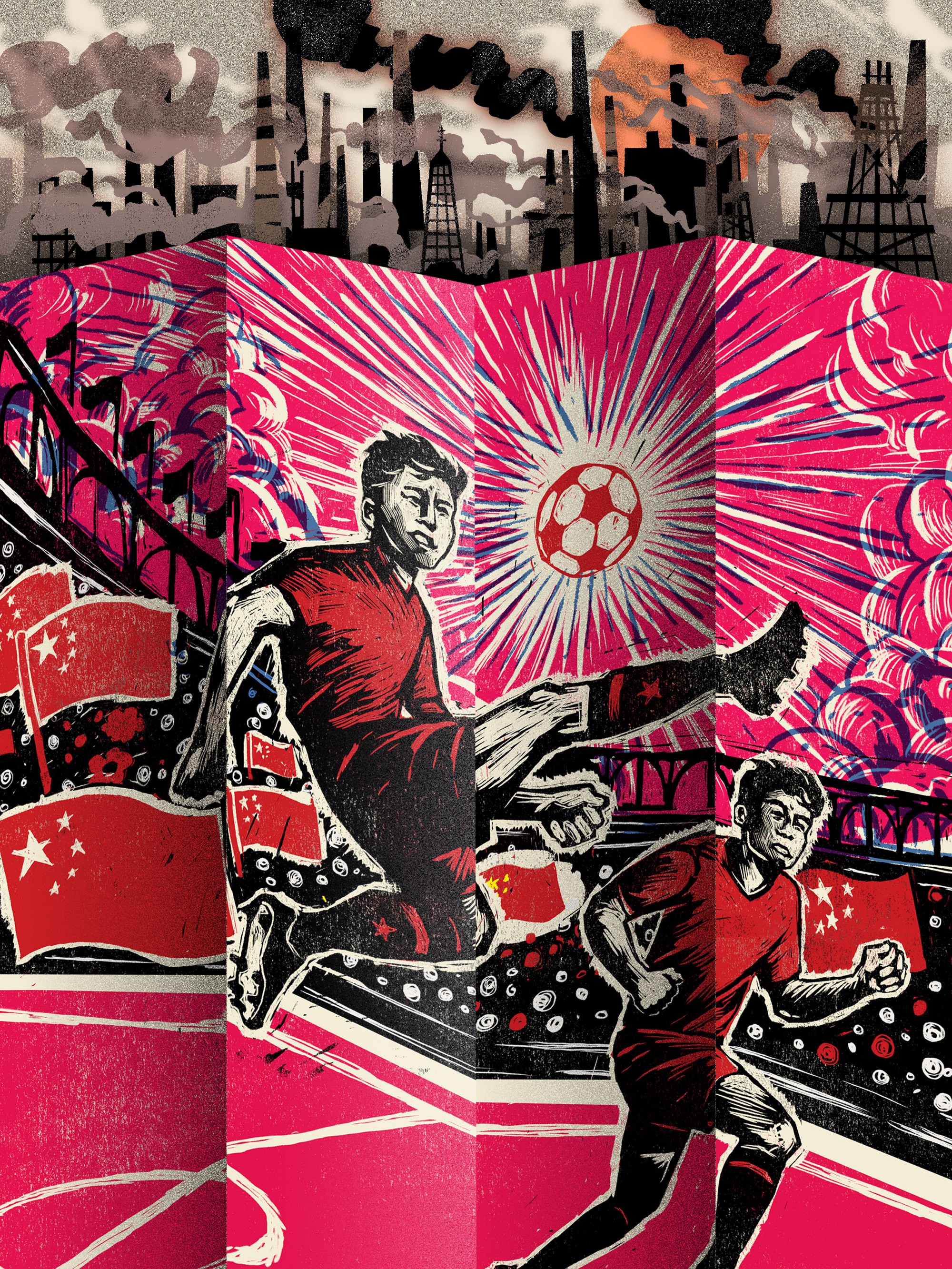 It's a soft, humid morning in a southeastern suburb of Beijing, and a stern-faced gym teacher clad in a tracksuit nods approvingly as a group of 10-year-olds runs through dribbling drills and deposits balls into the back of an empty net. The kids smile and give each other high fives. They might not know it, but these elementary school students are part of a master plan — one that will, the Chinese government hopes, elevate the Middle Kingdom's third-rate national men's side to a level that can one day rival that of the Argentinas, Brazils, and Germanys of the world. The plan is bold, bureaucratic, and swimming in money. In other words, it's Chinese to the core.
Chinese billionaires are making a splash overseas, spending heavily to buy European clubs like Aston Villa, Wolverhampton, and West Bromwich Albion. But the international shopping spree is only a single step in a longer, more challenging march — one that leads not to the Premier League but to the Chinese mainland.
In April 2016, the Chinese Football Association released a report outlining the campaign to transform its perpetually underachieving men's national team into a "first-rate major footballing power." (The FA does not appear worried about the women's team, a solid squad that has enjoyed some international success.) According to the document, tens of thousands of pitches will be constructed across the country, and the number of specialized soccer academies will be doubled to 20,000. It also calls for a program to educate 10,000 new coaches and for the introduction of soccer programs to millions of primary and secondary schools.
The goal? International soccer domination by the middle of the 21st century.
It's a tall order. China's men's team is currently ranked 81st in the world, one spot behind Jordan and ahead of Bolivia (82) and miniscule Antigua and Barbuda (83). At the 2002 World Cup, the only one in which the nation has participated, China lost all three matches without scoring a single goal.
But the country has a figure who may be even more influential than a renowned coach like Guus Hiddink, who turned South Korea into a force, or a once-in-a-generation talent capable of lifting his teammates beyond their abilities: it has president and Communist Party chief Xi Jinping. Xi played soccer as a boy and has made no secret of his love for the beautiful game, collecting jerseys from club sides in Germany and the U.S., as well as the England and Argentina national teams, while traveling abroad. The FA's plan for its soccer team fits neatly into Xi's larger vision for the country, which he calls the "Chinese Dream." It's a popular expression in the lexicon of the Communist Party that captures the wish for a rejuvenated Chinese society recapturing its rightful place at the apex of human civilization.
"Xi Jinping is not only as devoted a soccer fan as Deng Xiaoping" — the former Chinese leader whose economic reforms in the late 1970s led to the country's economic growth — "but more important, he has linked soccer with his 'China Dream,'" says Guoqi Xu, professor of history at the University of Hong Kong and author of Olympic Dreams: China and Sports, 1895–2008. Some experts argue that Xi's Chinese Dream and success in international soccer are inseparable. "Just imagine what kind of glorious legacy Xi will have if he can indeed bring China from being a laughingstock of the world into a serious soccer superpower," Xu says. "That is something even the great Deng did not manage to deliver!"

China's recent economic success has given it unprecedented might around the world, but a top soccer team would help the country express its soft power, something it has struggled to do. While the United States wields soft power through cultural exports such as Hollywood films and by winning Olympic medals, China has what Xu jokingly calls a "soft belly."
"The People's Republic of China might have enjoyed a fast rise in hard power in terms of economy and military strength, but its soft power is lacking," he says. "To a certain extent, it has no real soft power which can match the USA."
Aside from Xi's reputation and the promise of cultural glory, there is another force behind China's attempt to emerge from the hinterlands of global soccer: fear, or at least a sense of growing unease, among the Chinese political class that the economic miracle might be on the verge of petering out. China's GDP grew 6.9 percent in 2015, the weakest annual growth in 25 years, and economists around the world are warning about rising debt levels, decreasing exports, and a tumultuous stock market.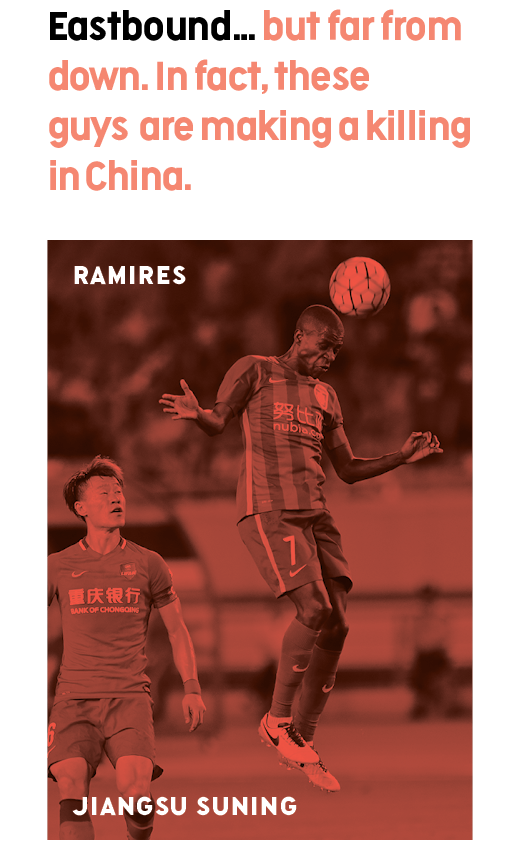 An economic downturn is especially worrisome for the powerful people in a country with one-party rule. Many China watchers believe the legitimacy of China's system of government is contingent upon a middle class that continues to expand and stabilize. With a slowing economy, as well as myriad other problems ranging from horrific air pollution to human rights violations, is it so inconceivable that the Chinese government would use the pursuit of soccer success as a means to distract citizens from some of the less-than-ideal realities of life in the People's Republic?
But that's probably not how most Chinese people would see it, according to Jeremy Wallace, an expert in authoritarianism at Cornell University.
"I'm of the opinion that we focus too much on the term 'legitimacy' when really what we mean is 'acceptance' or 'compliance,'" he says. "Middle-class Chinese likely don't spend a lot of time contemplating the regime's legitimacy or reassessing whether or not the government is legitimate. Middle-class Chinese are going about their lives and occasionally bumping up against the party-state, often with negative consequences."
In this framing, a successful sports venture could serve the Chinese government by demonstrating that the Communist Party is capable of delivering a good product in the international arena.
"Spectacular events tend to resonate much longer than their actual duration," Wallace says. "The 2008 Beijing Olympics or 2010 Shanghai Expo were discussed and planned for years beforehand and persist long after their conclusion. The Chinese government yearned to host those events to symbolize the country's growth and successes. Bread and circuses."
Whether the primary motivation behind this attempt to guide China out of the global soccer hinterlands is national unity, burnishing its leader's record, or some combination of both, the project must by definition be massive enough to capture the attention of the largest population on Earth. And that's the easy part — something the state can plan for, predict. Much less of a sure thing is that all the effort will necessarily translate into a successful team.

I have asked scores of Beijing soccer fans to explain why this nation of 1.4 billion struggles so mightily to field a competitive men's team. At first, I tried to find the most tactful way to approach the topic, but I shouldn't have worried: Beijingers are like sports fans anywhere, which is to say they don't need much of an invitation to really lay into their team.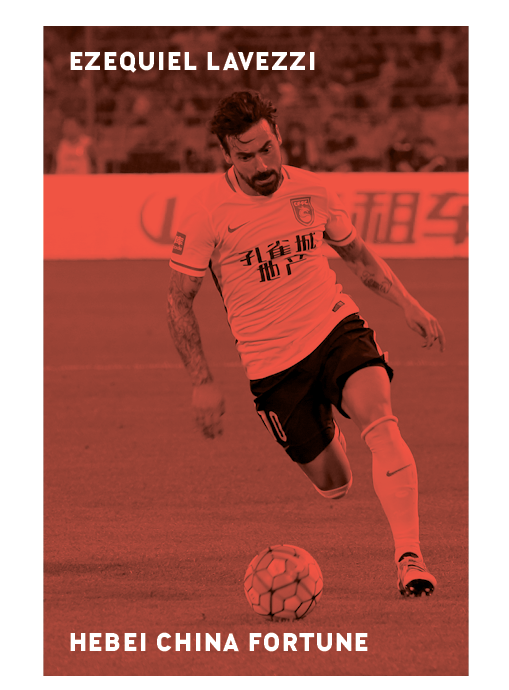 According to 18-year-old university student Edward Zhang, the only thing children in China do is study, so there is little opportunity to play in parks and playgrounds after the long school day, let alone participate in organized youth leagues. "It's not like America, where you play a sport on a team in the evening," he says. "Here, you go to school from morning until night."
Charles Fu, an English teacher at a prestigious high school, tells me that the Chinese national side is "like England" in that it just can't put its individual talents together to perform in major international competitions. According to Fu, "the Chinese side cannot play as a team to win. Maybe one day but not now."
And a software engineer who grew up in a small farming community but now works at a large multinational corporation explains that many appointed officials treat the soccer organizations they're charged with overseeing as their own mini-fiefdoms, using their connections with the government to enrich themselves at the expense of the development of the sport. "The high officials in almost every sector [of government] are corrupt, even sport," alleges the engineer, who asked that his name be withheld.
Each of those explanations plays a part in the national team's dismalness, though it's the last one — corruption — that the Chinese party-state has chosen to address first.
Bribery and match fixing in Chinese soccer were once comically pervasive. According to accounts from veterans of the Chinese Super League (CSL), it was not unusual for players to receive phone calls from criminal organizations the night before a big match. One former player is quoted anonymously in the Guardian saying defenders were targeted for bribes most often because "they could allow the other team to score." With thousands of dollars in play, many accepted those payments because CSL salaries were so low and often not paid on time.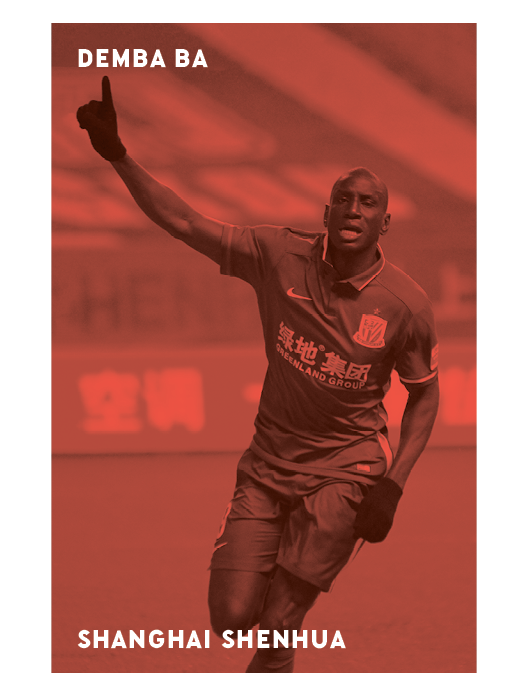 But over the past several years, dozens of former administrators, referees, and players have been arrested, imprisoned, or fined for accepting bribes or fixing matches, including Nan Yong and Xie Yalong, two former chiefs of the Chinese Football Association, who were each sentenced in 2012 to 10 and a half years in prison.
There is still plenty of money in Chinese soccer. During the winter 2016 transfer window, owners of Chinese Super League teams spent nearly half a billion dollars on talent, according to Transfermarkt. Most of that money went to luring top international stars away from European teams. Jiangsu Suning spent $36 million to acquire Ramires from Chelsea and then another
$56 million to sign Alex Teixeira from Shakhtar Donetsk. They joined a handful of other veterans of European leagues lured by big-money salaries, like Shanghai Shenhua's Demba Ba and Hebei China Fortune's Stéphane Mbia and Gaël Kakuta. More recently, Carlos Tevez, Oscar, Hulk, and Ezequiel Lavezzi have followed.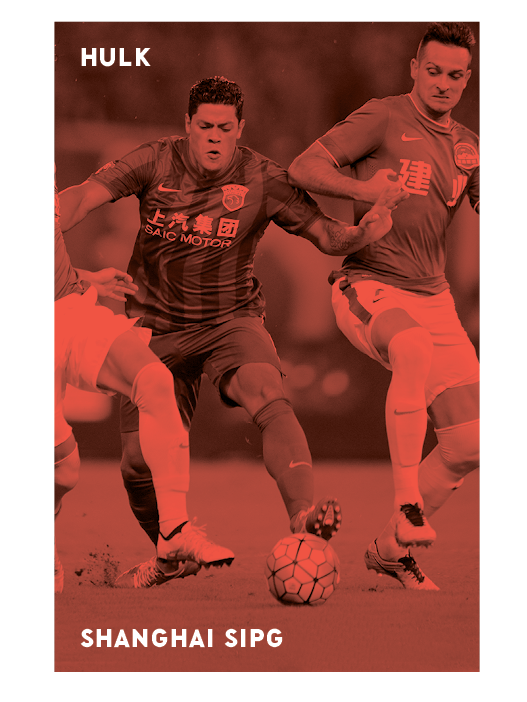 The spending spree shocked the soccer world because, from a straight-up investment perspective, it probably makes more sense to follow the trail blazed by Middle Eastern oil magnates and pump millions into the lucrative European soccer markets. But the superrich CSL club owners have a lot to gain from investing in President Xi's project.
CSL owners can help build Xi's Chinese Dream; in a landscape in which corrupt officials and political enemies are regularly arrested and imprisoned, dropping $47 million on Jackson Martínez to score goals for Guangzhou Evergrande surely isn't the worst investment to be made in the Middle Kingdom.
Spending top dollar to purchase a Colombian or Brazilian player's contract will result in an upgrade to on-field performance and the inevitable boost in ticket and merchandise revenue. But it also provides clear evidence to the upper echelon of China's political establishment of owners' willingness to invest in the country's future — a future in which soccer has a massively growing role in the country's popular culture.

Daniel Su claims to be the biggest soccer fanatic at his Beijing school. Like many Chinese of his generation, the 12th-grade student has never played organized soccer, though he does participate in pickup games with his friends during their lunch breaks.
After one of those games on a hot mid-May afternoon, a sweaty, panting Su spoke about the cautious sense of optimism he feels toward the government's plans to soar to the peak of the soccer world.
"Soccer is the most popular sport in the world, and if we do well, we'll be proud. We want China to be powerful." He pauses for breath. Future generations will take soccer more seriously, and the stakes of what is ultimately just a game are growing fast. "If China does well at the World Cup, our country and our government won't disappoint us anymore."

Matt Moir is a freelance writer who has worked as a reporter for the CBC and CTV News. He lives in Toronto and writes about education, media, sports, and politics.
Noah MacMillan is an illustrator, designer, and Arsenal fan who lives in St. Louis. @noahmacmillan · noahmacmillan.com
Contributors
Howler
TAGS
WELL, IT DEPENDS ON WHAT YOU MEAN BY "FREE."
Enter your best email for full access to the site.