This day in football history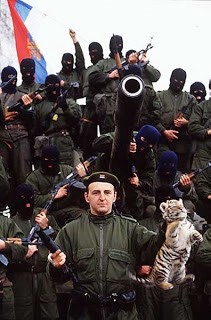 On 22 March 1992, the reigning European Cup holders and Yugoslavia First League champions, Red Star Belgrade, faced off against bitter derby rivals Partizan in a league match at Red Star's home ground, nicknamed the "Marakana" after the famous Brazilian stadium.
The rivalry between Red Star and Partizan is heated and often marked by violence. Before the match on 22 March, it appeared that the latest installment would be no exception, with several fights breaking out as the teams' supporters made their way into the stadium. Once the match started, the masses of rival supporters' group taunted each other with name calling and threats of continued violence after the match.
Shortly into the match, however, the crowd quieted as a group of about 20 Serbian Tigers — paramilitary soldiers — in full uniform, stood in the North Stand and raised a road sign reading "20 miles to Vukovar" — Vukovar being a Croatian town in the path of the Serbian army. As the match progressed, the soldiers raised additional signs — "10 miles to Vukovar," then "Welcome to Vukovar." After Vukovar, signs with other names were raised as more Croatian cities and towns fell to the Serbs.
The crowd, united in nationalistic fervor, roared with approval as each sign was raised, building to a dramatic crescendo when Tiger leader Željko Ražnatović, better known as "Arkan," rose to accept the crowd's applause. The match ended as a scoreless draw, but few of the supporters seemed to care. The match remains a sobering reminder that the generally positive connection between nationalism and football also has a darker side.
Red Star went on to win the league that year — their 19th title — in what was to be the last season of the Yugoslavian First League.

WELL, IT DEPENDS ON WHAT YOU MEAN BY "FREE."
Enter your best email for full access to the site.