Home
Dirty Tackle
Borussia Dortmund, Puma unhappy with Aubameyang's Nike tie-ins on the pitch
Borussia Dortmund, Puma unhappy with Aubameyang's Nike tie-ins on the pitch
April 4, 2017
Nike figures out a way to subvert their rivals in Germany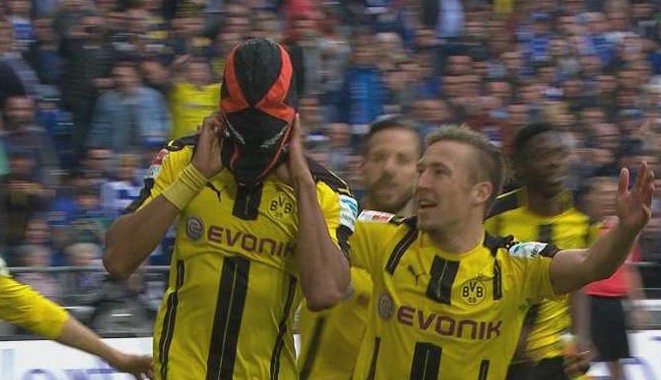 Pierre-Emerick Aubameyang has a penchant for celebrating goals by wearing masks. He's done it with Batman and Spider-Man masks in the past, so when he did it again with a nondescript mask when he scored in last weekend's Revierderby it seemed like it was just more of the same.
Except it wasn't. It was part of his new "Masked Finisher" campaign with Nike.
A few weeks earlier, Aubameyang played with a Nike swoosh in his hair.
Rubbing Shoulders with the best..#aubameyang #nike #strikenight #football #london #hypervenom #soccer pic.twitter.com/XCbO7q9wAp

— savethepitch (@savethepitch) March 2, 2017
The problem with all this? Dortmund are sponsored by Puma, so to have all this Nike business going on during their matches is a source of discomfort.
At the time, Dortmund sporting director Michael Zorc said, "This will certainly be from his personal sponsor, if my interpretation is correct. This will hopefully be a one-off occasion. We'll certainly address it in talks with him."
Well, that didn't work and the mask thing happened. This time, it was Dortmund CEO Hans-Joachim Watzke who spoke out. From ESPNFC:
"This behaviour is unworthy of a big corporation," Watzke told Bild. "It can't be that we have to force through the economic interest of Nike in this way. Our partner is Puma."
In a statement, Puma said: "We are surprised that a competitor puts a player in such a situation."
Bild added that Aubameyang — booked for his celebration by referee Felix Zwayer — is set to be fined €50,000 by Dortmund, for whom Nike supplied kit over two spells in the 1990s and 2000s.
Puma shouldn't be surprised by this, though. Nike did something similar a few years back to Adidas-affiliated Bayern Munich by having Mario Götze wear a shirt with their name emblazoned across it at his unveiling.
It's a clever ploy from Nike—undermining their German competitors in their own backyard. Hopefully they're nice enough to pay their athletes' fines, though.

Contributors
Howler
TAGS
WELL, IT DEPENDS ON WHAT YOU MEAN BY "FREE."
Enter your best email for full access to the site.