Two bizarre penalties were awarded to Barcelona after players were mysteriously tripped by an unknown entity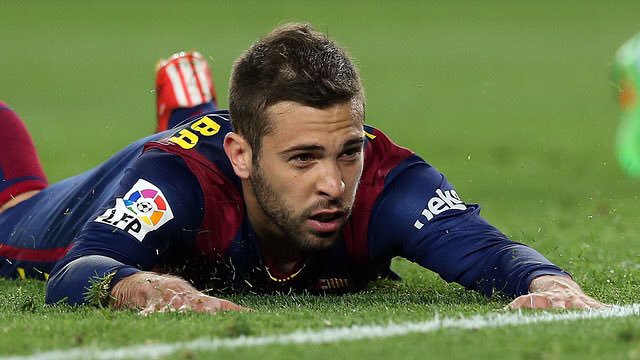 Down 2–0 on the final day of the season, Barcelona was in dire need of a win in order to sustain any hope of claiming another La Liga title. Miss after miss, shank after shank, the world famous front three of Lionel Messi, Neymar, and Luis Suarez were unable to bring their team back into contention.
In the 63rd minute, Eibar defender David Junca mistakenly placed the ball into his own net, putting Barcelona one goal away from tying the match. But then the unthinkable happened. It was as if fans were watching a scene straight out of the always real and never fake ghost hunting shows.
Barca defender Jordi Alba dribbled into the box and was inexplicably tripped by what many presumed was a ghost. The referee had no other option but to stop the game and award Alba a penalty kick due to other-worldly actions.
The images you are about to see are extremely terrifying and should not be viewed by the faint of heart.
A penalty was awarded for THIS ? Have you ever seen anything like it? #LaLiga #FCBEibar https://t.co/i1esLyJr9j
Normality was restored when usual penalty taker Lionel Messi missed (as usual), but then the paranormal returned!
Hard-man Neymar, who is never known to flop, was dribbling in Eibar's box when he too was tripped out of nowhere. Watch below…if you dare:
Here's a look at the second penalty awarded for @FCBarcelona... Thoughts? #LaLiga #FCBEibar https://t.co/54ld3sSIRS
The first trip could have been written off as simulation, but this happened twice, which means one of two things: both players have an inhuman lack of shame or it was a ghost.
Barcelona went on to win the match 4–2, but it wasn't enough to give the Catalan side the title as bitter rivals Real Madrid took home the honor for the first time since 2012.
Even the supernatural can't top Zinedine Zidane.
Contributors
Phil West
TAGS
WELL, IT DEPENDS ON WHAT YOU MEAN BY "FREE."
Enter your best email for full access to the site.