Home
Dirty Tackle
Carlo Ancelotti survives his first Bayern beer shower as Philipp Lahm gets his sendoff
Carlo Ancelotti survives his first Bayern beer shower as Philipp Lahm gets his sendoff
May 21, 2017
All the best bits from Bayern's Bundesliga victory celebration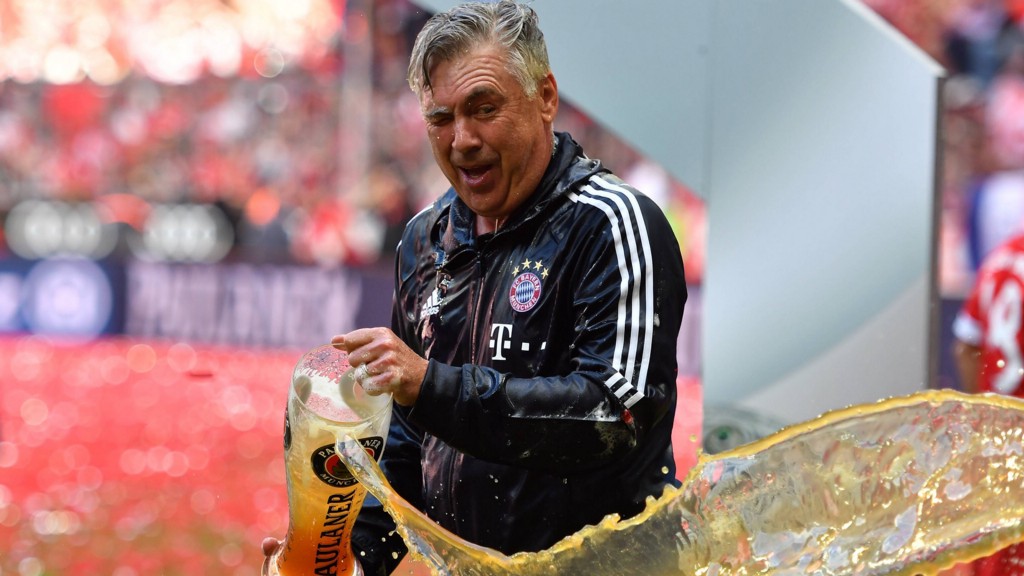 (FC Bayern)
A 4–1 win over Freiburg finished off Bayern Munich's fifth consecutive Bundesliga title and both Philipp Lahm and Xabi Alonso's career. It also marked the long overdue end of Carlo Ancelotti's beer-bath virginity.
@MrAncelotti @philipplahm @XabiAlonso .@MrAncelotti: "Me first Weißbier shower was very cold, but it was a lot of fun!" #FCBSCF
Also, David Alaba gave Arjen Robben a new head of hair.
Perfectly timed ?? ? #Mia5anMia
Then Robben passed on the favor.
Cheeky boy, @ArjenRobben ??? #Mia5anMia
Here's video of the beer tsunami (the GoPro on the glass was an inspired innovation):
Amidst the joy was a bit of sadness as Lahm and Alonso said goodbye
But the casual cool of Ancelotti in lederhosen remains.
Looking good, @MrAncelotti #MiaSanMia https://t.co/4A3H6TgkFn
One final thing you have to see: Manuel Neuer keeping his injured foot elevated while wearing his full kit and waving his hands in the air like he just doesn't care.
CHAMPIONS! #Mia5anMia
Contributors
Howler
TAGS
WELL, IT DEPENDS ON WHAT YOU MEAN BY "FREE."
Enter your best email for full access to the site.