Howler's resident defender helps us understand what the hell happened on Gordon's miss against the San Jose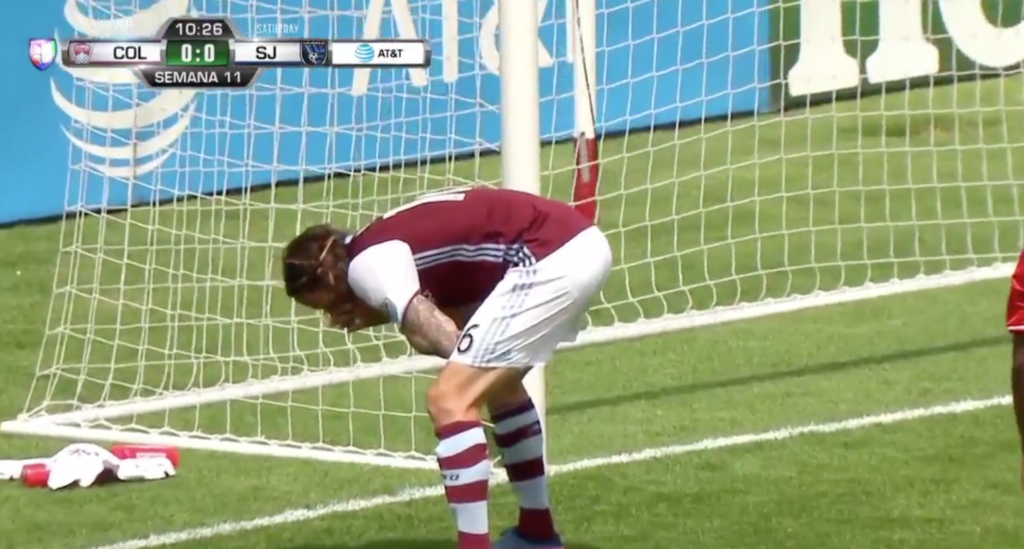 Alan Gordon is never a long shot to score in a match but, in this instance, a short shot tripped him up. The former Earthquake bash brother found himself with an open net on Saturday and, much to his chagrin, it didn't go well.
Oh dear Alan Gordon. #COLvSJ https://t.co/n9fbQu2LkF
To most people, this may appear like a simple tap-in—and it is—but there are many factors that you may have missed while this delightful nightmare unfolded.
Our analysis begins after Mohammed Saeid cuts the ball back into the path of an under-lapping run by fullback Marlon Hairston. The youngster from Mississippi curls a tantalizing shot first-time, back post and rather than continuing forward with his initial momentum, Hairston performs the soccer equivalent of the "fade away" and drifts off to the right side.
Meanwhile, David Bingham, goalkeeper for San Jose, remembers that Howler published a similar piece about Cristian Colman's nightmare open-netter and is determined not to let that happen again. To his credit, Bingham does well to parry the fade away attempt by Hairston but looks up to discover two boys in burgundy staring down an empty net. Unconfirmed reports from Rapids fans behind the goal claim they heard Bingham singing "Not Again" by Staind while midair.
The ball ricochets off Bingham's right paw directly into the path of the oncoming Gordon but not before Dominique Badji has a half chance at it. Instinctively, Badji reaches out both his foot and hand because, well, you never know with MLS referees. In a postgame presser, Badji told reporters that he wasn't making an effort to handle the ball, but, rather, pointing straight at it to help Gordon find it and put it into the net.
MISS: Alan Gordon with a brutal miss in front of goal
In Gordon's defense, he is more comfortable jumping over bodies and dunking goals inside the six-yard box, so the low deflection catches him off guard. He tries to jump anyway, and knocks the ball out for a goal kick.
Again, just like Colman's miss a few weeks ago, I believe the curious placement of the Pringles advertisement behind the goal threw Gordon off. That or the excessive quantity of Vicks VapoRub on the front of his jersey caused Gordon's eyes to water at that moment. Unfortunately for Gordon, he instantly places his VapoRub-soaked hands up to his eyes and mouth in disgust. At this point, he's too embarrassed to admit how much discomfort he's in and elects to douse his face in cold water after the next stoppage of play.
Colorado gaffer, Pablo Mastroeni, didn't see Gordon's miss. In fact, the cameras barely catch Mastroeni finding what he believes is a lucky penny. But he is dismayed to realize that it's a bottle cap. Visibly upset, Mastroeni pounds the ground in rage and looks up to catch sight of his team retreating for a goal kick.
(Additional note: Mastroeni is having an X-ray on his striking hand this week. Initial reports are negative.)
Perhaps the most peculiar reaction of the play comes from Chris Wondolowski who just concluded a splendid recovery run to mark the referee at the top of the box. Once the shot travels across the box and off of Bingham, Wondo appears to glance at Gordon and immediately round his run back to midfield as if unsurprised that his former teammate missed the clear chance. It's almost as if he anticipated it.
And now, Alan Gordon is surely laughing about this on a Skype session with Steven Lenhart while sipping a Ballast Point IPA.
Contributors
Jeb Brovsky
TAGS
WELL, IT DEPENDS ON WHAT YOU MEAN BY "FREE."
Enter your best email for full access to the site.