PSG lost 3-1 in the first leg of their Champions League round of 16 tie against Real Madrid, but Areola was a bright spot for the French club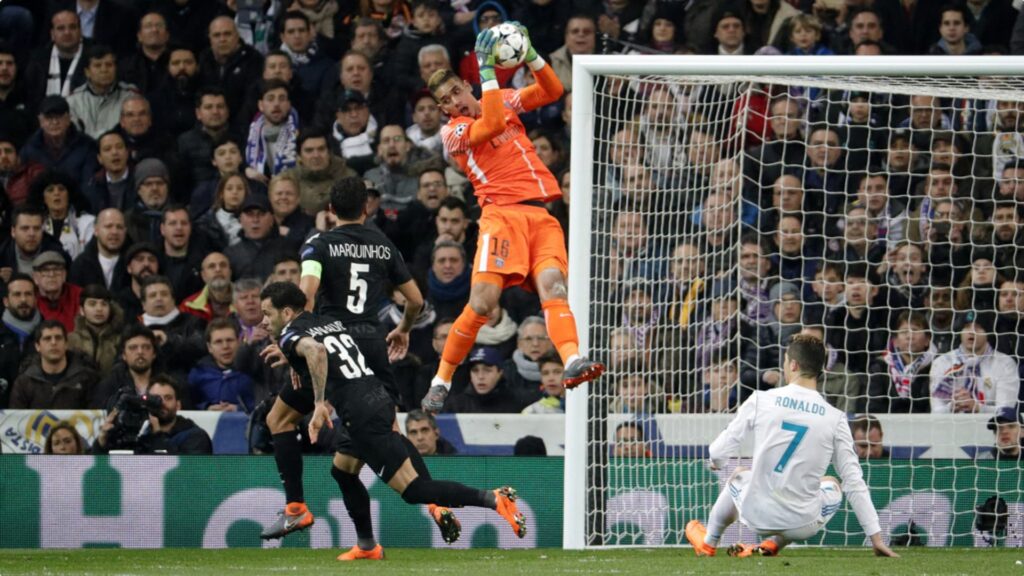 When Alphonse Areola made a breakaway save against Cristiano Ronaldo in the 28th minute I knew it was a potential game changer for PSG. Having the most lethal scorer in Champions League history coming at you 1-v-1 and denying him point-blank certainly gives you, as a goalkeeper, confidence while also inspiring the rest of the team. As the game went on and PSG got to halftime at 1-1 with Real Madrid, I was hoping that the score would hold because I really wanted to write about the save that changed the course of the game. However, it wasn't meant to be. In the second half, Madrid took complete control and finished off PSG with a second and third goal in the 83rd and 86th minutes, respectively. My heart sank. 
As I sat on my couch I started to reflect on the game and Areola's performance in particular. I realized that this game was a great example of the tough job that goalkeepers face, because sometimes you will be at your best and your team will still lose. An unfortunate reality of the position. So instead of breaking down one save, or play, that influenced the game I wanted to do something a little different and break down three plays that Areola was involved in against Madrid and the impact they had on the final outcome of the game.
The first two of these situations he handled extremely well—pulling off spectacular saves to keep his team in the game. The other play I want to dissect is the third goal for Madrid in order to explain why it was a much more difficult shot to save than it may have seemed at first glance.
Let's start with that impressive save in the 28th minute. As Marcelo was anticipating the pass from Isco he looked up and saw acres of space in behind the PSG defense (due to their high line and also being caught on a counter attack as they just missed a chance of their own on the other end), while also, out of the corner of his eye, seeing Ronaldo rushing in from the right side. This alerted Marcelo that he needed to play a whipped-in, one-touch pass with the inside of his foot behind the PSG defense and into the path of Ronaldo. Marcelo pulled this off flawlessly. Ronaldo found himself in on goal staring down Areola in a 1-v-1 situation. Ronaldo elected to take one touch and then unleash a shot only to be denied by Areola's large frame, specifically his face.
https://twitter.com/Gif2foot/status/963877557308416001
The whole reason that Areola made this save on Ronaldo was due to his positioning, in addition to his patience and composure. As Marcelo received the ball on the left flank (goalkeeper's right), Areola's initial position was around the top of his box. He took up this position to give himself the best possibility to come out and intercept Marcelo's pass if it was in his area. But in this situation Marcelo played a stellar ball to Ronaldo, with zero chance for Areola to intercept it. Therefore, Areola's job was now to cover the goal and that is why he initially retreated to his six-yard box. If Areola had elected to stand his ground, he would have found himself in no man's land—the area where he can't clear the ball outside the box, in addition to not being able to cover his goal (simply, in an area where he couldn't impact the play). If Areola had stayed put, Ronaldo would have either been able to chip Areola or dribble around him for an easy goal. Retreating to his goal was the correct move for Areola.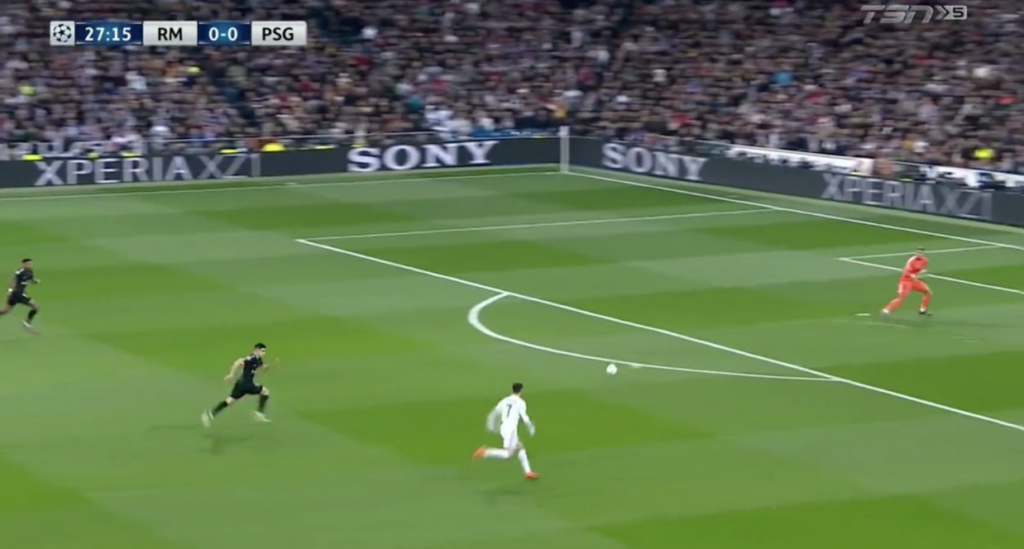 Once Ronaldo took a touch, Areola then had to adjust his positioning once again. He determined that the onrushing defender wasn't going to catch up to Ronaldo to impact the play and he then became the closest defender between Ronaldo and the goal. If there had been a defender side by side with Ronaldo, then Areola could have stood his position because he could have then used the help of the defender to direct where he wanted Ronaldo to go. All of this information was his cue that he needed to close Ronaldo down.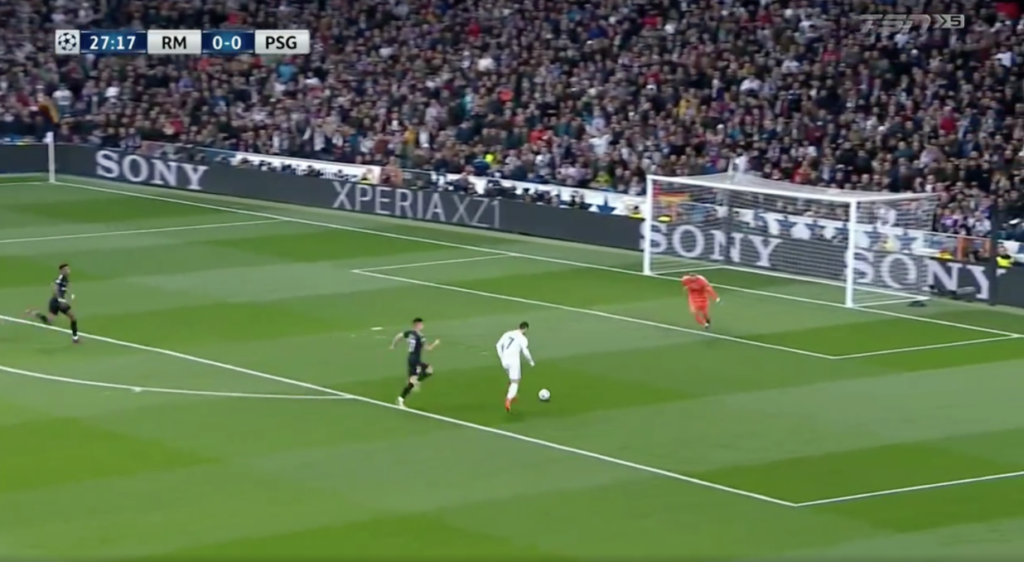 The final piece of the play for Areola is something I have covered in the past: to be patient, stay up as long as possible, and make your body big. If Areola had failed to do any one of these things, we most likely would have seen a different result here. Brave save from Areola.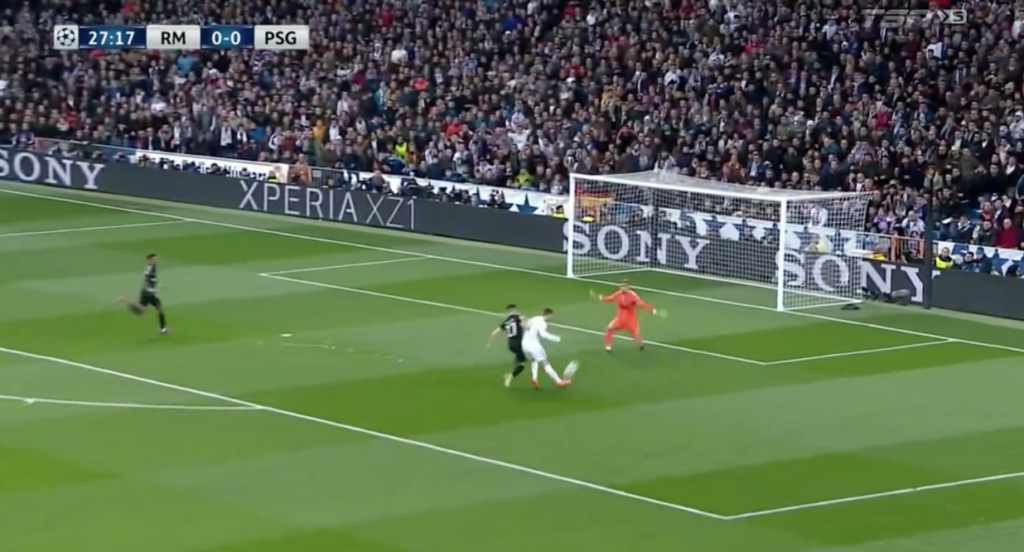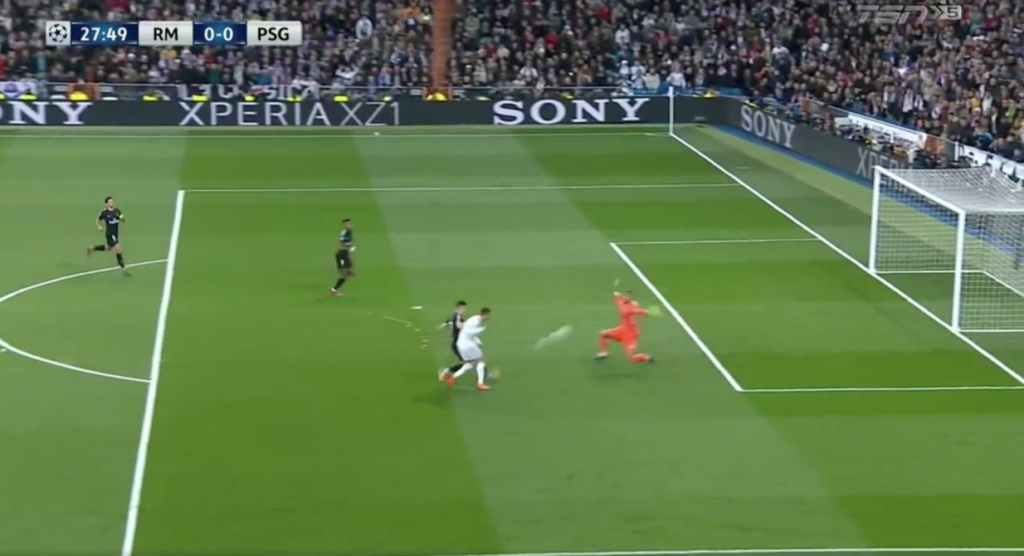 The next play of importance for Areola was his save against Karim Benzema in the 44th minute. Areola initially started this play by launching his goal kick long to Edinson Cavani, who lost out in his duel against Raphaël Varane. The ball bounced down to Benzema, who was then closed down by both Marco Verratti and Giovani Lo Celso—a big miscalculation by PSG because there was no support defender behind them. Well, there was, but the gap between the midfielders and the back line was so big that there was space for Madrid to exploit PSG. Instead, Lo Celso should have stepped to Benzema and Verratti should have been a support defender covering the space Madrid was about to exploit.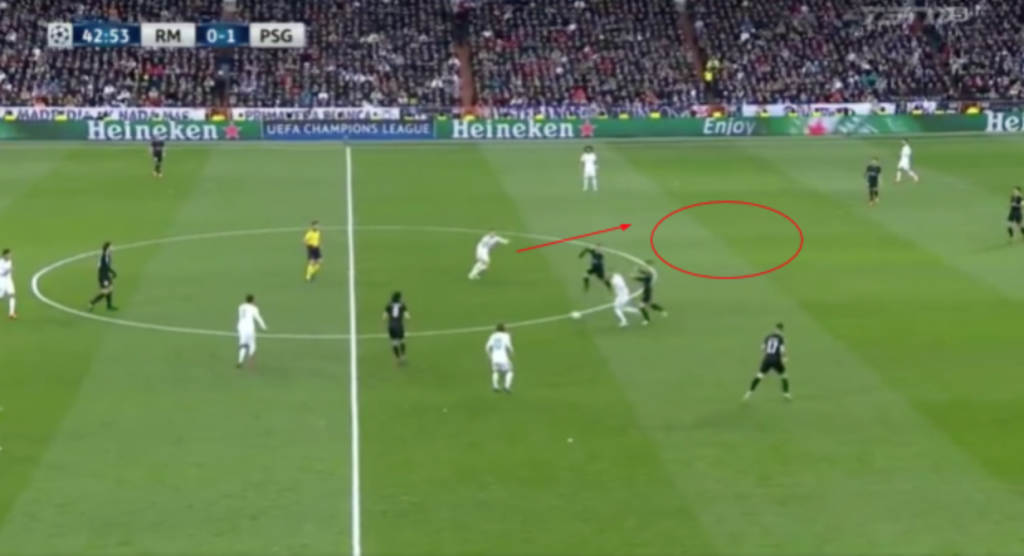 Benzema then played the ball back to Varane, who then played a one-touch pass past both Verratti and Lo Celso into Toni Kroos, who had nothing but space in front of him. Kroos then elected to play a quick pass to Marcelo, who in turn attacked PSG's back line. By doing this, PSG's center back, Marquinhos, had to step up to press the ball. This created a hole in front of the defense where you want the next central defender, Presnel Kimpembe, to slide over and step into. Something Kimpembe failed to do. Additionally, Kimpembe had no other attacker to cover, so there was no need for him to continue dropping towards the goal. This was the space where Benzema ran into to receive a pass from Marcelo and hit a one-time shot on target, only to be denied by the large right palm of Areola.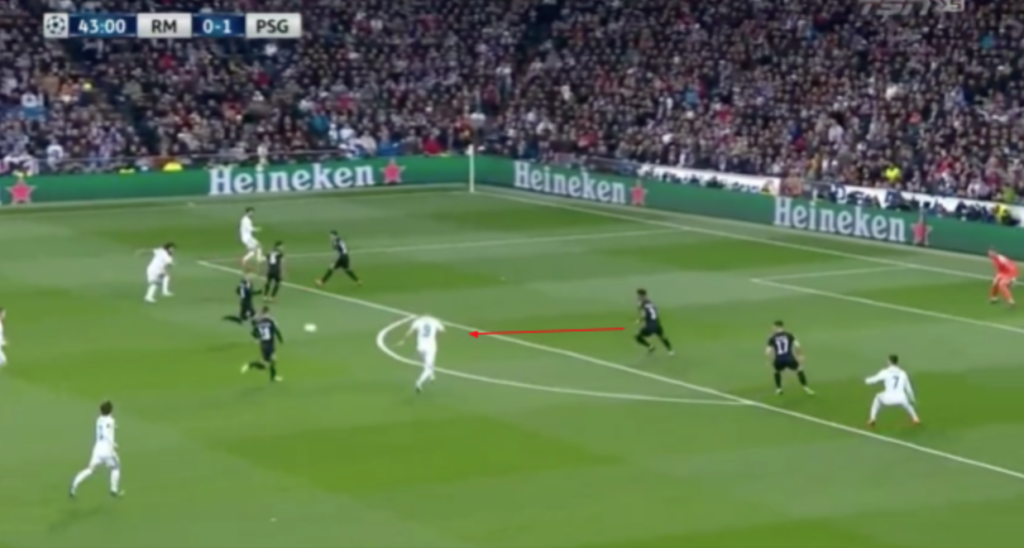 As Marcelo received the ball, Areola needed to survey the play that was happening in front of him. As he saw the space in front of his back line open up with the ball at Marcelo's feet, he needed to understand that a shot was possible at any time. He initially was squared to Marcelo in case he elected to shoot, but as the ball was then played into Benzema, Areola took a small hop to his left to square himself to the striker (Benzema) ,while also remembering to get himself set and ready for a shot. The ball was hit one touch and going in the direction Areola had just come from. If he failed to do this here (get set and square to Benzema), he would have given himself zero chance of ever making the save because he wouldn't have been able to push off with any power back to the direction he just came from. Areola's set position, timing, and his strong push are what allowed him to make this spectacular save.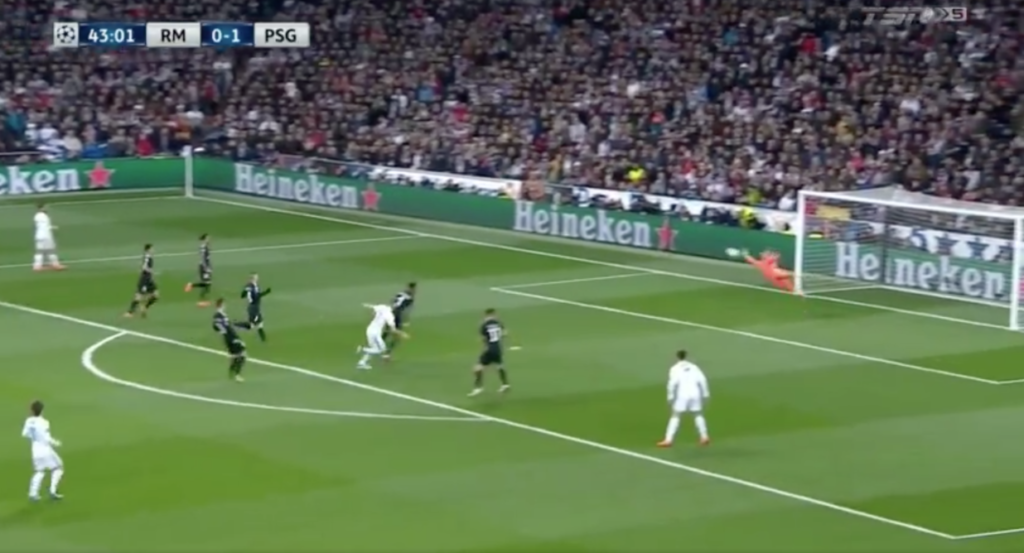 Madrid's third goal in the 86th minute was the icing on the cake for the hosts that wrapped up the first leg. My initial reaction, in real-time, was that Areola would be a bit disappointed with his effort on the goal because he got a hand on the ball but still managed to let it go in. Usually I feel as a goalkeeper that if I get a hand to the shot, but it still goes in, then I must have done something wrong. However, once I saw the replay I realized exactly why Areola had been thrown off on Marcelo's shot and my initial reaction had been wrong. It was due to a combination of the spin, pace of the shot, and the change of direction caused by the deflection off of Marquinhos that lead to the perfect storm that was a goal for Marcelo.
Let's pick up this play as Marcelo had the ball on the left side of the pitch. He had three PSG defenders around him (this will be important in a few seconds) and elected to pass the ball to Marco Asensio on the left wing. As Marcelo did this, he slipped his run in behind those defenders, specifically Adrien Rabiot, and into the space at Areola's near post.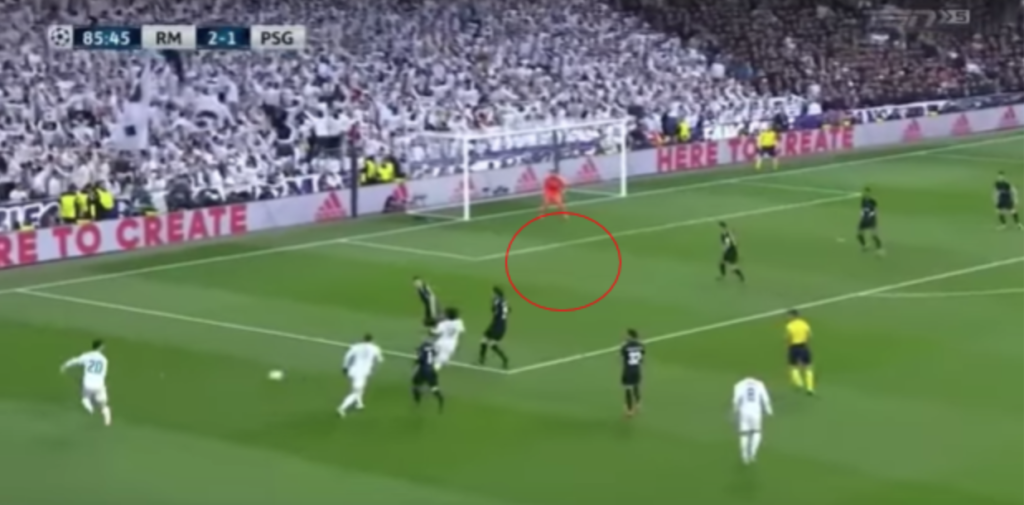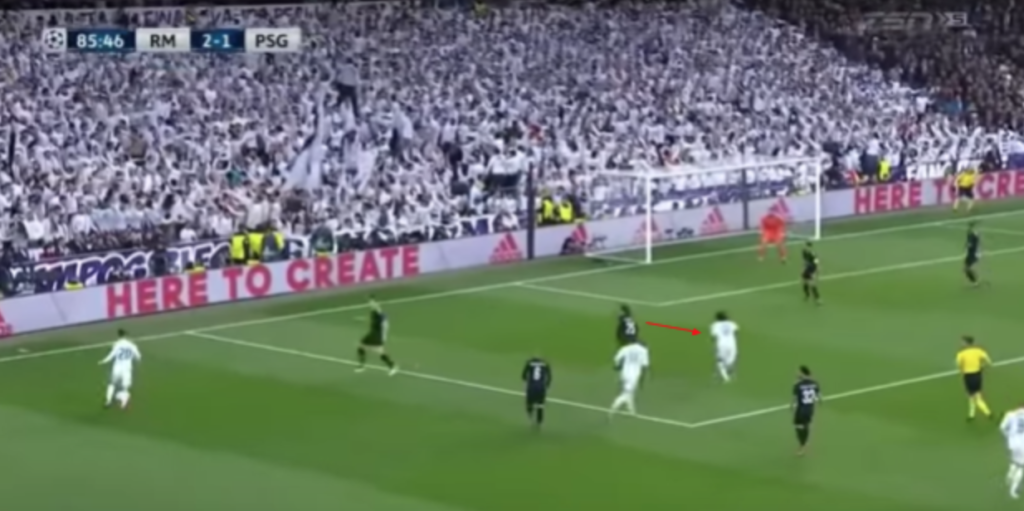 Rabiot made the mistake of blatantly ignoring Marcelo and casually drifting towards the ball, which then created the space for Marcelo to run into. If Rabiot had kept his eyes on Marcelo and checked his run, this goal most likely would never have happened because he would have had pressure on Marcelo. Asensio saw the space that Marcelo was in and swung in a beautiful low cross towards Marcelo, who then shot first-time to score past Areola.
As the ball was played into the box, Areola found himself having to adjust his position from the back half of the goal, anticipating a long cross from Asensio, to the front half of the goal for a shot from Marcelo. With a ball played from the wing to the near post, or outside the near post as it was here, you as a goalkeeper should adjust your positioning accordingly (as Areola did here) and slide over to cover the first half of the goal. It is then the defenders' responsibility to cover the back half of the goal for you.
I think Areola did a decent job of adjusting to the play and covering the near post. I say decent because I think he could have taken one more step over to his right than he did here. That being said, one important variable that I think impacts Areola's positioning was the pace of the ball in from Asensio to Marcelo. The ball was swung in with tremendous pace and, as Areola saw Marcelo was going to shoot, he himself needed to get set. If he wasn't set, he would drastically reduce his chance of making the save regardless of where it was hit. So, I think in the end Areola made an assessment and determined it was more important for him to be set for the shot than to be moving as Marcelo struck the ball.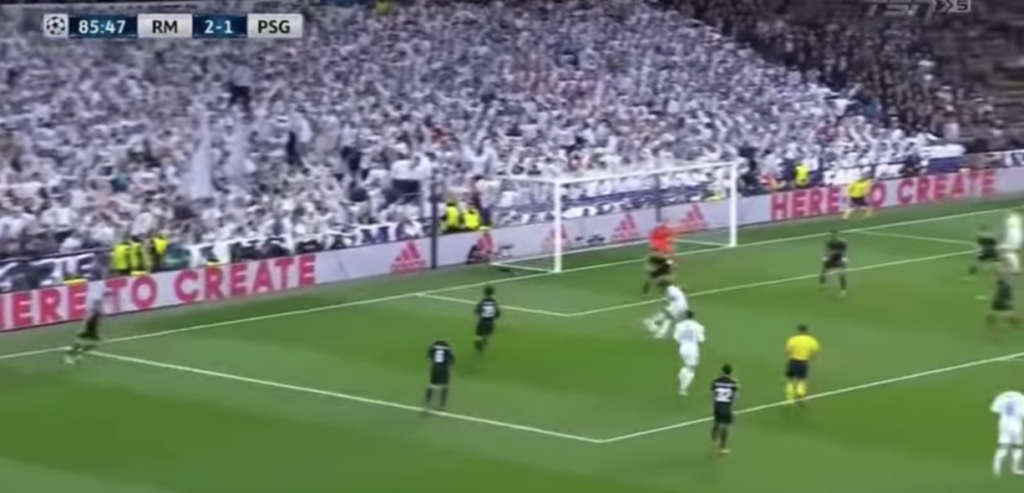 Areola's positioning, in my opinion, wasn't something that truly impacted the result of this play. There was one larger reason the outcome of this play was a goal and that was the spin and pace on the ball from Marcelo's shot compounded by the deflection off of Marquinhos.
Marcelo didn't hit this shot pure, he hit it with the inside of his leg and that did just enough to throw off Areola's timing on the shot. If Marcelo had hit this shot pure (with the laces or inside of the foot), I think the most likely outcome would be that it would either be blocked by Marquinhos or Areola. 
To use a baseball analogy: If you, as a batter, are up at the plate and expecting a fastball, all your muscles are going to be ready to fire in anticipation of that pitch. However, if a change-up or breaking ball is thrown, and you weren't expecting it, you often find your timing thrown off and you swing and miss or bounce the ball foul because you weren't able to slow your body down in time to adjust to the slower speed of the pitch. This is exactly what happened to Areola here. His timing was thrown off because of the spin on the shot—in addition to it deflecting off of Marquinhos—so he couldn't keep the ball out of the net even though he got a big hand to the ball. All of Areola's muscles were firing and ready to push off to make the save, but when the ball miss hit off of Marcelo's leg everything changed. In a split second Areola needed to go from having his muscles and limbs ready to fire and react to having to slow his whole body down to make the save yet still push the ball away from the goal. Throw in the deflection from Marquinhos and that made this shot infinitely more difficult to save.
Marcelo's goal// Arabic commentary ❤️ pic.twitter.com/4RCHi6g9Ja

— mars (@marcebeboomin) February 14, 2018
Even though Areola's play didn't lead to PSG walking away with a result in Madrid, it was still a performance that he can certainly be proud of and build on in his coming matches. There are days when you, as a goalkeeper, are going to be at your best and lead your team to a result and then there are days, like this was for Areola, where you will be at your best and your team will still lose. Such is the life of a goalkeeper. All that being said if Areola and PSG want to have any chance of reversing their fortunes in the second leg of this tie, they need to have a short memory and make the wrongs right on March 6th in Paris.
---
Follow Matt on Twitter @MattPyzdrowski.
Contributors
Matthew Pyzdrowski
TAGS
WELL, IT DEPENDS ON WHAT YOU MEAN BY "FREE."
Enter your best email for full access to the site.