While Christian Pulisic gets all the headlines, Weston McKennie forges a path of his own in Germany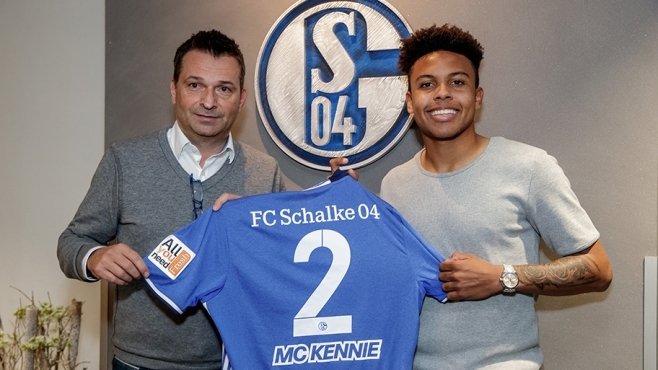 Christian Pulisic turned 19 last Monday. A day later, Weston McKennie, America's other 19 year old in the Bundesliga, lined up for his first start with Schalke, against Bayern Munich to boot.
During the match, McKennie survived for 57 minutes before being subbed out. Although Schalke lost 0-3, McKennie's performance wasn't totally analogous to the sad scoreline. The American teenager made mistakes (misplaced passes, dispossessions, or simply getting blown past by the likes of Thomas Müller or James Rodriguez), but he also played very confidently, very physically, and very energetically. Not an excellent performance, but a respectable first start, especially against Bayern's elite squad.
However, what was most significant about last Tuesday's match match is that McKennie got his first start just over a year after leaving the US and FC Dallas' youth team for Schalke 04 and the Bundesliga, a impressive feat given the skill disparity between the two countries and leagues. Moreover, as McKennie himself blurted out in a post-match interview, starting against Bayern is any kid's dream, because, as the teenager himself, explained in a post-match interview: "Bayern is one of the world's best team n' stuff." Yeah, he's a teenager. And a super lovable one at that.
McKennie is a native of Little Elm, Texas, a lakeside exurb tucked into a northern corner of the vast Dallas/Ft Worth metroplex. The town is close to Frisco, home of FC Dallas, where McKennie spent 2009-16 as a youth player. However, when FC Dallas was ready to offer him a "homegrown player" contract, he bolted for Europe, Germany, and Schalke 04. Because, as McKennie himself explained, just as basketballers come to the U.S. to play, footballers go to Europe to play. Jürgen Klinsmann would agree.
So far, McKennie has played 156 minutes for Schalke this season (two starts and three appearances off the bench). The 19 year old plays as a central-ish midfielder in coach Domenico Todesco's 3-4-3 or 3-4-2-1 shape. Basically, you'll find McKennie playing above the back line in a central position within the band of four midfielders. The worldclass likes of Nabil Bentaleb and Leon Goretzka are his immediate neighbors. Some kids have all the luck. Positionally, let's call McKennie a central midfielder with a rightward drift.
At 6'1", McKennie is stocky and near impossible to topple over. Although he was born in Texas, he lived in Kaiserslautern from 6-9 years old on Ramstein Air Force Base and played youth football at nearby FC Phönix Otterbach. So like Christian Pulisic, Fabian Johnson, Darlington Nagbe, or Kellyn Acosta, McKennie has a childhood link to football abroad. Fun fact: when living in Kaiserslautern, little McKennie once met Landon Donovan. Other fun facts: McKennie can skateboard, loves music, as well as singing and rapping badly.
On the pitch against Bayern, McKennie worked ceaselessly as a defensive central midfielder, since Bayern possessed loads of the ball, as usual. In this role, McKennie's instincts seem mostly defensive. His initial burst of speed helps him quickly closedown even the most skillful attackers. Plus, given his stocky build, McKennie is already effective at pushing players off the ball (on Tuesday, he straight up won the ball off Joshua Kimmich, Kingsley Coman, and Thomas Müller). McKinnie was equally good in the air, since, despite his modest height, he jumped equally with any player, including the towering Müller.
These defensive skills point to a future as a ball-winning central midfielder for the US. Moreover, with his speed, McKennie could perhaps even developed into a box-to-box flyer in the mold of, say, an Arturo Vidal. Schalke youth coach Norbert Elbert compares McKennie to former Schalke grad and current Gooner, Sead Kolasinac, a physical and energetic player himself.
McKennie explained that he looks up to Jermaine Jones and was "locker buddies" with legendary Schalke captain (and World Cup winner), defender Benedict Höwedes. So energetic physicality and defensive prowess are the early markers and influences on McKennie. However, McKennie explained in his interview with Deutsche Welle that he wants to be "the one who is trusted" by teammates when he has the ball in midfield. This phrase seems to be the teen's personal mission statement. Plus, it looks like he'll get plenty of time to develop into a leader at Schalke, since he just inked a five-year contract extension with the club this week.
? "It's the perfect place for me to develop."@WMcKennie & sporting director #Heidel discuss #McKennie2022 ✍️ #s04 pic.twitter.com/hhx0RhmR7X

— FC Schalke 04 (@s04_en) September 28, 2017
However, if he's going to develop into a box-to-box midfielder, McKennie needs to grow a lot—he still looks panicky and uncertain sometimes (the bane of many a teen player) and he needs to develop a longer range passing game. He can play short passes competently with a nice touch, but doesn't exhibit a passing range yet.
Nevertheless, the US should be excited for the emergence of a new central midfielder, especially a ball winner with box-to-box potential. Indeed, McKennie has already appeared for the US U-17, U-19, and U-20 squads, and is the first of Schalke's three young Americans (Haji Wright and Nic Taitague being the others) to make the first team. McKennie's ceiling could be a hybrid Jermaine Jones/Michael Bradley amalgam of ball winning and ball distributing (especially on the run) skills, while at the very least the US seems to be getting a good ball winning defensive midfielder in McKennie.
Finally, you should be impressed that McKennie has already cracked Schalke's first team, given that he's only just starting his second season in a top European league and missed much of a last season with a knee injury. Basically, McKennie is set to repeat Christian Pulisic's 2015-16 season when the Hershey kid just started cracking the Borussia Dortmund bench and starting lineup. The omens look good.
---
Follow Travis on Twitter @tptimmons.
Contributors
Travis Timmons
TAGS
WELL, IT DEPENDS ON WHAT YOU MEAN BY "FREE."
Enter your best email for full access to the site.