The 33-year-old midfielder has performed well for Costa Rica after being all but counted out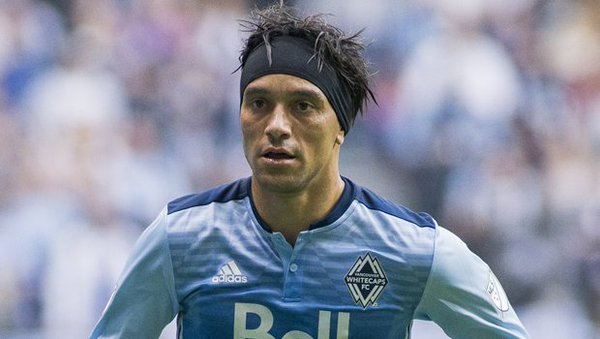 Not long ago, as he drifted between five clubs in two years, Christian Bolaños' time seemed to be up. On the heels of Costa Rica's historic run to the quarterfinals in the 2014 World Cup, where Bolaños played a key role as an every-match starter, his effectiveness on the pitch disappeared and fans grew restless clamoring for younger alternatives.
When Costa Rica takes the pitch against the United States Friday in a crucial World Cup qualifier, surely many familiar names will be on display. From Tim Howard to Keylor Navas in goal or Clint Dempsey and Bryan Ruíz on the attack, the two sides have seen their share of battles over the years.
Bolaños' is one name, however, that may not be as known to the casual US fan.
But they should get to know the 33-year-old midfielder with the long hair jetting out of his signature black headband, as he has resurrected his play in the past year just when his country needs him the most.
Bolaños astonishingly scored four goals in three straight World Cup qualifying games at the end of 2016 after only scoring a pair of goals up to that point in his international career, which began in 2005. Though the Vancouvers Whitecaps midfielder hasn't scored since Costa Rica's 4-0 throttling of the Yanks in San José last November, he should again be a factor in Costa Rica's veteran-laced midfield that also features capitan Ruíz and Celso Borges of Spain's Deportivo La Coruña.
Before last year, Bolaños had signed on for a second stint with Costa Rican power Saprissa in what looked to be a final farewell tour before going into retirement. To most fans in the Central American country, he was considered an afterthought on the selection, a smaller act meant to play second fiddle to the rock stars in his own midfield.
When asked by Costa Rican newspaper La Nación if he heard of the critics asking why he would be again included on the selection before his magical play, Bolaños said the mounting criticism never got to him.
"I've been on the best group that Costa Rica has ever had and that is for a reason," he said. "I'm not really worried about all that (talk), that was just bad criticism that was being given at that time."
Under coach Óscar Ramírez's defensive-minded scheme, Bolaños has revived his game and become an integral part of Costa Rica's attack from his spot on the right wing. He impressed enough to be named to last year's CONCACAF Best XI alongside mainstays Navas and Ruíz.
Following a hot start in qualifying that saw it shoot up into first place after the first set of back-to-back matches, Costa Rica has cooled down considerably. Los Ticos now have a slight grasp on second place, which the US could take away if it wins by more than two goals Friday.
Part of the reason for Los Ticos uninspired play as of late is commonly attributed to unlucky injuries. A more troubling issue, however, has been Costa Rica's lack of a consistent attack.
Whether it's as a starter or a possible second-half sub, Bolaños has been the one solid generator of offense. Due to a total dearth of proven forwards, Bolaños and the rest of this midfield may give Los Ticos the best shot to get a result in a country where points have always proved difficult.
"Before my job was to dole out assists, but now I'm called upon to be scoring more," Bolaños told La Nación last November, admitting that his third World Cup qualifier has been the charm for him.
While Costa Rica has not won a qualifier on US soil since 1985, when current head coach Ramírez was then a young midfielder for Los Ticos, the teams' last two Hexagonal matches in the US have been filled with drama. In 2009, Costa Rica built a 2-0 first half lead thanks to early goals by Ruíz. Los Ticos then let it slip by allowing a heartbreaking goal in the fifth minute of stoppage time, as Jonathan Bornstein let the Yanks escape with a last-second tie.
Then in 2013, the "Snowpocalypse" game that Costa Ricans are still arguing about years later saw the US win on a lone goal at Sporting Goods Park near Denver on a field that looked like it was in the center of a snow globe.
Bolaños played in both those games, in the first as a late substitute and the second as a starter. Though he may not have been able to effect either one, on Friday Bolaños will again be looking to make the third time the one that counts in continuing his improbable run towards Russia.
---
Follow Michael on Twitter @mkrumholtz. 
Contributors
Michael Krumholtz
TAGS
WELL, IT DEPENDS ON WHAT YOU MEAN BY "FREE."
Enter your best email for full access to the site.