Brand Beckham has long existed as a blank vessel avoiding politics and controversy, a new partner in Miami could make that difficult to continue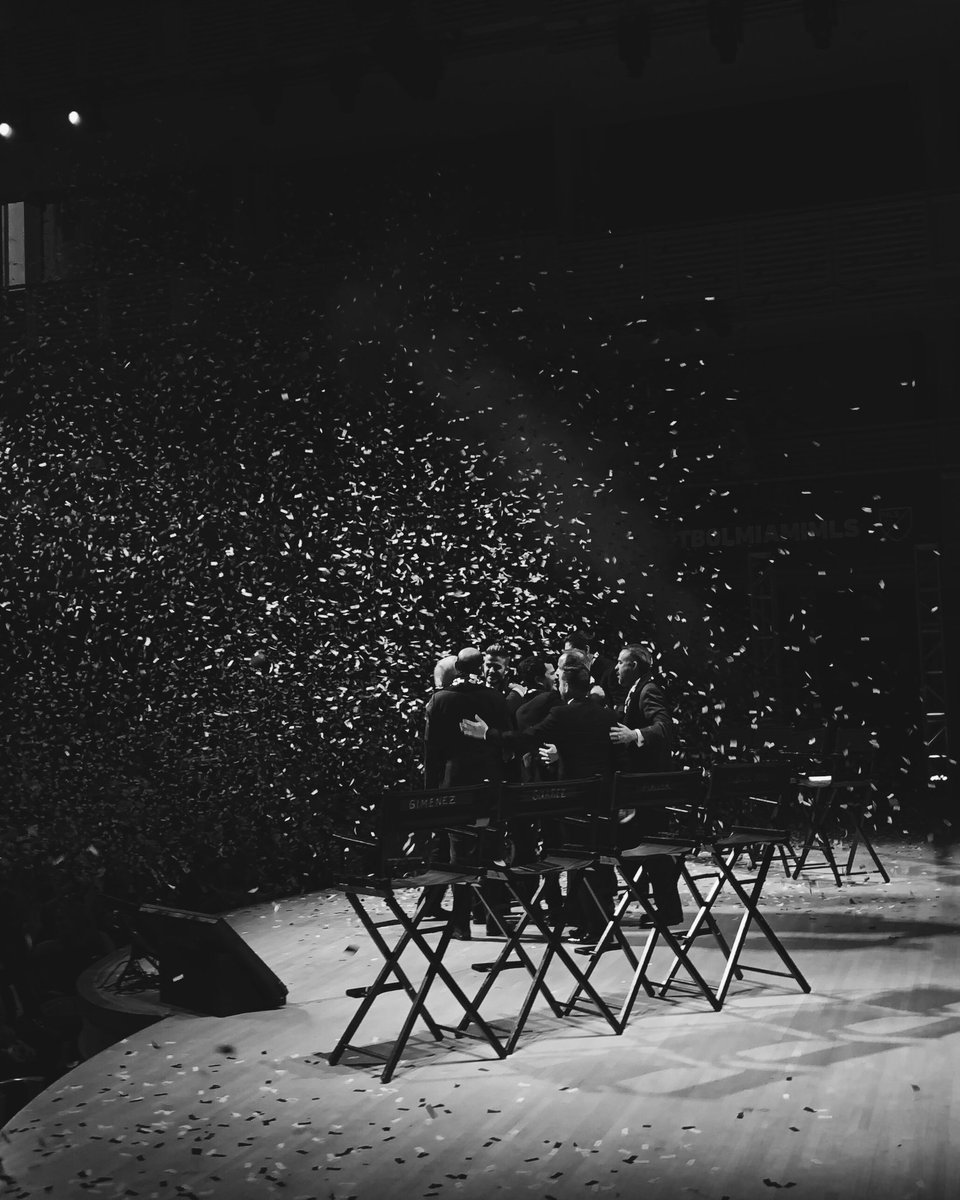 There was a lot to chuckle about at Monday's odd announcement that David Beckham is bringing an MLS team to Miami. The way Beckham's speech mirrored the speech he gave four years earlier, at a museum just down the street, when he announced he was bringing an MLS team to Miami. The way confetti cannons exploded and two fog machines gassed the Adrienne Arsht Center without any announcement of what was happening, or why exactly Beckham, his club co-owners, league commissioner Don Garber, and the mayors of Miami and Miami-Dade County were all hugging each other. The way somebody forgot to invite Pitbull to the event, breaking an ordinance that the rapping Dr. Pepper pitchman be present at any gathering of more than seven city residents.
I liked how the mayors praised Beckham as a global icon while provincially squabbling over which is the better private high school of Miami's Cuban elite, Belen or Columbus. And I was bemused when, after an hour and a half listening to Beckham, his partners, and commissioner Garber talk about how very hard they've worked over the past four years to get to this point—seemingly the same point they were at in 2014; no team name, no colors, no front office, no players nor coaches, no finalized stadium site, nothing—before concluding that "the hard work starts now." Not confidence inspiring.
A few days after the event, as vague details about the project are sort of obliquely kind of starting to be filled in, I find myself dwelling on one facet from Monday that truly stood out, and could flavor everything that happens from here on in. It was the formal introduction of a new and key member of the ownership team, a Miamian named Jorge Mas. He and his brother Jose, who were both on the stage with Beckham, were presented as the last-minute saviors of the club.
"I'll share a secret with you," Beckham's partner Marcelo Claure said. "About 60 days ago we were done. We gave up. We were not going to do this." But then Claure received an email. The Mas brothers had just tried and failed to buy the Miami Marlins baseball team. They asked Claure if he might let them join the soccer project instead. Claure invited the brothers up to New York for dinner with him, Beckham, and Simon Fuller, another partner who flew in from Los Angeles. "And it was a magical moment," Claure said. "We found the missing link. We found the local partner who knows Miami, who can supplement what we are bringing to the table."
Jorge Mas spoke last at the event, and stole the show with his passion.
"Miami!" he bellowed. "Our City!"
And then he dropped a line I suspect people outside Miami failed to translate.
"Dreams happen where freedom reigns!" Whoa. I looked to my left and my right, at the faces of others in the theater. Did he just? He…he just called out the Castro government in Cuba, didn't he? That was quick. Beckham had said nothing about freedom. Neither did Claure, Garber, or even the mayors. Yet Mas, when he took the mic, mentioned it right away. A banner unfurled earlier by the Southern Legion—a supporters group that has long behaved more like fans of team ownership than of a soccer team—now looked more political than I'd realized. The banner, naturally a thank you to Beckham and the other owners, featured a giant photo of the Freedom Tower, a city icon standing not far from the Arsht Center. The building is where thousands of Cuban exiles were processed after landing in Miami. The street in front of the tower has been renamed Jorge Mas Canosa Boulevard after the brothers' father, an indication of how powerful Mas Canosa was in Miami politics.
Mas Canosa was the head of the Cuban American National Foundation, a far-right outfit that fought to overthrow the Castros. Mas Canosa censored dissent from his hard line, and financially supported politicians who shared his views. He aspired to replace Fidel Castro as Cuba's president. When he died in 1997, Miami threw him the exile version of a state funeral. His grave lies in Woodlawn cemetery, the resting place of several Cuban leaders.
Also, Mas Canosa funded terrorism. According to declassified CIA documents released after his death, as published in the Miami New Times, Mas Canosa "personally gave $5,000 to famed terrorist Luis Posada Carriles … to blow up Cuban and Soviet vessels off of Veracruz, Mexico." The New Times quoted the 1965 report at length:
"Jorge Mas Canosa … had proposed to a demolition expert that he travel to Spain, Mexico and other Latin American countries … and place bombs in Communist instillations … As of June 28, Mas Canosa had in his possession 125 pounds of pentolite (an explosive) which had been purchased at $3 per pound.
"He had approached Ramon Escarda Rubio and another Cuban, frogmen acquainted with demolition gear, to place charges on the vessel. The plan calls for three small charges to be placed close to the midships centerline on the underwater hull. If the charges go off as planned, a 14-foot hole will be blown in the ship's bottom."
Luis Posada is alleged to have organized lethal bombings of Cuban tourist sites, and also the 1976 bombing of Cubana flight 455, which killed 73 people.
"Miami to me is personal," Jorge Mas said Monday at the Arsht Center, which his father's construction company won county contracts to help build. "It starts with the story of my parents. Who fled tyranny. And who fled communism seeking freedom. Leaving behind everything they knew and coming to Miami, a city built on dreams and aspirations and sacrifice."
Mas choked up for a moment before saying he thought his father would have been proud of him for buying into the soccer project. Cameras broadcasting the event cut to Jose Mas, who looked like he was struggling not to cry.
Jorge Mas is the chairman of MasTec, the engineering and construction company his father built. He also is the chairman of the Cuban American National Foundation that his father ran. He is not his father. The foundation's positions are softer today than under his father's rule. CANF supported President Obama's easing of travel and trade restrictions with Cuba, which Mas Canosa certainly would have opposed. No one has accused Jorge Mas of sponsoring terrorism.
But clearly, from what he said at the event Monday, he is political. Beckham was criticized for his naiveté when he first tried to merge his brand with the city's. He didn't know the difference between the Miami government and the more powerful county government, nor how the two bodies worked together. In bringing the Mas brothers aboard, political obstacles crumble. Miami politics remains very much a Cuban business; County Mayor Carlos Gimenez was born in Havana. And the Mas family remains powerful. When Gimenez went to shake Mas's hand on stage Monday, Mas pulled him into a hug, appearing to plant a kiss on the mayor's cheek.
Beckham said that he wanted to partner with the Mas brothers within just 30 seconds of meeting them. Garber praised the brothers for being from one of the "most respected families in our country." He added that they would be "a locally based partner with deep ties in the community and the desire to lead and operate the club." That makes it sound like they, more than Beckham and the absentee owners that round out the group, will be running the show. If Garber did not misspeak, it's going to be Jorge Mas's club at least as much as anyone else's.
Cubanness, if that's a word, seemed to be a central attraction of the Mas partnership. Beckham and Garber, when they stepped forward to speak on Monday, both greeted the crowd with stilted "holas!" (Garber also, for some reason, added an accent to the second "i" in Miami.) "Diversity" was the first thing Beckham praised when he listed the city's virtues. (He also likes the beaches and the weather.) Even Mas joined in. "This is a cultural mosaic," he said. "We are the melting pot of the world and the Americas. We represent what is best of America."
That diversity came across like a quirky civic characteristic, something spicy and fun. Which it is. It's also profoundly complex, sometimes as problematic as it is provident. Most people melting into Miami are not Cuban. The traditional exile view of Cuba is not universally shared. It will be interesting to see how Beckham and the league navigate Miami's charged politics now that the Mas brothers are on board, and perhaps more than just for show. As Jorge Mas said on Monday, it's his town.
---
Previously: The Miami Connection
Follow Robert on Twitter @robertandrewp.
Contributors
Robert Andrew Powell
TAGS
WELL, IT DEPENDS ON WHAT YOU MEAN BY "FREE."
Enter your best email for full access to the site.