DT Exclusive: Jurgen Klopp's secret messages to Virgil van Dijk
June 8, 2017
The texts that prompted an investigation into Liverpool's conduct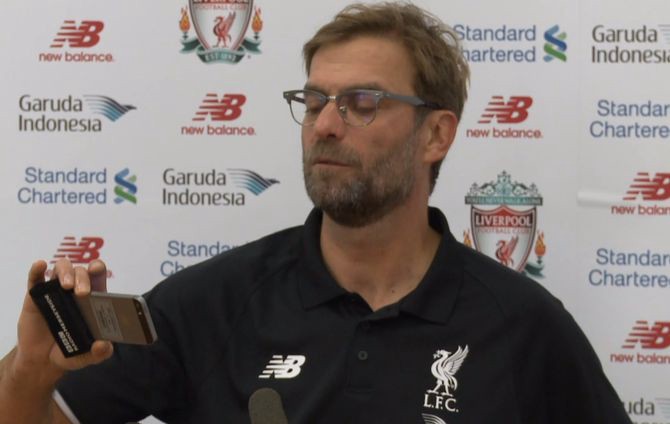 Liverpool have been forced to apologize and end their pursuit of top transfer target Virgil van Dijk after Southampton filed a complaint accusing them of tapping up their captain. According to the Telegraph, Van Dijk was flown to Blackpool for a meeting with Klopp, who later sent "regular messages" to the player. The following is a transcript of some of those messages.
Klopp (2:47 am): Virgil…u up?
Klopp (3:35 am): U up Virgil??
Klopp (4:19 am): Guess not 🙁
Van Dijk (7:32 am): Sorry i was sleepin lol.
Klopp (7:33 am): LOL! Just wanted to say goodnight but now i'll say good morning :p
Van Dijk (7:48 am): Good morning!
Klopp (7:49 am): It is now 🙂
---
Klopp (6:51 pm): Virgil, what's ur snapchat?
Klopp (6:52 pm): U have to see this photo of me with the rabbit ears filter!
Klopp (6:53 pm): U have to see it.
Klopp (6:54 pm): Virgil…
Klopp (6:55 pm): Tell me where u are and I'll just come show u in person.
Klopp: (6:56 pm): Virgil…
---
Klopp (10:07 am): Have u ever seen the film The Cable Guy???
Van Dijk (10:33 am): Don't think so.
Klopp (10:34 am): Oh man! It's so good! Jim Carrey and Ferris Bueller play best friends who would do anything for each other. It reminds me of u and me 😀
Van Dijk (11:10 am): Cool
Klopp (11:11 am): It's very cool! I have the DVD. I would be happy to lend it to u so u can watch it. But I only lend DVDs to my players 😉
Van Dijk (11:58 am): Ok.
Klopp (11:59 am): 😉
---
Klopp (1:44 am): Virgil, I really want to see u again. When can we meet?
Van Dijk (8:39 am): Jurgen, this is Southampton chairman Ralph Krueger. Your contact with Virgil has been wholly inappropriate. We're reporting you to the league.
Klopp (8:42 am): 🙁
---
Klopp (3:08 am): Virgil, u up?
Klopp (3:12 am): I'm watching The Cable Guy. Made me think of u…
Klopp (3:17 am): Miss u
Klopp (4:45 am): Whatever. I don't need u. Dejan Lovren is soooo much better than u!
Klopp (4:55 am): Virgil I didn't mean that. I'm sorry. I know u can't come to Liverpool now but maybe I'll come to Southampton! I'll talk to my agent! Are there any houses in your neighborhood for sale? Let me know!
Contributors
Howler
TAGS
WELL, IT DEPENDS ON WHAT YOU MEAN BY "FREE."
Enter your best email for full access to the site.