The "goalkeeper's union" can be a complex dynamic to navigate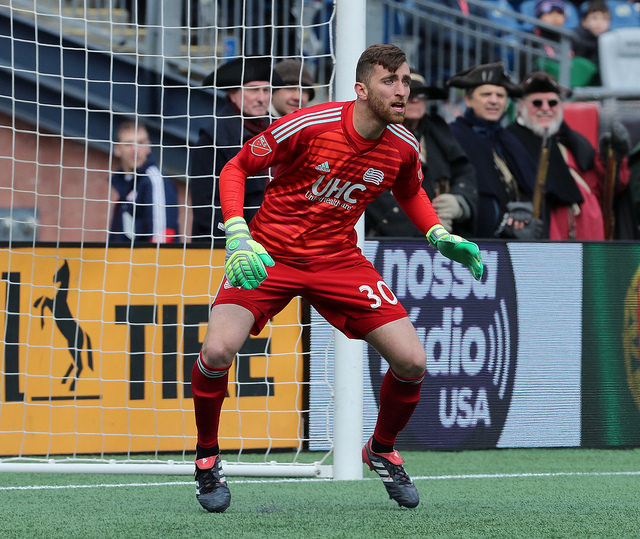 Before MLS preseason began, not many of us knew much, if anything, about Matt Turner. He spent the past two seasons living in anonymity. He didn't get a single start in New England and spent most of his time on loan to the Richmond Kickers. Revolution coach Brad Friedel himself told Turner at the start of preseason he was No. 3 on the depth chart. So how exactly does one go from being No. 3 on an MLS depth chart to being thrust in the limelight as his club's No. 1 goalkeeper?
There are three scenarios for goalkeepers when they enter preseason. Most often, there is a clear No. 1—Nick Rimando at Real Salt Lake, Luis Robles with the New York Red Bulls, Tim Melia at Sporting KC, etc.—and the other goalkeepers in preseason camp fight for the backup spot. Sometimes even the backup spot is already claimed. The other goalkeepers in camp are fighting to just make the team, or there is a young goalkeeper who accepts his role as third string and is biding his time.
Every now and then, however, there's an open race. The head coach hasn't made up his mind on who the starting goalkeeper will be, and he waits to see who performs the best. For better or worse, despite what the coach says, it's tough to tell when these moments truly come along. Coaches often say that "it's an open battle" and that the position is up for grabs, but usually this is done to keep everyone happy and motivated. It's more talk than truth. It's rare when the open race actually happens. Clearly Friedel wasn't trying to pay anyone lip service.
Competition among the goalkeepers in preseason is one of the weirder things I've experienced in my own career. Field players have the luxury of being able to fit into different positions, and if you are in form you will play. That is why you can see two field players who compete for the same position become best friends. In my experience, though, this is a rare occurrence for goalkeepers.
A goalkeeper only has one spot up for grabs in preseason. If you go out there and try and help the guys with whom you're competing get better, you're hurting your own chances of getting the job. In goalkeeper specific training, you silently want the other person to mess up. Maybe not mess up, but you want them to be sloppy, just enough so it's clear that you are better. It pains me saying it aloud, but, deep down, I think it's something most goalkeepers are familiar with.
For me, the storied "goalkeepers union" you often hear about only exists when you are on the opposite sides of the pitch. You have a camaraderie and compassion for the guy on the other side because you know the work that they have put in and how difficult it is to be a goalkeeper. But I have a hard time believing in the "union" within your own team. If I directly had a hand in helping a guy I was competing with take my job, I'm going to feel sick to my stomach. I believe in being a good teammate, being respectful, and professional but that is where I draw the line. I'll admit, some goalkeepers out there might be better people than me and disagree, but I've never been in a scenario where I felt true kinship on my own team. It's all a really strange balance of fighting for a spot but being a good teammate.
We can talk all we want about preseason competition, but it's a different experience entirely to get your first start. If Turner was anything like me, I'm sure his stomach was in knots before the game. How do you deal with the nerves that come as you are about to embark on the one thing you have been working your whole life to achieve? I'll be honest, before my first match I puked my guts out in the toilet. I couldn't help it. Your body does funny things when adrenaline is pumping through your veins. I've never believed guys who say they don't get nervous. Nerves are the body's natural reaction to fight or flight and knowing that you have something to lose. If you aren't getting nervous before games, then what you are doing doesn't mean that much to you.
With that said, when that whistle blows at the start of the game a funny thing happens and that all changes. Those nerves disappear. Your body knows its time to perform. If you've done everything you can to be prepared for the match, then you will be fine. The more experience you get, the better you get at dealing with this. It's no surprise to me that in week two of this MLS season, we saw a more confident and in command Matt Turner. This was highlighted by his impassioned penalty save in the 54th minute against Colorado's Jack Price.
WHAT A SAVE!

Matt Turner denies Jack Price from the spot. #NEvCOL https://t.co/5BQ2ej7gxL

— Major League Soccer (@MLS) March 10, 2018
In penalty situations, energy and confidence play a big role as it's partly a psychological battle. If you as a goalkeeper can raise a moment of doubt in the striker's head before he shoots, that can be just enough to turn the odds in your favor. Turner stood tall, puffed out his chest, and gathered all the information he could from Jack Price as he awaited the penalty.
He had taken full advantage of the opportunity he was given to compete in preseason, this was his "Welcome to MLS" moment.
---
Follow Matt on Twitter @MattPyzdrowski. 
Contributors
Matthew Pyzdrowski
TAGS
WELL, IT DEPENDS ON WHAT YOU MEAN BY "FREE."
Enter your best email for full access to the site.