Underappreciated and disregarded, England won't fully realize the loss of Wayne Rooney until it's too late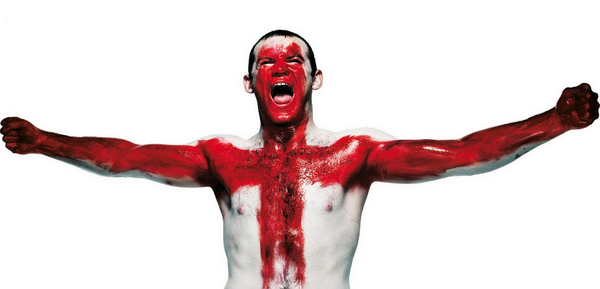 Whither Wayne Rooney?
It's been the only question worth asking of the England men's national team, and for some time; especially considering alternatives like "Can Steven Gerrard play with Frank Lampard?" or "Will England win the next World Cup?"
These questions, among others, nonetheless demonstrate an odd pattern in English soccer culture. Unreasonable expectations are set for the Three Lions and then the team, management and the Football Association is seized upon for failing to meet them, in spite of both past results and trends within the game. Then come the calls for a complete teardown and reconstruction ("root and branch reform") of the setup. Some journalists suspect the senior side actually punches above its weight for a country of its size and economic output. If England is overachieving, Wayne Rooney's international retirement just three weeks ago should only bring doubt.
Rooney has been synonymous with the Three Lions. Unlike a lot these days, the numbers bear it out. He's appeared 119 times, scoring 53 goals and playing with 104 different teammates. However, the number most representative of Rooney's national team career is not any statistic. It's his age. A debut at 17 years and 111 days old made him the youngest player ever to appear for the senior men's team and a goal 206 days later made him the youngest ever to score. Such precocity as a teenager earned plaudits both tongue in cheek ("The Wonder Boy") and not so ("The New Pelé"). But none was more solicitous than—*looks left, scans right, a pause, a whisper*—"World Class."
The Italians choose captains by seniority, electing the player with the most caps, while Germans prefer guile, picking the canniest on the pitch—often a defender or midfielder. England, on the other hand, likes its talismans. Making Rooney captain yoked him with those incandescent expectations, like a horse to carriage. The previous whipping boy had been one David Beckham. He recovered nicely from death threats after France '98 by flipping off his own fans at Euro 2000 and he was anointed with the armband that fall. But his lot, a middle-class pretty boy, was not as Dickensian. So come 2003, Rooney was anointed to be flogged.
Every campaign held the seed of its own failure. On the pitch, it was a dry formation of two banks of four and poor penalty taking. Off the pitch, the presence of the wives and girlfriends of players at Germany 2006 and "prison guard" Fabio Capello's decision to ban said significant others from the training camp at South Africa 2010 was amplified to distract from on the field performance.
Six major tournaments over 13 years only for Rooney to be left perpetually standing in the center circle, hands on hips. Soon came the charges that he's too aggressive and runs around too much. Even more baffling, the accusation that he only performs well for club and not country, as though all the records he's set are for naught. Because if there's any defining affectation of English culture it is an inscrutable masochism. Stiff upper lip, keep calm and carry on, get stuck in and all that. And there's no better cudgel to beat an English player with than "World Class." (Bonus points if they are under the age of 23.)
Rooney's eligibility was not on the nose as much as it was a headbutt to the face; he of Irish descent, raised Roman Catholic, the eldest son of a day laborer and lunch lady on the wrong side of the tracks of the wrong side of the river Mersey in the wrong half of the country in Margaret Thatcher's England. How dare he.
All indications pointed to the World Cup in Russia next summer as his swan song. And not out of poetics. Injuries, poor form, and lack of playing time have descended on Southgate's side, as custom. Two goals in three games and a full summer break would mean a recall for any English forward; the qualification campaign doesn't muddle along on its own. But he hung up on Southgate and turned down any more substitute appearances or charges of slowing the progress of the younger players, even, yes, Ross Barkley. The man who overcame balding with a hair transplant and weight gain with spin classes has had enough. With him out of the setup, football has truly gone home. He'll be missed more than the press or country care to acknowledge.
---
Follow Mapate on Twitter @atMapate. 
Contributors
Mapate Diop
TAGS
WELL, IT DEPENDS ON WHAT YOU MEAN BY "FREE."
Enter your best email for full access to the site.