Home
Dirty Tackle
FC Cincinnati stonewall the Chicago Fire in shootout, draw second largest U.S. Open Cup crowd ever
FC Cincinnati stonewall the Chicago Fire in shootout, draw second largest U.S. Open Cup crowd ever
June 29, 2017
Both of the U.S.'s second divisions stick it to MLS on the same night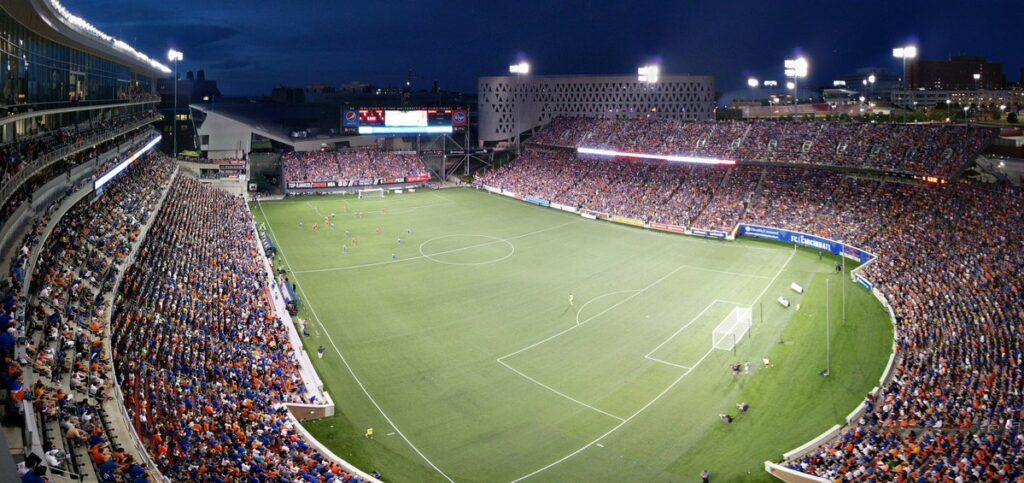 Last summer, Alan Pardew compared the atmosphere at Crystal Palace's friendly against USL club FC Cincinnati to that of the FA Cup final. On Wednesday night, the second-division club drew a similar crowd for their U.S. Open Cup match against the Chicago Fire, creating a similar atmosphere as Mitch Hildebrandt saved THREE penalties to help pull off the upset.
Not only was the crowd at Nippert stadium more than double that of the Open Cup match between MLS franchises San Jose and Seattle, it was the second largest in the comptition's history at 32,287.
This is what the second largest crowd in @opencup history looks like. #CINvCHI pic.twitter.com/GyY5mCMvQ1

— FC Cincinnati (@fccincinnati) June 29, 2017
#USOC2017 Crowds:
32287 FC Cincy
13442 San Jose
9136 NY Red Bulls
9004 Miami
6095 Houston
4131 FC Dallas
2572 LA Galaxy
2,195 New England

— Paul Kennedy (@pkedit) June 29, 2017
Just listen to the noise they made after each save from Hildebrandt:
Talk about CLUTCH! #MITCHSAYSNO

Relive all of @mitchhilde PK saves vs @ChicagoFire pic.twitter.com/zu9BkDUNRw

— USL (@USL) June 29, 2017
Meanwhile, Miami FC of the NASL (the U.S.'s other second division), beat Atlanta United, one of MLS's new additions this season. Miami and Cincinnati will now face each other in the quarterfinals, ensuring that a second-division club will reach the Open Cup semifinals for the first time since 2011.
Is all of this evidence that lower division clubs are gaining on MLS? Could the walled off levels of the U.S. pyramid be creating slower growth in the top division than those below it? Two matches probably aren't enough of a sample size to draw too many broad conclusions, but it's something to consider, at the very least. It's also a reminder that there's so much more to soccer in the United States than just MLS alone.
---
Contributors
Howler
TAGS
WELL, IT DEPENDS ON WHAT YOU MEAN BY "FREE."
Enter your best email for full access to the site.