Four former MLS players travel to Jordan and show a group of child refugees that they haven't been forgotten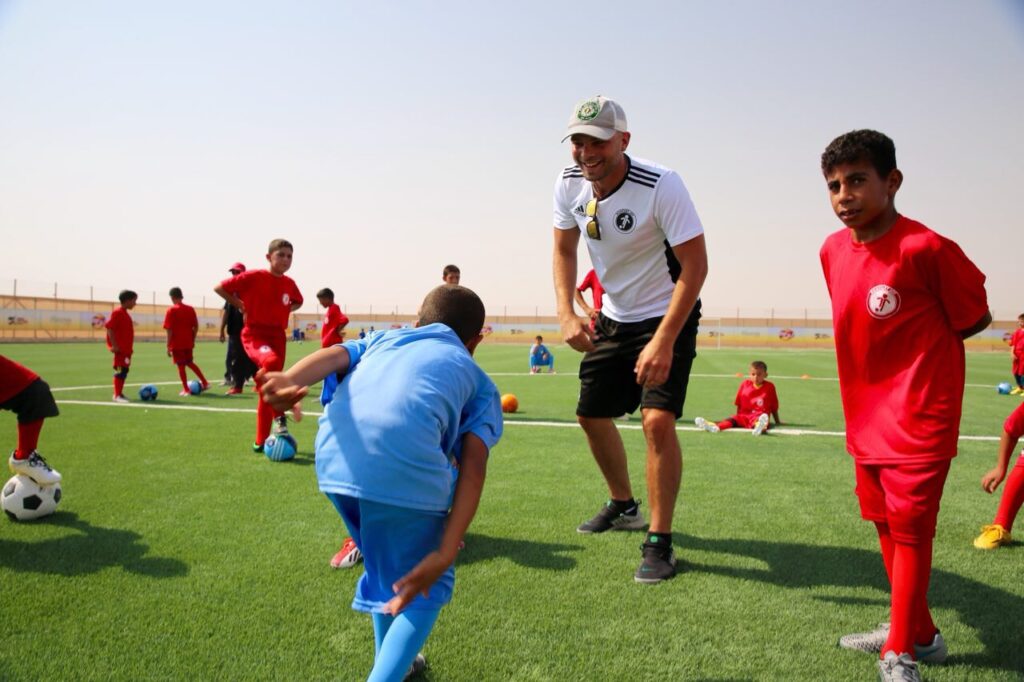 It's 9 AM when 60 boys line up behind a local coach. As they get to the front of the line, they slide out of their sandals and reach for a pair of cleats. The adults ask their size. The kids stare back. They don't know their size. Most have never put on cleats before.
The girls arrive later in the day. They aren't allowed on the field with the boys. They pull the socks over their jeans, or if they had gone to the bathroom to change, they tug the fabric over their knees. Each wears a long-sleeve shirt under their new jersey. It's nearing 90 degrees Fahrenheit in Zaatari, Jordan. The visiting American coaches tell them they will get hot. Haram, the girls generally respond. For a girl to show her elbows or knees is forbidden by the Quran. It's often the same response girls give when a male coach offers a high five. Each country in the region has different norms; while Syria tends to be a more religiously liberal country, the Zaatari refugee camp has a more conservative population.  
A refugee camp looks about how one would expect it to. When you arrive to the front entrance, the territory extends behind the chain-link fence as far as the eye can see. It's not quite the feeling of standing on a beach, looking at endless likeness. It's more similar to a big bay; you can see the end, but you aren't sure if it's two miles or twenty miles; you aren't about to find out by walking it.
Every house looks the same: a long rectangular cube of metal sheets about the size of a tractor-trailer. Down the center of the camp, they have their main market street, the "Champs de Elysee," as the locals call it with a smile. On either side of the dirt road, vendors sell everything a community could use, from candy to repaired shoes. Kids hang out on unused carts in the shade. Be careful if you turn your head to say hi or check out the latest Nike's in stock; the mules hauling peaches don't pay much mind to bystanders.
Throughout the day, around 80,000 Syrian refugees, adrift from their homeland due to war, famine, and water shortages, roam these streets. Beyond the Champs de Elysee, however, you'll find a patch of green. You can't miss it; it's the only green within a car's drive.
That patch is a dream full-sized turf field, recently built for the camp by the Asian Football Development Fund, Norwegian Football Federation, and UEFA. Any club in the world would envy its soft, flat surface. Now, for the first time, the kids have jerseys and cleats to go with their lush playing surface. The cleats arrived with the help of Mehdi Ballouchy, an 11-year Major League Soccer veteran.
"The images of families seeking refuge across shores and risking everything for their safety made me determined to find a way to bring them happiness," Ballouchy said. "I decided I'd stick to what I know best: soccer."
A year ago, he started mulling ideas on how to help. Ballouchy mentioned the thought to a board member of his MLS club at the time, New York City Football Club. As luck would have it, the board member had a friend who had just started a foundation, Catalyst, that was looking for just that kind of project. Ballouchy got in touch with Elizabeth Cheung-Gaffney, Senior Program Officer for Catalyst. The two started planning right away.
They started by collecting soccer gear, working with NYCFC and Major League Soccer to get 700 Adidas jersey tops, shorts, and socks. Then Ballouchy got in touch with his contacts at youth clubs around the country and his old professional teammates. He received over 100 pairs of cleats, new and used, from size 2 to 14.
To deliver the gear, he worked with the Zaatari Camp administration. But Ballouchy wanted to do more than drop off some clothes. Soccer was only part of what Ballouchy had in mind when he planned the trip.
"We wanted to get there and create a connection that would have a lasting impact. To show we care and they haven't been forgotten," the Moroccan born midfielder says.  
So Ballouchy organized a three-day clinic for the kids. He put together a group of former MLS players to help him. He was joined in Jordan by Steven Lenhart, former forward with the Columbus Crew and San Jose Earthquakes; Sacir Hot, one of the first New York Red Bulls homegrown signings; and myself, a former FC Dallas midfielder. The four us ran 12 sessions over three days; six for boys, and six for girls.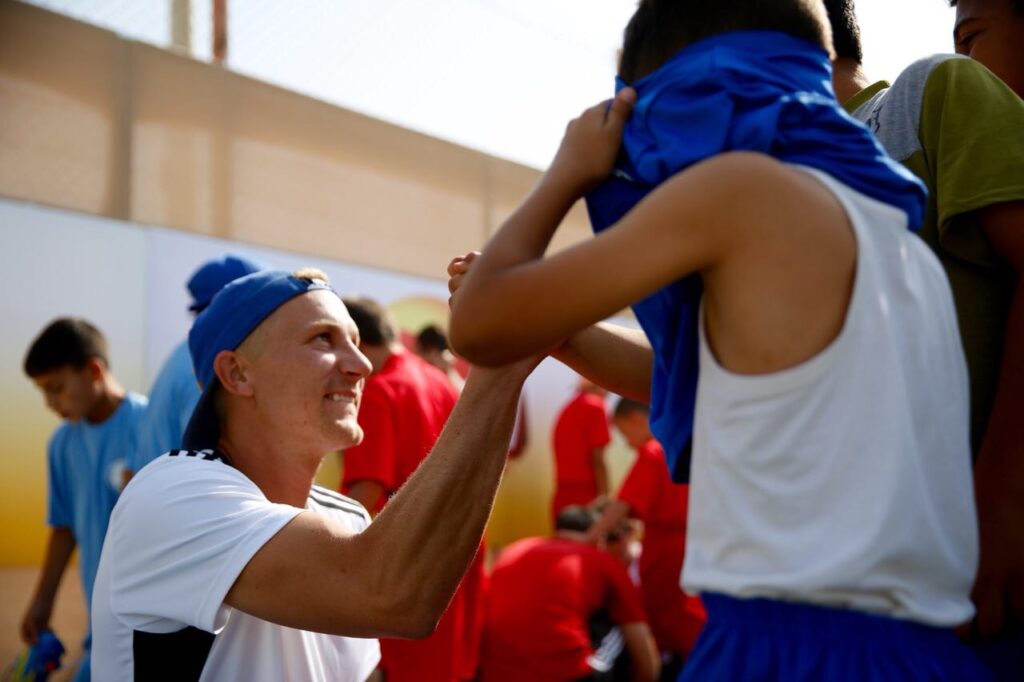 While the surroundings looked different than where he learned the game, Lenhart noticed his favorite part remained the same.
"The celebrations, man," Lenhart said. "Those kids knew how to celebrate."
The celebrations?
"Yeah. We were a little nervous when we set up for the first session," Lenhart continued. "But then you start playing and you realize it's all the same. They tackle. They pass. They score. And then they celebrate. And man was it some good celebrations. So much energy."
The Zaatari camp, open since 2012, is now home to about 40,000 children (exact numbers are hard to find), but without a phone book or Google or email chain, the local coaches went door to door to tell families about the Americans' clinic. They hoped word of mouth would spread the news through the town.
As the week went on, the kids who hadn't gotten word started to show up unannounced. As the MLS sponsored Adidas uniforms ran short, kids started to receive other donated gear. Somewhere in Zaatari there are kids donning kits from Boulder, Santa Clara, and a town in upstate New York none of the Americans had ever heard of. By the end of the week, kids started to climb the fence around the field to watch the sessions. Sacir had to step down from his role as coach and grab a stick to scare the kids away. They laughed and jumped to the ground and appeared in the opposite corner 15 minutes later.
Every session started with technical drills. Each former MLS player took a group, and with help translating from the local coaches, set up a short exercise. Ballouchy did passing in the corner; Sacir played knockout in the center circle; Lenhart put on music and started a dance circle near the sideline—"I got tired of them not understanding me, so I decided to keep it simple!"—and I work on dribbling in the corner. After 30 minutes of drills, the groups matched up for games of 7v7. After a three-game round-robin, the winning team took on the coaches. The four MLS players, pair with three local coaches. The coaches claimed, without a sense of remorse, that they came out undefeated.
The local Syrian coaches run a league for the kids, and conduct regular organized practices. The coaches—proud supporters of Juventus, Roma, Barcelona, and Valencia—drill the kids like they have a Cup final the next weekend. They set down their cones and kids run to each spot. If a boy strays from the drill, the whistle blows; Shabab, a coach screams, almost always in a deep, raspy voice, by Western terms. Boys! The nine-year-old or 12-year-old grabs his ball and scrambles back to place. The kids aren't there to kill time. They are expected to get better.
Once kids split into teams, the game could be one in New York or San Francisco or London. They argue over fouls. Each team has a kid who dribbles too much. Every team screams at the forward for being lazy.
And when they score, they run to the corner and hug each other, the sand and metal homes in the distance only a blur beyond the outstretched arms.
Watching those celebrations and interacting with the Zaatari kids seemed to validate why Ballouchy wanted to come here.
"Happiness is completely subjective," Ballouchy says.
"I was speaking to a young girl, maybe six or seven years old," he continues, "She was having some trouble tying her cleats. I asked her in Arabic—'where are you from?' to break the ice, assuming she would say Daraa [a Syrian town 50 kilometers away] like most of the campers, however she didn't respond. One of the resident female coaches told me that little girl came here when she was a toddler and her parents didn't make it. The camp is all she remembers because she has no memory of home."
Ballouchy pauses for a second.
"To see that girl running with a soccer ball and smiling 10 minutes later. It teaches you something."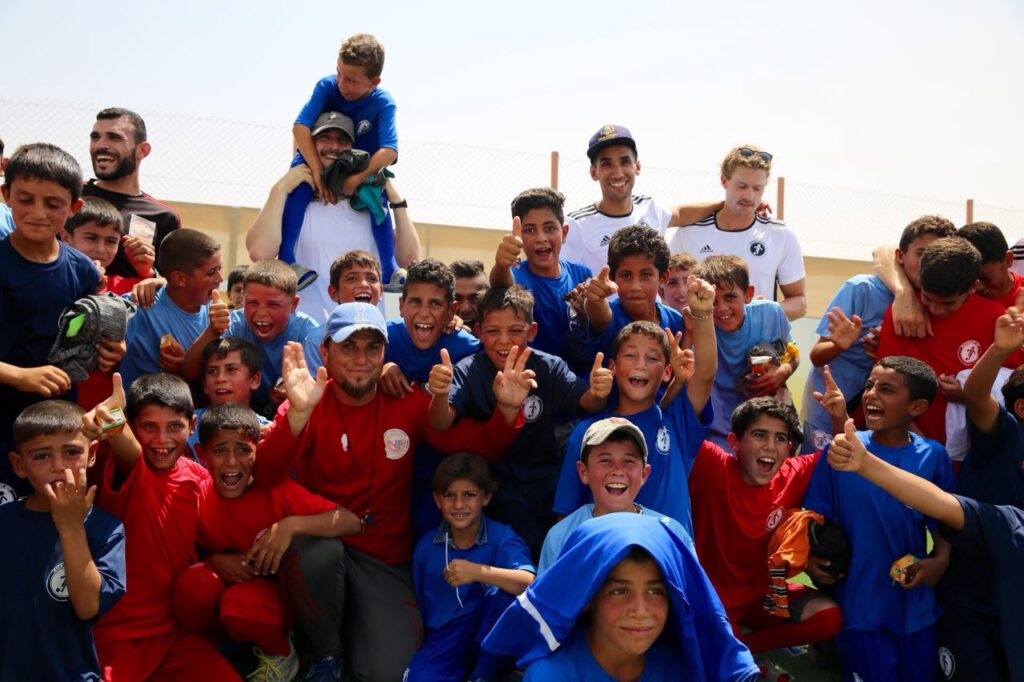 ---
Follow Bobby on Twitter @BWarshaw14. 
Contributors
Bobby Warshaw
WELL, IT DEPENDS ON WHAT YOU MEAN BY "FREE."
Enter your best email for full access to the site.