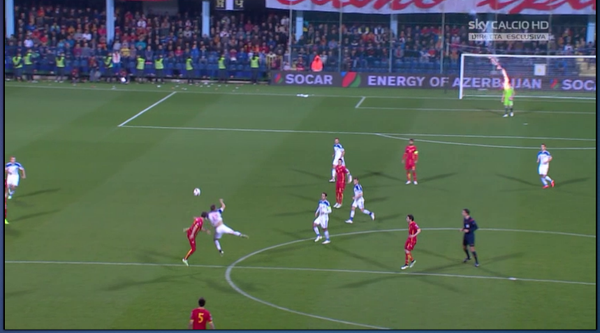 Seconds after the start of Montenegro's Euro 2016 qualifier against Russia, goalkeeper Igor Akinfeev was hit in the back by a flare thrown from the stands. The Russian keeper was carted off and the match was suspended.
https://vine.co/v/O32Hq9u6w16/embed/simple
Here's a view from the stands:
https://www.youtube.com/embed/gaqgKU3eoUA
About 40 minutes, with the flare thrower reportedly arrested and Akinfeev still receiving treatment, the match resumed with the new goal of making it a full minute without a player getting hit by a flare.
https://www.gettyimages.com/detail/photo/467828170
A second crowd disturbance in the 67th minute prompted the match to be abandoned.