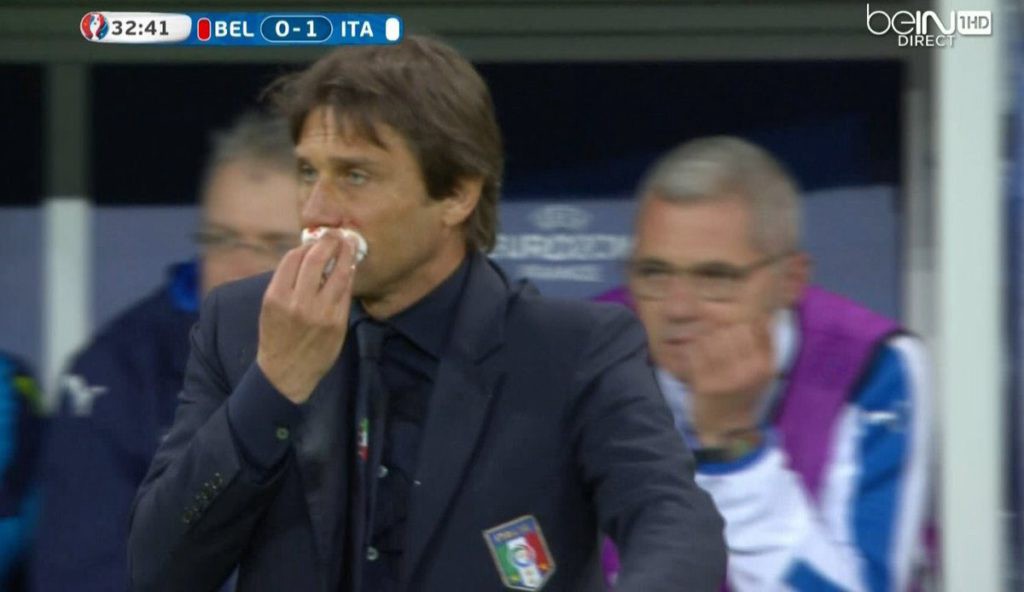 Italy stunned Belgium by scoring first with a 32nd-minute goal from Emanuele Giaccherini and their bench was perhaps a bit overly aggressive in their celebrations with manager Antonio Conte.
The new Chelsea man came away from being mobbed by his players with a cut opened up on his face — apparently the accidental doing of Simeone Zaza.
Conte required treatment from the physio and had to manage while holding a tissue to his face in order to stop the bleeding. If Italy defy expectations and make a run deep into this tournament, Conte might not survive.
https://www.gettyimages.com/detail/photo/539925504
After the match, which Italy won 2–0, 38-year-old goalkeeper Gianluigi Buffon got a little too rambunctious and tried to swing from the crossbar. It did not go well.
Gianluigi Buffon can do many things. Swinging on a crossbar is not one of them. (Via @MJCzechowicz) pic.twitter.com/9Hl56Y32Jt
— Archie Rhind-Tutt (@archiert1) June 13, 2016
https://www.gettyimages.com/detail/photo/539929394
He didn't let it dampen his mood, though.
https://www.gettyimages.com/detail/photo/539931454
Just because you're the oldest guy on the pitch doesn't mean you can't act like the youngest.