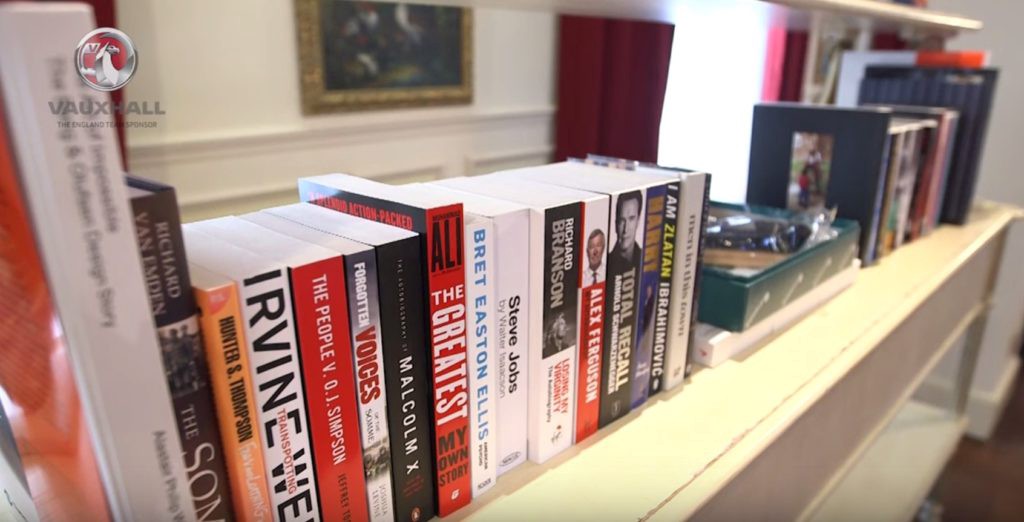 England have arrived at Auberge du Jeu de Paume — their Chantilly, France hotel and training base for Euro 2016 — so FATV have released a video tour of the facilities they will be inhabiting for the next few weeks.
https://www.youtube.com/embed/eC1BoLVURzg
One of the first stops on the tour is the leisure room, which houses billiards and ping pong tables, as well as a seemingly hand-picked selection of reading material for the players and staff. And one of those books is Zlatan Ibrahimovic's Swedish literary award nominated autobiography I Am Zlatan.
Reading this book might qualify as opposition research for the England players (though many of them are certainly already familiar with him after the unbelievable goal he scored against England in 2012) as there's a chance they could face Zlatan and Sweden in the knockout stages of the tournament.
Also on offer is Ireland assistant manager Roy Keane's book The Second Half, as well as Sir Alex Ferguson's My Autobiography. Other selections include:
Richard Van Emden's The Somme
Hunter S. Thompson's Fear and Loathing in Las Vegas
Irvine Welsh's Trainspotting
Jeffrey Toobin's The People v. OJ Simpson
Joshua Levine's Forgotten Voices of the Somme
The Autobiography of Malcolm X
Muhammad Ali's The Greatest: My Own Story
Bret Easton Ellis' American Psycho
Walter Isaacson's Steve Jobs
Richard Branson's Losing My Virginity
Arnold Schwarzenegger's Total Recall
(What appears to be) Harry Redknapp's My Autobiography
Giuseppe Santamaria's Men in this Town
Nelson Mandela's Long Walk to Freedom
George RR Martin's A Game of Thrones
Esquire's The Handbook of Style
Lewis Hamilton's My Story
Zack O'Malley Greenburg's Empire State of Mind (Jay-Z biography)
I Am The Secret Footballer
The Secret Footballer's Access All Areas
And a few others I can't quite make out
So it's a lot of biographies, football books, war books, business books, style books, books about vain psychopaths — your stereotypical footballer fare. But if England do make a run deep into the tournament, Zlatan can now take credit for inspiring them. Look for Marcus Rashford to cite reading I Am Zlatan in Chantilly as a turning point in his career during a future Ballon d'Or acceptance speech.
http://ws-na.amazon-adsystem.com/widgets/q?ServiceVersion=20070822&OneJS=1&Operation=GetAdHtml&MarketPlace=US&source=ss&ref=as_ss_li_til&ad_type=product_link&tracking_id=dirttack0d-20&marketplace=amazon&region=US&placement=081298692X&asins=081298692X&linkId=d0fe9c35c6a1f9c7550d07ec3bda46b1&show_border=true&link_opens_in_new_window=true
http://ws-na.amazon-adsystem.com/widgets/q?ServiceVersion=20070822&OneJS=1&Operation=GetAdHtml&MarketPlace=US&source=ss&ref=as_ss_li_til&ad_type=product_link&tracking_id=dirttack0d-20&marketplace=amazon&region=US&placement=1780228821&asins=1780228821&linkId=4d60ef363393c1979fb190a24d00a447&show_border=true&link_opens_in_new_window=true