A night of love and appreciation between two clubs that will forever be linked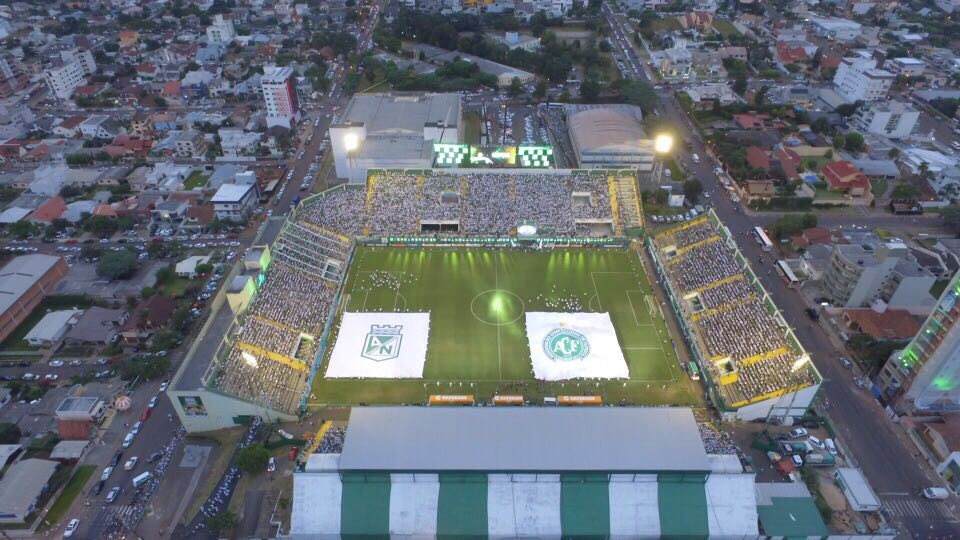 In the wake of the plane crash that killed all but three members of Chapecoense's team traveling to Colombia for the first leg of the Copa Sudamericana final, their opponents Atletico Nacional, displayed admirable empathy in their handling of the situation. They proposed that Chapecoense be declared champions, which happened, and a bond was formed between the two clubs.
https://www.whatahowler.com/chapecoenses-opponents-rally-to-support-air-crash-devastated-club-ee8950602bdc
On Tuesday night, four months after the crash, Chapecoense and Atletico Nacional finally got to play each other in Chapeco for the first leg of the Recopa Sudamericana (South American Sup Cup). Chapecoense as Copa Sudamericana champions—gold badge on their shirts and all—and Nacional as Copa Libertadores champions.
When they first arrived, Nacional were given a hero's welcome at the airport by Chape fans eager to show their respect and gratitude.
Before the match, a number of impassioned speeches were delivered, first from the mayors of the two cities. From the AP:
Inside the packed stadium, the mayors of Chapeco and Medellin embraced each other in what organizers called "a show of gratitude" to the Colombian visitors.
The Chapeco mayor Luciano Buligon, wearing a Nacional jersey and fighting back tears, told the crowd: "Chapecoense and Atletico Nacional will be brothers forever."
Federico Gutierrez, the mayor of Medellin, was also highly emotional when he spoke. "Chapeco is now my home. Brazil is my home. Fraternity was born out of all this great tragedy," he said.
The Chape players who survived the crash also spoke. Defender Neto said, "Don't wait for a plane to crash to say 'I love you' and to ask for forgiveness," said central defender Neto. "Don't wait for a plane to crash to hug, kiss and show that love always wins in the end."
Goalkeeper Jakson Follmann, who had to have part of his right leg amputated, said "I want a round of applause to all those that passed. If it weren't for them, we wouldn't be here."
Though it would've been perfectly understandable if everyone was emotionally spent after all that, they then went on to play a match that Chape won 2–1.
The second leg will surely be equally emotional, as Chape will complete the journey that resulted in tragedy four months ago.