Some footballers can be invincible once, but Kolo's on the verge of doing it twice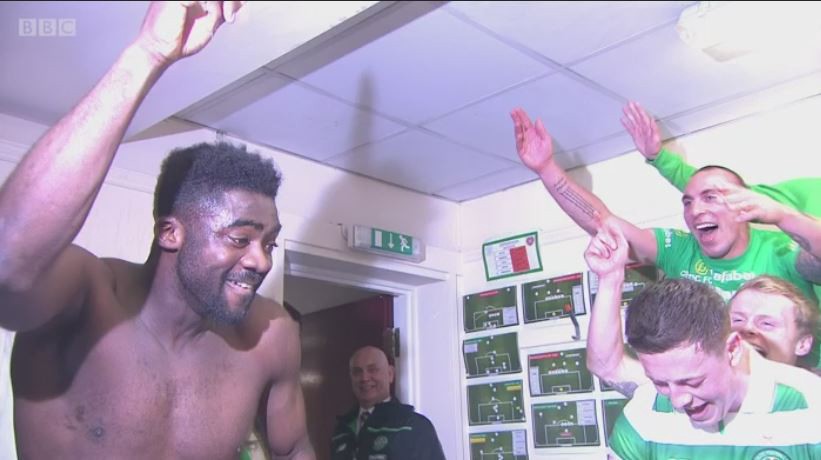 Celtic have won their sixth consecutive Scottish Premier League title with eight matches to spare, adding the rare twist of doing so without losing a single match to this point. It's a tremendous achievement in Brendan Rodgers' first year with the club, but for defender Kolo Toure, this is familiar territory. Though he is perhaps best known in recent years for his alter-ego, Francois the adulterous car salesman, or his gaffs on the pitch, or admitting that he's afraid of his own dog, he has now bookended his career by proving his invincibility twice.
This made it all the more fitting when Celtic celebrated their historic feat by honoring Kolo and singing the Kolo/Yaya Toure song as the 36-year-old danced along with them.
Kolo's first taste of invincibility came back in the 2003/04 season with Arsenal's famous Invincibles. Just 22 years old at the time, it was his second season with the club. And he earned his place at there after impressing/infuriating/nearly crippling Arsene Wenger during his trial. Because true Invincibles go hard even when they're told not to.
After stints with Man City and Liverpool, Kolo followed Brendan Rodgers to Celtic this season. Though he only made six appearances in the league, his teammates felt his influence in a meaningful way. Fellow defenders Erik Sviatchenko and Dedryck Boyata have both praised Kolo's impact. Back in January, Boyata said:
"The good thing about Kolo is he is a person with a very good spirit. He doesn't like to lose. Any player will tell you if Kolo loses in training, it is a very bad day for everybody."
And with Toure on their side, Celtic have yet to lose in the league. Coincidence? No.
Toure's invincibility even extends to the international level. In 2015, he won the Africa Cup of Nations with the Ivory Coast, who went undefeated in the group stage before eventually winning the final on penalties. Kolo was named to the team of the tournament.
As his age advances and his playing time dwindles, the end appears to be near for Kolo. But Rodgers has expressed his desire to give Toure a coaching role, which could lead to Kolo one day assembling Invincibles of his own.
Celtic still have some work left to do before their undefeated season is complete, but Kolo Toure has nothing left to prove. So he dances while his teammates sing his name, grateful that he has graced them with his Invincible presence.