Jose Mourinho got milked by Man City players (reportedly)
December 11, 2017
The Great Lactose War of Manchester will long live in infamy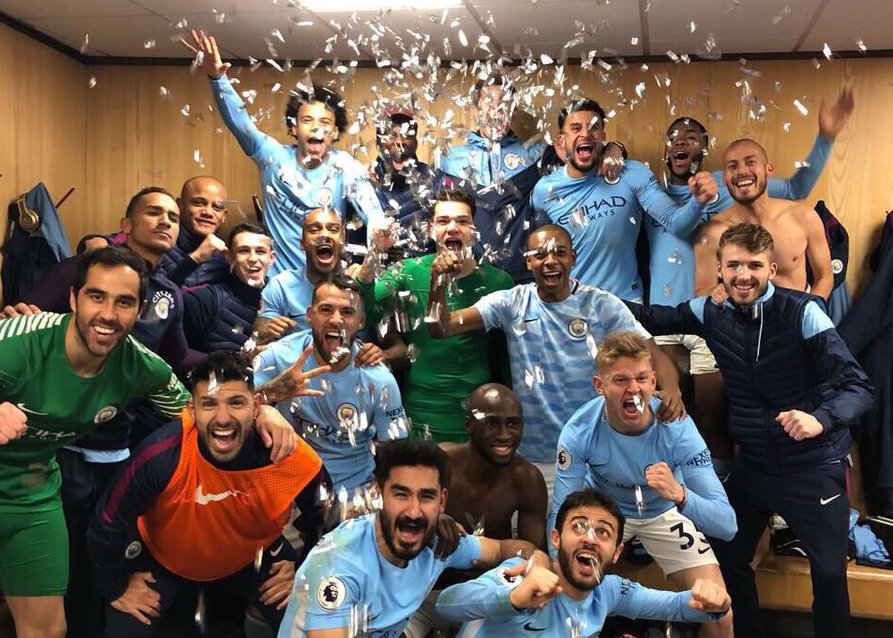 Prior to Sunday's Manchester derby, Jose Mourinho dug himself a hole.
"If you ask me one thing that I don't like a lot it's that they lose their balance very easily," Mourinho said of City's players to reporters who did not ask him this question. "A little bit of wind and they fall."
So when City beat Man United 2-1 at Old Trafford with Ander Herrera getting booked for diving in the 79th minute, there was only one thing for Mourinho to do: publicly badmouth City even further and instigate a scuffle with their players that results in them dumping milk and water on him. You know, the usual.
Here are some actual bits from Mourinho's post match interview:
Geoff Shreeves: And what do you think about that situation [Herrera yellow], bearing in mind that you said "I feel that Manchester City players go down too easily"?
Mourinho: True.
Shreeves: Yet…it's almost ironic that your player is booked for diving.
Mourinho: (shrugs) Ok.
***
Shreeves: Overall, do you feel they were the stronger team though, in the balance of play, Manchester City?
Mourinho: You know, they scored two very bad goals.
Again, these are not lines from a comedy sketch. These are actual quotes from Jose Mourinho's post-loss-to-Pep-Guardiola interview. Reading them is one thing, but to fully appreciate the stubborn hilarity, you have to watch:
When asked if City had wrapped up the title with their record 14th consecutive win in the Premier League, Mourinho added "I don't know, but I think theyareaverygoodteam. I think they are lucky. I think they always have decisions in their favor, probably yes."
So given that state of mind, it should come as no surprise that Mourinho reportedly took exception to how loudly City were celebrating after the match and confronted the players. Namely, goalkeeper Ederson, whose fine form helped seal the victory for the noisy neighbors.
"Sources claimed the Manchester United manager had milk and water thrown at him after the spat with Ederson," reports the Telegraph. "Mourinho was thought to have gone to the door of City's dressing room to ask their players to show more respect amid apparent disappointment over the way the Premier League leaders were celebrating their 2-1 win, as music blared from the visiting team dressing room."
The Guardian, meanwhile, reports "Mourinho is said to have accused Ederson of play-acting to waste time and then reverted to English, screaming 'you fucking show respect. Who are you?'
Other players became involved and Romelu Lukaku was said to be prominently involved as the confrontation escalated into something much more serious, described by one person on the scene as being reminiscent of a pub fight. […] There were also reports that Mourinho was struck by a plastic bottle, as well as being squirted with milk, although that has not been confirmed and the Guardian has been told he escaped lightly despite being in the middle of it."
Mind you, all of this supposedly took place before the video above was filmed, and I, for one, don't see a man doused in milk and water in that video. But the Telegraph adds that it wasn't Mourinho who got the worst of it.
"The former Everton and Arsenal midfielder, Mikel Arteta, one of Pep Guardiola's assistants, was left with blood running down his face after allegedly being cut above the eyebrow in the skirmishes."
So to recap, Mourinho accuses others of diving before one of his players gets booked for diving and reprimanded his opponents for not keeping their celebrations more respectful when he's never been one to do that himself. And as a result, Mikel Arteta ends up bleeding from his handsome face.
Clearly the lesson here is that if you're going to lose to your biggest rival in your home ground, you might as well burn down any remaining semblance of rationality that might still exist in this nonsensical reality of ours, too.
---
Follow Brooks on Twitter @BrooksDT. 
Contributors
Howler
TAGS
WELL, IT DEPENDS ON WHAT YOU MEAN BY "FREE."
Enter your best email for full access to the site.