Home
Dirty Tackle
Kei Kamara demonstrates why all MLS fines should be appealed via Twitter videos
Kei Kamara demonstrates why all MLS fines should be appealed via Twitter videos
July 23, 2017
In a league looking to innovate, Kei Kamara shows how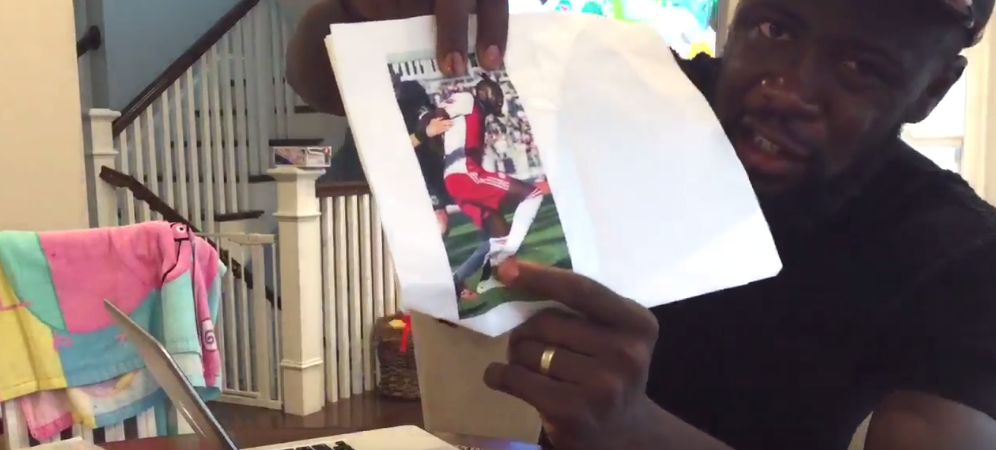 New England Revolution striker Kei Kamara, who has long been one of MLS's best personalities, was recently fined $1,250 by the league for wearing unapproved socks during matches. Though he's earning a base salary of $800,000 this season, Kamara's "got two kids to take care of," as he puts it, so he decided to fight the punishment over social media with a video that is almost certainly the best thing this MLS season has produced so far.
Yes @MLS fines only KEI KAMARA $1,250 ???. pic.twitter.com/HPNYcnc7Nd

— KEI KAMARA (@keikamara) July 20, 2017
In the video, Kamara calls out the league and the players' union. He also presents evidence in his defense—including a doctor's note and pictures of other high-profile players (Toronto's Michael Bradley and Jozy Altidore) who have worn the same socks without repercussions.
Though this video might not bring justice for Kei, it does accomplish a few things that MLS struggles with:
1) It makes headlines—even if its message highlights the league's hypocrisy, the way Kamara does it is light-hearted and hilarious, which is why so many major media outlets have covered this video. In a league that engineers its own blandness and, as a result, flies under the radar despite having a season mostly to itself, headlines are hard to come by.
2) It shows off a player's personality—Since MLS is a league mostly comprised of average Joes, it doesn't have as many eccentric (or even discernible) personalities as a league where many players earn astronomical wages and are treated like gods. But this video shows what a unique, funny, and likable person Kamara is. The kind of person fans want to follow.
3) It's honest—So much of what MLS does comes off as overly contrived and sanitized for corporate appeal, but this is just a dude trying to keep the league from taking $1,250 out of his pocket for no good reason. That's compelling.
And that leads me to my larger point: This is how all MLS punishments should be appealed. Videos filmed in player's kitchens and publicly shared on social media. It's innovative, adds some entertainment value and intrigue to an otherwise mundane process, gets some attention in the media, and shows off the players' personalities. This needs to happen.
---
Contributors
Howler
TAGS
WELL, IT DEPENDS ON WHAT YOU MEAN BY "FREE."
Enter your best email for full access to the site.