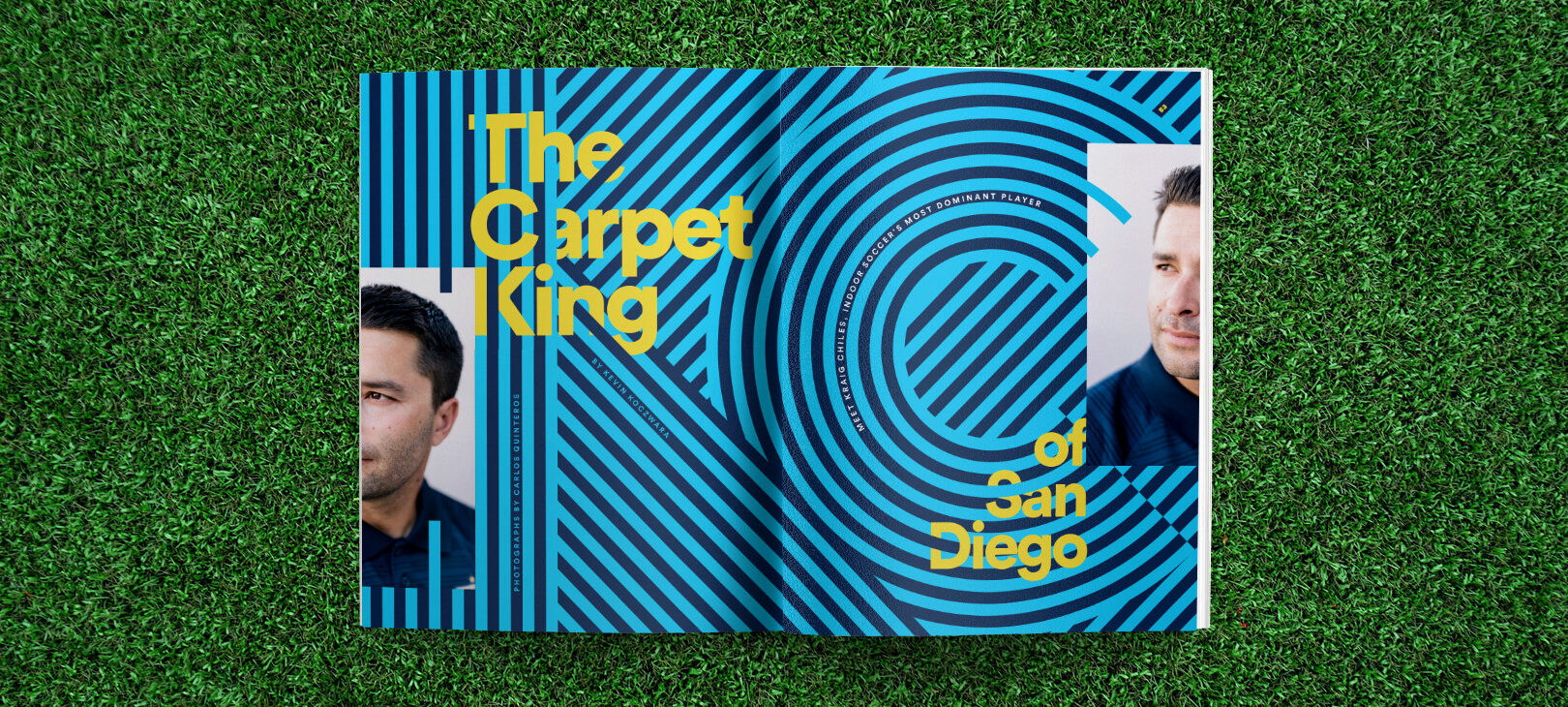 Meet Kraig Chiles, Indoor Soccer's Most Dominant Player
June 24, 2022
---
Howler has a deep print archive of great sportswriting that has never appeared online. Kevin Koczwara wrote an excellent profile of Chiles for Howler Issue 14, and we're sharing it with you now to celebrate Chiles winning the 2022 Finals MVP award in another Sockers title run (they won the MASL's Ron Newman Cup in May), and because we love it.
---
The Carpet King
of San Diego
"You play well, but you are fat."
These being the first words he has ever heard from the man who will become his first professional coach, it is, looking back, perhaps not surprising that Kraig Chiles would not last long with that club. The year was 2008. The coach was Pedrag Radosavljevic, better known as "Preki." The team was Chivas USA.
Chiles had just finished his final season at San Diego State, where, playing in the midfield, he was the team's leading goal scorer for three years running. Preki spotted him in a January college showcase in Carson, California, where Chiles banged in two goals from more than 25 yards out. With the end of his final college season, and having received no indication that professional coaches were interested in his services, Chiles had spent the past few weeks being a 21-year-old kid coasting to the end of college, mainly playing beer pong with his friends.
Preki and Chiles stepped onto a golf cart and rode together in silence to the Chivas locker room. Upon entering, Preki led him to a scale. It read nearly 200 pounds, at least 10 pounds over Chiles's normal playing weight.
"Way too fat," Preki said.
He told the young man to get himself into shape and report back at preseason camp in six weeks, warning him that the first order of business would be to step back onto the scale. If Preki didn't like the number, he said, he would send Chiles home. Preki didn't give Chiles a number; it was up to Chiles to show Preki that he'd rather be playing soccer than beer pong.
Preki didn't give Chiles a number; it was up to Chiles to show Preki that he'd rather be playing soccer than beer pong.
Fifty-odd miles from Carson and one headlong tumble down the rabbit hole of American soccer, Ontario's Citizens Business Bank Arena, just east of Los Angeles, is hardly a storied soccer stadium by any standard. But in this building on December 30, 2016, Kraig Chiles is about to make a small piece of history. His team, the San Diego Sockers of the Major Arena Soccer League, is tied with the Ontario Fury deep into the second period. After a foul and a quick restart, Chiles receives a pass near the top of the Fury's box. He pulls it across his body with his right foot, swivels his hips, and drives a shot into the bottom corner of the net. It is Chiles's 299th goal for the Sockers, a new record for the club widely considered the most successful American indoor team of all time. The strike is exactly the kind of simple and effective move that has made Chiles the most dangerous player in the MASL for much of the past eight seasons, a period in which his Sockers have won the league title four times.
Indoor soccer is a hybrid sport: part soccer, part hockey, entirely American. The turf field is the size of a hockey rink—in fact, the Fury shares its arena with the L.A. Kings' farm team—and similarly confined by boards, which keep the ball in play and create a manic, fast-paced contest. While the field is smaller than a regulation outdoor pitch, there is no shortage of running. The transition from defense to offense happens in a blink, forcing players to sprint from end to end at a moment's notice. In other words, it's no game for a fat kid. But the speed of play and the tight space also make indoor soccer about decision-making rather than pure athleticism.
Chiles isn't the fastest player, but his touch is soft and his feet move quickly when he needs to get off a shot. Add a broad-shouldered frame and a preternatural feel for the game—the ability to ghost into dangerous areas and keep the ball on his foot as if by a magnet—and you have, the evidence suggests, the prototype for the perfect indoor soccer forward.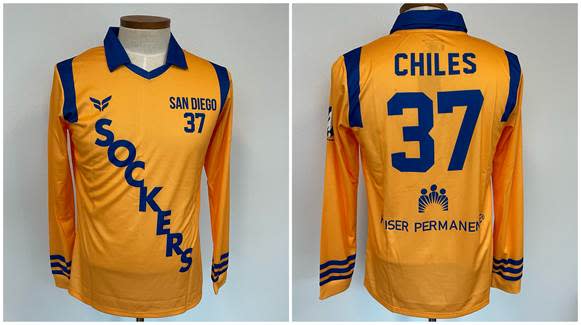 Every kid that Kraig Chiles has coached at the Cardiff Mustangs Soccer Club has heard his story, which is the SoCal version of walking uphill in the snow both ways. Growing up in San Diego, Kraig Chiles played street hockey, Little League baseball, and soccer (for the local Poway Voqueros) from the age of 8 to 13. He was a middle child, used to scrapping with older and more talented kids to show he deserved to play with them. Kraig made the Little League all-star team three times, but soccer fit his personality and fed his competitive needs.
"I knew I enjoyed soccer more," he says. So when the divorce of his parents forced Kraig, age 13, to choose one sport, it wasn't hard. The boys remained home with their father, whose job as a Snap-on Tools delivery driver made it impossible to ferry them to all their practices and games. Chiles suddenly had less variety but a lot more quality: his decision coincided with a leap from the local team to a nationally renowned club, the La Jolla Nomads, where US internationals such as Steve Cherundolo, Frankie Hejduk, and Joe Corona all played.
Chiles was slower than his teammates and less athletic, but he fought harder, understood the game better, and hated losing more than anybody else.
"My biggest asset is not my athletic ability," he says now. "It's my decision-making, my mentality, my competitiveness. Basically, it is everything in my brain and not necessarily my legs or my body or my feet."
Chiles had to work harder than his teammates just to get to practice. At 14, he started taking the bus to the freeway park-and-ride so he could be picked up by a teammate's parents. The trip took an hour. This is the story Chiles tells every Cardiff Mustang. He believes his sacrifice forced him to make the most of his time on the practice field and turned him into a better player, and that his story is a counterpoint to the privilege and entitlement in American youth soccer.
School, on the other hand, was an afterthought. He ditched class to wrestle with his friends in the park and goof off around town. He failed half of his classes as a freshman. And he had a particular disdain for authority. (Chiles tends to gloss over this section of his biography when speaking with impressionable Mustangs.)
"I didn't want to hear from the teachers or Ms. Johnson the principal or whatever," Chiles says. "You weren't going to tell me much. I was going to do what I wanted to do."
He fell into the teenage jock-culture trap of believing that only sports matter. And soccer was going well. He had made the San Diego District and Southern Californian Olympic Development Teams and traveled to France—thanks to his own door-to-door fundraising skills and the help of other families—to play against some of the country's top youth teams: Monaco, Lille, Nantes, Paris Saint-Germain, Lyon, Nice. He captained Poway High, where his teammates included future US international Marvell Wynne. College coaches noticed.
Chiles began to field calls from programs across the country, but when coaches found out about his grades, they quickly lost interest because a scholarship was out of the question.
"I realized the grades were going to get me into college and I needed to kind of crack down on that more than I was," Chiles says.
By his junior year, in addition to his regular school work, Chiles was retaking classes that he had previously failed. As a senior, Chiles enrolled in junior-college classes in the hopes of making up the lost credits. It paid off with a full scholarship to San Diego State, an up-and-coming program where he had a chance to be a starter right away.
"I immediately jumped into San Diego State," Chiles says. "My freshman year, I think I started four or five games, but I traveled and played in every single game, which was my goal."
Chiles's sophomore year was interrupted by a broken foot, so he redshirted and came back the next year, just as San Diego State joined the Pac-10 Conference. Chiles played three more years for San Diego State. He led the team in goals in each of those seasons.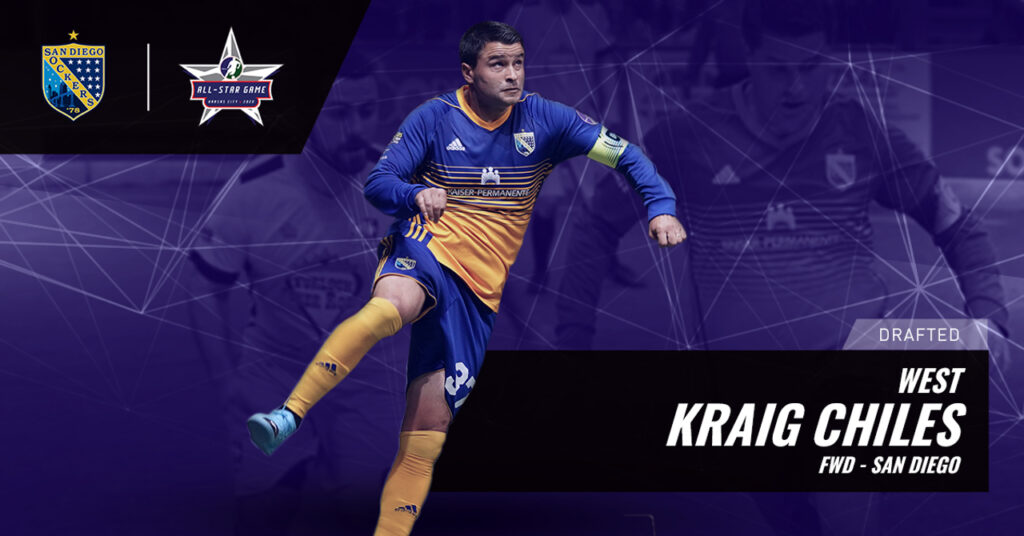 "Obviously, it was intense," Chiles says about that first conversation, in which Preki called him fat. "But who gives a shit? I just got invited to an MLS preseason camp, and I am rolling the dice for a roster spot."
After six weeks dieting and training on his own, Chiles stepped onto the scale at preseason camp. The number was 171. He hadn't weighed so little since middle school. Preki flashed Chiles the thumbs up.
When Kraig Chiles walked onto the training field, he might as well have had the words "Long Shot" on the back of his jersey. Chivas USA was stacked with players like Ante Razov, Claudio Suárez, Jim Curtin, and Jesse Marsch—"the most competitive and most intelligent soccer mind I have ever played with by a mile," Chiles says of Marsch—as well as up-and-coming US internationals like Sacha Kljestan, Jonathan Bornstein, and Brad Guzan. Slimming down got Chiles onto the field. Now he had to prove he belonged there.
As preseason came to an end and Chivas's roster filled up, Kraig kept working. Preki saw a player who was good with his feet and had a brain for the game but needed to work on his defensive skills and mobility. In fact, player and coach had more in common than either man knew.
Preki was born in Belgrade, then the capital of Yugoslavia, in 1963 and spent three years trying to nail down a position with Red Star Belgrade before moving to the United States in 1985 to play for the Tacoma Stars of the original Major Indoor Soccer League. For five seasons he spearheaded the Stars' attack, leading the league in scoring in 1988 and '89, when he was also named league MVP. (In 370 career indoor games, Preki scored 399 goals and assisted on 384 more.) His exploits in the MISL led to stints with Everton and Portsmouth. Then he returned to the United States and indoor soccer, winning league MVP in 1995 while playing for the San Jose Grizzlies, where he scored 51 goals and added 38 assists in 24 games. That year, he became one of the original MLS players. He would spend all but one of his nine seasons in the league with Kansas City and cap the incredible journey, at the age of 34, with an appearance for the United States at the 1998 World Cup. If there was ever a coach who might spot Chiles and give him a chance, it was Preki.
Kraig Chiles earned the final roster spot. He saw action in five MLS games, starting two, as well as Chivas's third-round US Open Cup loss and three matches in CONCACAF tournaments. When he played, Chiles was on set-piece duty, whipping in corners. But Chivas's roster was stacked and chances to play were hard to come by. Without a regular run of games, Chiles didn't make much of a mark.
In the off-season, he faced a decision. The coaches wanted to loan him out to a lower-league team and monitor his progress.
"They were talking, 'All these coaches want you. They want you at the Carolina Railhawks. They want you here and there,'" he recalls.
Chiles wasn't so sure it would be a good move. "No way was I going to go somewhere and they were going to monitor me and I had a shot in hell of coming back,"
"I really thought they just wanted me off the books, so it was the easy thing to tell me 'Oh, we'll keep an eye on you and just leave for now, and then we'll pretend like we never talked to you' kind of thing. So I ran out of preseason camp. I didn't believe it. I quit."
Chiles didn't want to leave Southern California. His family is there. His girlfriend is there. The life of a journeyman pro, jumping from team to team on six-month contracts, didn't appeal to him. He had moved on from the chaos of his teenage years and wanted to settle down. He needed to take three more classes to get his diploma, so he begged the San Diego State athletic director to get him enrolled even though the semester had already begun. With a diploma, he could start a new life, and that's what he began six months later as a new graduate with a job in real estate, flipping houses.
But Kraig Chiles kept playing soccer—indoor, most nights, at San Diego facilities like the Water Tower. He showed up and filled in for any team that needed a player. He even offered to pay the ref's fee if it got him on the field. He got 10 or 12 games a week.
"I would go to the Water Tower and play six games in a row and score 45 goals because people looked at me and said, 'That kid is from Major League Soccer; that kid is going to play for the San Diego Sockers next year,'" he says. "If I showed up and I dragged ass, then what are these people going to think? 'He's not that good.' I would slay people."
In 1975, after a single season in the North American Soccer League, the Baltimore Comets moved to San Diego and began play as the San Diego Jaws, which then decamped a year later for Las Vegas (as the Quicksilvers). In 1978, a commodities broker named Bob Bell brought the team back to San Diego, renamed it the Sockers, and signed a lease at Jack Murphy Stadium. The Sockers were never among the best NASL teams, but when the league decided to launch an indoor season to compete against the Major Indoor Soccer League, San Diego became a success story, winning the 1981 and 1984 championships. When the NASL folded in 1984, the Sockers joined the MISL, where they continued as the longest active professional soccer team in the country until they ceased operations in 1996. The Sockers returned in 2001 but folded again three and a half seasons later.
The Sockers got a third chance in 2009, when Phil Salvagio and two business partners, Dave Pike and Carl Savoia, relaunched the team. Salvagio, a goalkeeper, joined the Sockers as the team's backup after a teammate on the NPSL's Dayton Dynamo in 1994 told him to contact the Sockers and push for a spot on the team. By the late 2000s, he had made a successful career for himself in insurance, and a few of his former teammates would get together for Tuesday night matches at the Water Tower. That's where they discovered Chiles schooling anyone and everyone who stepped onto the Water Tower's artificial turf. Chiles was electric, scoring 41 goals in his rookie season, including six in the playoffs as San Diego won the championship.
Transitioning to indoor wasn't easy. Some MLS players who come out to train with the team during the off-season can be thrown off by the quick tempo and different patterns of movement. The introduction of boards for the ball to rebound and ricochet back into play makes the game even more foreign. For Chiles, the transition was easy; he'd just spent months preparing for it by playing in every game he could.
Chiles led the Sockers to four consecutive indoor championships and won three consecutive league MVP awards along with two playoff MVP awards. During the 2013 season, he scored 53 goals in 16 games. He was untouchable. Unplayable. Unstoppable. Just like the rumors of his return to MLS.
That Chiles would get snatched up by a top-flight outdoor team seemed like an inevitability to people familiar with the indoor game. Chiles's goal scoring and MVP awards earned him a guaranteed contract with the Sockers, but at the age of 26, he entertained the notion of returning to MLS.
He had just won his first league MVP award when a friend got in touch with him, saying that the New England Revolution was looking for a forward. It was after the disastrous 2010 season when the Revs finished sixth out of eight teams in the East, going 9-16-5 and struggling to score goals.
New England had hired former defender Jay Heaps to take over as head coach, and he was on the lookout for some unscouted talent. Chiles recalls being offered an airplane ticket to join the Revolution at the team's preseason camp in Arizona. The flight was a few days away, but the Sockers were in the midst of another deep postseason run. Chiles asked if he could join a week later. The answer was no—take it or leave it, he was told. Once again, Chiles felt like he was being played. He left it.
According to a Revolution spokesperson, the team has no recollection of Chiles's account of events. That season, New England finished ninth in the East and tied for dead last in MLS. Midfielder Shalrie Joseph led the team in scoring with five goals. The next-highest goal scorer had three. The team could have used someone with Chiles's "knack for goal," as Salvaggio characterizes his star striker's gift. But for the second time, a club in the big league didn't want him badly enough. Or Chiles wasn't prepared to take the chance.
The Sockers went 16-0 in the 2011–12 season and won their third consecutive championship. Chiles scored 46 goals and added 20 assists in the regular season and another four goals and two assists in the playoffs. He was named league MVP for the second consecutive season.
After his second season with the Sockers, Chiles was one of 40 or so players invited to try out for the U.S. Men's National Futsal squad ahead of the 2011 Grand Prix, the biggest annual futsal tournament, which is held in Brazil. Chiles made the team and played in all seven of U.S.'s games. It was a difficult experience; the U.S. didn't win a single game, finishing dead last in the 16-team field. It was the only time the U.S. has played in the tournament's 12-year history.
But Chiles stuck with futsal, a game dictated by short, crisp passing. A heavier ball means the game is played on the ground, favoring more skillful players. With the end of each indoor season in the spring, he and his U.S. Futsal teammates, most of whom are professional indoor players, take a week to recalibrate to the speed and rhythm of the court in hopes of qualifying for their first World Cup since 2008. According to U.S. Soccer, Chiles scored 11 goals in 12 games between 2011 and '13, the last season for which they have statistics. Chiles played a big part in the team's push to qualify for the 2016 tournament but the U.S. narrowly missed out on qualification.
It's ironic that Chiles's indoor soccer success brought him to futsal, yet the player credits futsal with improving his indoor game.
"Futsal is one of the main reasons I've had such a successful indoor career," Chiles says.
On a Friday night in February, Chiles is stretched out on a massage table, his shorts pulled high so the team trainer can work his legs. He was the first player to arrive at the Valley View Casino Center in the Midway neighborhood. It's an area made up of strip malls and fast-food chains, and it's the main access point for SeaWorld, which looks barren and run-down from a distance. He's there for the Sockers' home game against the Tacoma Stars. Chiles routinely arrives hours before home games to work out any knots or soreness. After his massage, Chiles leaves the locker room area and meanders through an underground hallway beneath the stands to a small, carpeted room with a few tables and chairs. There he enjoys a pregame meal with a few of the Sockers' staff: a mediocre chicken dish, some roasted vegetables, pasta salad, stale bread with nearly frozen butter packets prepared by the complex's catering service, and an important cup of coffee—with a touch of cream. Finally, he sees the team chiropractor to work out any last knots before warm-ups.
It wasn't always this way. When he started out, Chiles showed up near game time, threw on his shoes, jersey, and shin pads, and walked onto the field with little in the way of preparation. It seemed to work. But Chiles is no longer the spry 20-something who could play up to six or seven indoor soccer games in a night. He needs this time alone with the training staff to get his body right. The turf takes a toll on his legs, especially at the Valley View Casino Center field, home to the Anaheim Ducks' minor-league hockey team, where it is rolled like a carpet onto the wooden floor that rests over an ice rink. The soccer field bounces and groans when players jump and run on it; the turf is unforgiving on knees and elbows. Add in the tight quarters and the banging Chiles does as the focal point of the Sockers' attack, and the damage indoor soccer does on a person's body becomes evident.
Tonight's game against Tacoma is vital for Chiles and the Sockers. Tacoma is a playoff-caliber team, and San Diego is trying to nail down its postseason spot.
But there's also the added pressure of tomorrow night's game in Hermosillo, Mexico. Soles de Sonora are the league's highest-scoring team and a force on their home turf. (Each arena has its own dimensions, and Sonora's squad is perfectly built for its field's small proportions.) The Sockers need to be at the border by four in the morning to make it through customs as a team and get to their flight from Tijuana to Hermosillo.
The Sockers are wearing blue camouflage jerseys for celebrate-the-troops night. Tacoma's vintage-looking jersey is white with multicolored diamonds across the waist—retro yet still somehow modern. Some 3,600 fans fill the lower bowl of the Valley View Casino Center.
The game starts slowly, with only the barest hints at the rapid free-for-all I've been told to expect. Shots come rarely. The game is dictated by methodical buildup play.
Tacoma scores first, with only 24 seconds left in the first period. But San Diego wastes no time in forcing the Stars into an error in the second. Sockers player Brandon Escoto pounces on Danny Waltman, Tacoma's goalkeeper and one of the league's best, who slips and forces a bad pass in his own half. Escoto works a one-two with Chiles, but the moment seems to peter out as Tacoma's defense recovers. Then Escoto slides a quick pass through defenders to Chiles on the left side of the Tacoma goal. His shot comes so fast and so hard that I almost miss it—much like Waltman, who is hopelessly beaten as the ball rockets into the top of the net. I've watched Chiles pull this quick-release move countless times on YouTube. In person, it is breathtaking.
After that, it's all San Diego. The game finishes 9–3. Chiles is active, his presence registered with dangerous movement into space, with a touch that keeps defenders on their toes, with the way he pulls his markers out of alignment as they track him across the green carpet. When the game ends, the players shake hands and head back to the locker rooms.
Sockers players and staff walk around the field with their families, taking pictures and shaking hands with friends and fans. Chiles leaves the field and meets his wife and children before heading out onto the field to sign autographs and meet fans, often a handful of young Cardiff Mustangs who have come see Coach Kraig kick some ass. After the short autograph session, Chiles says goodbye to his family and heads to the locker room to shower, clean up, and have a beer—a bottle of Pacífico, his favorite, or Coors Light, or something from Mexico—with his teammates before heading home for the night. Tomorrow's game looms and so tonight's celebration is muted. Traveling to Sonora isn't easy, even for a team close to the Mexican border. Sleep will be short and unsatisfying. Accommodations will be far from spectacular. But that's the life of an indoor soccer legend. And Kraig Chiles will take it.
Contributors
Kevin Koczwara
Is a freelance journalist in Worcester, Massachusetts. and has contributed to VICE, Rolling Stone, Esquire, Men's Journal, Deadspin, The New York Times, Boston Globe, Boston Magazine, Howler and other publications.
Carlos Quinteros
Metaleap Creative
Based in Atlanta, GA, Metaleap is an integrated branding, publication and specialty print design firm that has an instagram.
TAGS
WELL, IT DEPENDS ON WHAT YOU MEAN BY "FREE."
Enter your best email for full access to the site.