Home
Dirty Tackle
Ligue 1 ref tries to earn starting job with PSG by kicking out at Nantes player, then sending him off
Ligue 1 ref tries to earn starting job with PSG by kicking out at Nantes player, then sending him off
January 15, 2018
When referees stop trying to appear impartial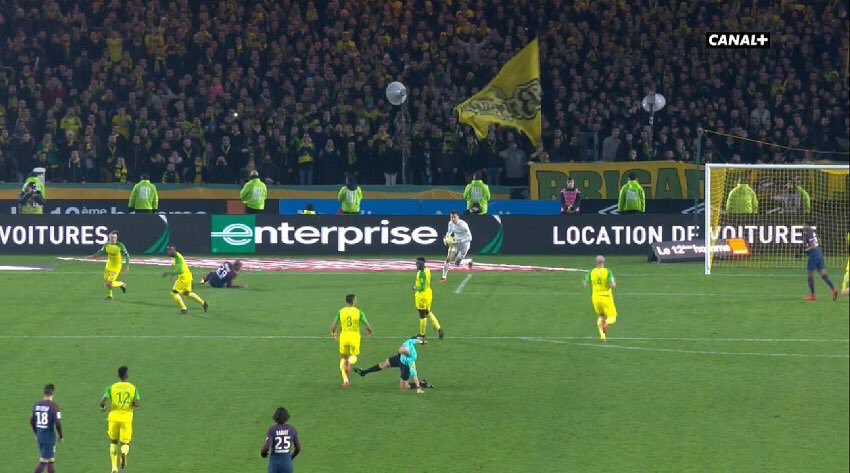 With the transfer window upon us, clubs are carefully deciding who they should acquire in order to maximize their results down the stretch. Well, in perhaps the most blatant "come and get me" plea ever executed by a match official, Ligue 1 referee Tony Chapron made his case to PSG.
The excessively monied Parisian side were nursing a slim 1-0 lead over Nantes late in the match, when Chapron, who, again, was supposedly serving as the match's referee, decided this was the time to prove himself to the visitors. So, with Nantes mounting a counter attack, Chapron cut in front of Diego Carlos away from the ball, fell to the ground, then clearly stuck his leg out for no other reason than to trip the Brazilian. As if this wasn't incredible enough, Chapron then booked Carlos for the second time to reduce Nantes to 10 men for the final minutes of the match.
Referee collides with Nantes player. Kicks out at him. Then sends him off for second yellow https://t.co/ejLe1YX7kI

— James Dart (@James_Dart) January 14, 2018
There really is no other explanation for this series of events than Chapron attempting to maximize his transfer fee, as he helped seal a 1-0 win for PSG. Even with all of PSG's talent, surely they could use an enforcer in midfield like Chapron. Not even Barcelona's refs can match his level of fearlessness.
---
Follow Brooks on Twitter @BrooksDT. 
WELL, IT DEPENDS ON WHAT YOU MEAN BY "FREE."
Enter your best email for full access to the site.