Some think soccer journalists in America are uncritical cheerleaders and others say they're trolls tarnishing the game, but should there be a unified purpose for American soccer media?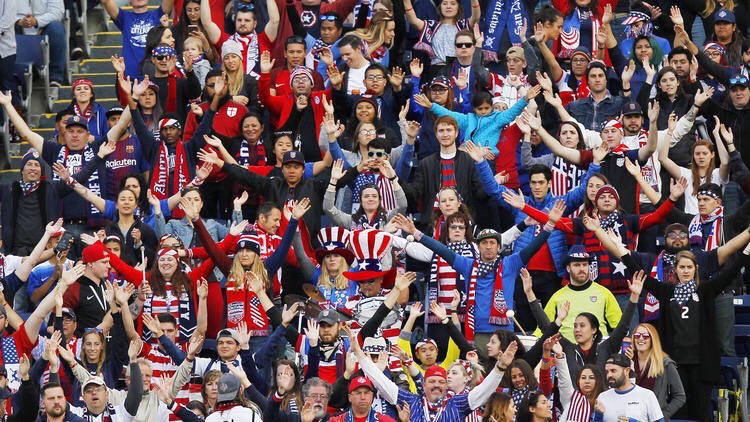 The race for US Soccer's next president has been loud and obnoxious. One particularly troubling incident involved former candidate and indoor soccer executive Paul Lapointe. The 54-year-old New England businessman, whose candidacy came to an end last month after failing to garner enough support to get on the ballot, made what seemed to be a pretty bold claim on Twitter: American soccer media is "tarnishing" the sport. He said this by way of offering Fox Sports soccer analyst and former US national team defender Alexi Lalas an (unpaid) appointment as a sort of media regulator and high inquisitor, should he win the USSF election in February.
Offering you Alexi a non paid position to clean up the media sector that tarnishes the sport. Just my thoughts. You have skill set for sure.

— Paul J. Lapointe (@PaulLapointe98) December 6, 2017
When Lalas pressed him for details, Lapointe demurred with a positively Trumpian "I'm just asking questions" deflection.
That is why I offered you the task. It is your job to find out. Leaders delegate and empower employees to get the job done. You in?

— Paul J. Lapointe (@PaulLapointe98) December 6, 2017
This was not a throwaway comment. Paul Lapointe genuinely seems to think that American soccer journalists, and an independent soccer media broadly defined, are a problem that needs to be solved.
Is there media outlets in this country that tarnish the sport of soccer here. A fair question and needs a fair response.

— Paul J. Lapointe (@PaulLapointe98) December 6, 2017
Is there sectors of the soccer media that tarnish soccer here in the USA? Is there conflict of interest level in some of our soccer media outlets?in relation to the USSF/SUM and MLS?

— Paul J. Lapointe (@PaulLapointe98) December 6, 2017
We won't have to reckon with Paul Lapointe, President Of US Soccer, using his newly-won power in order to interrogate the usefulness and loyalty of American soccer writers. (At least not for another four years.)
What's troubling is that Lapointe's notions about what American soccer journalists are supposed to do seem to have found some purchase in the Marketplace Of Ideas. They exposed something in American soccer fandom that had seemingly been bubbling below the surface: a deep mistrust of local and national media that covers their sport, rooted in a very different idea of what soccer journalism is supposed to do from what the journalists themselves believe their remit to be.
Within American soccer exists the idea that the health and vitality of the sport in this country is fledgling, and that everyone who cares about the sport should want it to grow. MLS Commissioner Don Garber invoked this idea when he criticized then-US men's national team head coach Jurgen Klinsmann for daring to criticize the technical quality of play in the country's top flight domestic league. American soccer fans who never got into Major League Soccer for whatever reason can find themselves pilloried by MLS stans for not supporting their local club and stunting the growth of the league. To say nothing of the tedious nativist hand-wringing over non-US national team fans in the United States and their deleterious impact on American soccer.
In a sense, American soccer media is a reflection of the sport, and the sprawling business apparatus, that it covers. Like American soccer itself, the media that covers it is both highly centralized and diffuse. On one end you have money and institutional power; MLS and SUM and US Soccer for the sport, outlets like Sports Illustrated and ESPN and Deadspin and MLS Digital for media. And on the other hand you have a vast decentralized spore network; semi-pro teams and college programs and rec league and youth coaches, and individuals blogging from their living rooms. (There is also a considerable gray area, featuring USL sides and, well, this humble publication you're enjoying now.)
Both sides of the divide are in transition. And none of this, in its current form, is sustainable. As it concerns soccer media, the expectations levied on soccer writers and reporters in this country have mutated in such a way that they can never make everyone happy. Market fluctuations and other factors have made it so soccer journos can't even really try; the individuals in their apartments are either moving up, scaling back, or getting out of the game entirely, while the big fish are laying talented writers off as they pivot to video. Everyone is trying to do this work with insufficient funding and support or while laboring for owners with clear conflicts of interest. All of this has led inexorably to a situation in which lone team bloggers writing match reports for no money are held to the same standards as Grant Wahl, and that flattening of scale, and the inability of amateur journalists and bloggers to meet those standards, has created a toxic atmosphere in which writers try to write about the thing they love and come to quickly regret it.
The reasons why fans feel so much skepticism and contempt for American soccer media is complicated, sociologically and politically, and some of it truly strains the bounds of credulity. But if you look at the landscape with clear eyes and few attachments…well, you might be a little angry too. The media that covers American soccer ultimately does have a stake in the growth and maturity of the sport in this country. But the expectations for the media have mutated so much that, whatever their mandate is now, is far beyond both that kernel of shared interest and the ability of soccer writers (professional and amateur) to meet.
I don't know how to fix any of this. If anyone tells you that they do, you should probably be a little skeptical. I have a hunch it involves more funding for outlets in the middle of that gray area, more opportunities for writers and reporters who have the chops to get paid for their work, a slight loosening of the grip of the entities at the top of the pile on the power structures and financial pipelines that makes American soccer go, and (this one's the hardest) a broad detente between all stakeholders (including fans) and a commitment to presume good faith a lot more often than we do now. You can't just throw money at the problem (although some money would be good), and some aspects are so complex it's hard to put it into words. But we have to try.
I love this sport and I want to see it thrive in this country. I believe that end is best served by an independent, critical media, one in which writers and editors and photographers can earn a living wage and enjoy a degree of legal and institutional protection from the usual costs of adversarial journalism. I believe that journalists should be aware of the consequences of critical coverage—whether that's a potential loss of access to the teams they cover or a deluge of mean tweets—and should do it anyway. I believe you can love a thing with all your heart and still want it to be better.
I believe there's a sustainable path forward, for both the sport and the media. I have no idea how it would work. And we're running out of time to figure it out.
---
Follow James on Twitter @thaumatropia. 
Contributors
Bridget Gordon
TAGS
WELL, IT DEPENDS ON WHAT YOU MEAN BY "FREE."
Enter your best email for full access to the site.