The Brazilian is being mistreated in the press for having the perfectly normal desire to advance his professional career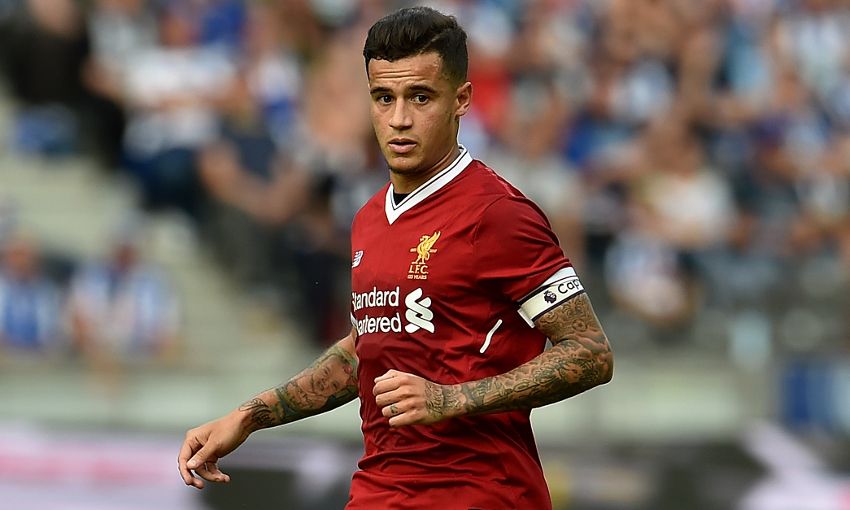 As the summer transfer window inches closer to its end, the drama tends to increase—sometimes making people unnecessarily upset in the process. Barcelona's pursuit of Philippe Coutinho continues this tradition, with the unnecessarily angry people this time being certain members of the media.
Over the weekend, there was yet another report about the Philippe Coutinho transfer saga, this one from The Times. This report, according to the headline, was about Liverpool manager Jurgen Klopp putting pressure on the club's owners to keep Coutinho. The article did end up matching the headline, but there was additionally commentary.
The article opens up with three paragraphs about Coutinho as a person. He is described as a "boyish," "the kind who marries their childhood sweetheart," and someone who "was inspired to a great display by a letter from his mum" once in a match against Manchester City. The paragraphs-long description of the "sweet and simple" Coutinho ends by explaining the point of the excess: "All of that is why an extra sting was felt at Melwood when an email [transfer request] landed with Michael Edwards, Liverpool's sporting director, on Friday."
The idea that Coutinho's transfer request would be unwelcome news for some, particularly Liverpool supporters, is hardly a controversial one. Yet, the disappointment regarding Coutinho's desire to leave has extended outside of the Liverpool fanbase and has found its way into the media. It has resulted in some making Coutinho out to be a villain, which is an odd — and inappropriate — way to handle the situation.
Klopp's always been big on trust. Near impossible for him to forgive Coutinho for kicking up a fuss so close to the new season.

— Sam McGuire (@SamMcGuire90) August 13, 2017
Klopp, who puts such energy into creating group morale, is said to feel personally let down by Coutinho's transfer request. (@JNorthcroft)

— Anfield HQ (@AnfieldHQ) August 13, 2017
The prevailing notion in the last few days is that Coutinho has gone from sweet to selfish, with the alleged proof being the timing of his transfer request, sent a day before the team's first match of the season. The criticism, to a certain extent, is legitimate. The news could have been a distraction to his teammates, though it might be foolish to suggest that Liverpool's 3-3 draw with Watford was down to Coutinho and not defensive issues and a refereeing error. Never mind the fact that, with less than three weeks left in the transfer window, the player was running out of time to move to Barcelona. He had to force Liverpool's hand, especially after the club rejected two bids from the Spanish giants.
Then again, the idea that Coutinho is selfish would not be squashed by that logic, considering that shows the player is thinking for himself. That being said, it is worth remembering where exactly Coutinho wants to go. His intention is to join Barcelona, a club that regularly wins domestic cups, fairly recently won the Champions League and consistently performs at a high level in European competitions, and boasts one of the best players to ever play the game in Lionel Messi.
Now, one could just throw around Liverpool's accomplishments and argue that it, too, is a club worth playing for. To play for Liverpool, a challenger for the top spots in what is perhaps the most competitive league in the world, is no small thing. At this point in time, though, Liverpool does not compare to Barcelona, where the possibility exists to be on one of the greatest teams in the world. When a club of that stature wants you, it's a high compliment. Why would he not want that for himself?
Liverpool legend Steven Gerrard stepped in to challenge the idea of Coutinho being selfish, though he did not make life easier for him. In his role as a pundit on BT Sport over the weekend, he said, "I know the kid, I know he's not a bad person, I know he doesn't want to cause a war to come out." Such a nice person then, Gerrard suggested, should be loyal to the club. "You remember he was struggling at Inter Milan. We gave him the chance, we built this player up. The least he can do is give the club another year."
Gerrard eventually compared Coutinho to Luis Suarez, the last star player to leave Liverpool, coincidentally also for Barcelona. Gerrard forces the comparison: the perception of loyalty they should have to the club. Gerrard noted that he was able to convince Suarez to stay after Arsenal bid for him in 2013, the summer before he left for Barcelona, because he might ruin his relationship with the Liverpool fans. At this point, it is clear that Gerrard is using Suarez as an example that Coutinho should follow, as he said that he told Suarez, "The fans will understand if you give them another year and then Barcelona come." Perhaps that is why, by the time Barcelona came for the forward, the transfer was met with limited animosity.
In general, there are not too many similarities between the two players, though. Suarez obviously had a much different reputation than Coutinho did; the Uruguayan had left Liverpool after publicly biting an opponent for the third time, a massive suspension for racially abusing Patrice Evra, and other offenses that made him the bad guy in the Premier League for a few years. As literally everyone insists, at least before Friday, Coutinho was quite the opposite character.
What also separates the two is the loyalty the club has had for them. While Gerrard demanded loyalty out of Suarez, that did come after many remained loyal towards him. It's hard to forget how Liverpool stood behind Suarez after his eight-match suspension for the aforementioned racist incident by donning T-shirts in support of their man during warm-ups, two years before Arsenal made an attempt to sign him. Coutinho has not been in a similar situation, but clearly, he has not been extended a similar sort of support, even though it should be much easier to back him than Suarez.
The media, of course, also zeroed in on Suarez to the point where he was the resident Premier League villain until he left in the summer of 2014. Though the argument could be made that a reputation as a biter and a racist never really stuck, as he got a dream move to Barcelona anyway.
Other than Gerrard's comments, Suarez's name hasn't really been dragged into the Coutinho drama. Yet, Coutinho has been treated incredibly harsh for someone who has committed no offense similar to those of Suarez. In fact, as someone who has, per The Times, "proclaimed genuine love for Merseyside," he deserves, at the very least, a little bit of understanding. He has held up his end of the bargain, doing his duty on the field and remaining professional, to the point of being lovable to many, off it.
Perhaps the strong reaction comes because Coutinho is so likable, but as Gerrard put it, "This kid who's come from South America has always had a dream of playing for Barcelona." After everything, has he not earned it?
---
Follow Pardeep on Twitter @PCattry.
WELL, IT DEPENDS ON WHAT YOU MEAN BY "FREE."
Enter your best email for full access to the site.