Russia has shown little interest in addressing the problems of racial abuse and violence in their stadiums as they prepare to host the world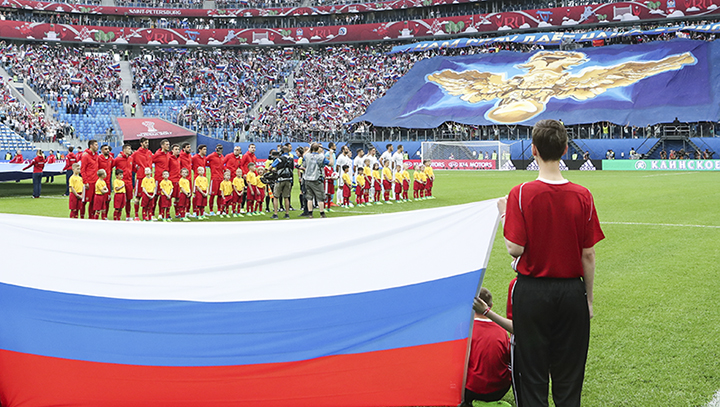 The regularity with which reports citing racism emerge from within Russian football is not only anomalous by comparison to other countries, but also shocking. From chants by fans to on-field altercations, you needn't do much research to find proof of such incidents.
They happen with such frequency that several prominent figures in the world's game have spoken out against it. Manchester City's Yaya Touré chose to speak out against racism in Russian football after he was greeted by vile monkey chants during a Champions League match against CSKA Moscow in 2013. In 2015, former Zenit St. Petersburg striker Hulk said he received racist abuse during every single game. In late September of 2016, FC Rostov fans threw a banana onto the field, where it sat for a full 15 minutes before being removed. Ghanaian midfielder Emmanuel Frimpong and Shanghai SIPG manager André Villas-Boas have also been quite vocal on the subject.
FARE (Football Against Racism in Europe) aided by the Moscow-based SOVA Center for Information and Analysis, reported an astonishing 89 cases of racist displays at football matches around Russia from June 2016 to May 2017. While that number has gone down from the 101 cases in the previous year, the sheer amount of confirmed instances is staggering. FARE's executive director Piara Powar has also said that "incidents could take place" at Russia 2018.
So it's clear there's a problem, right?
Not necessarily. You don't have to focus on how to deal with racist elements in the beautiful game if you simply deny that they exist. Just ask World Cup 2018's anti-racism inspector Alexey Smertin. In 2015, Smertin vehemently denied the existence of racism in Russia. He even went as far as to suggest that the phenomenon was something akin to fashion in the country which, without foreign influence, wouldn't take hold.
Smertin has since updated his comments, admitting that there are elements of racism in Russian supporter culture, though he stresses that they're a minority. Still, the former Chelsea and Portsmouth midfielder's previous opinion seems to echo those of the Russian Football Union, who often dole out weak punishments for racism that seem more for show than anything else.
As punishment for their fans abusing Hulk with monkey chants in 2013, the RFU handed out a $5,050 fine to FC Torpedo Moscow and forced the club to play two matches behind closed doors. Less than a month ago, Spartak Moscow and Dynamo Moscow were sanctioned and fined $4,240 for racist chants and discriminatory gestures, respectively.
Both are laughable punishments. The fines are drops in a bucket, dwarfed by the operating budgets of most professional clubs. If, four years later, a lesser fine is deemed an appropriate punishment for the same infraction, it only illustrates the organization's unwillingness to take definitive action to stamp out racism. If the RFU wanted to seriously curtail such brazen displays, they'd make an example of any club whose fans partook in them.
In September of 2016, FIFA disbanded its anti-racism task force, declaring its work was 'completely fulfilled.' This came at an odd time, as the most pressing need for such a task force could arguably be at world football's governing body's most prestigious tournament, taking place less than 18 months later.
Now, with the 2018 World Cup kickoff less than a year away, and with one million foreigners expected to travel to Russia in order to attend, it's important that anti-racism efforts be taken seriously. Too often, such incidents turn violent. As seen since the start of the Russian Premier League season on July 15th, racist abuse has been accompanied by violence both inside and outside of stadiums. If the organizations tasked with combatting racist and violent displays simply fail to take decisive action, such efforts are futile.
In order to properly respond to extremist elements in Russian supporter culture, the RFU needs to begin doling out harsher punishments. While fines and mandating that matches be played behind closed doors might seem effective, disqualifying teams from a particular competition or forcing a club to forfeit points would result in a stark reassessment of fan behavior. Only after clubs are made to realize that the way to avoid severe penalties is to help eradicate the racist and violent elements in their support groups will we see major changes.
We can ill afford to take the chance that Russia will properly oversee the 2018 World Cup and handling such an event so brashly seems like a dangerous proposition. Racism in Russian football is systemic and a failure to combat it hasn't just perpetuated it—it has emboldened its supporters.
Smertin is confident that the 2017 Confederations Cup, held between June 17 and July 2 during which no racist incidents were recorded, is an example of how well the 2018 World Cup might go. However, while it's the intention of the RFU to implement the same anti-discrimination monitoring system in the Russian Premier League, there have already been such displays in the month since the Confederations Cup.
Are we really to believe that racism will simply disappear come kickoff of the first 2018 World Cup match? You might if you're Alexey Smertin.
---
Follow Amadi on Twitter @amadoit_.
Contributors
Amadi Thiam
TAGS
WELL, IT DEPENDS ON WHAT YOU MEAN BY "FREE."
Enter your best email for full access to the site.