Home
Dirty Tackle
Sheffield Wednesday manager crumples £20 note to prove point about his team
Sheffield Wednesday manager crumples £20 note to prove point about his team
September 27, 2017
A good press conference always incorporates props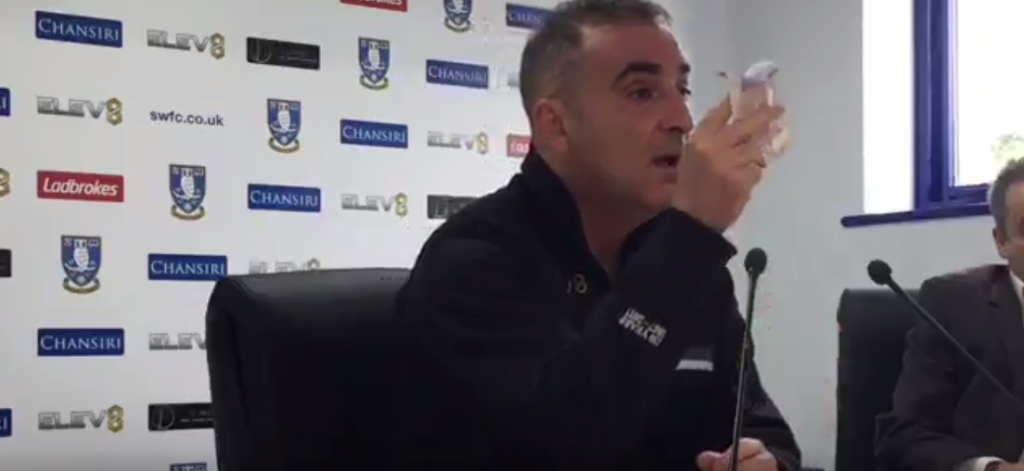 The Premier League has had many masters of the press conference of the years, but it's a Championship manager who has taken this art to a new level. Following a 4-2 loss to local rivals Sheffield United—the latest disappointing result in a troubled start to the season—Sheffield Wednesday manager Carlos Carvalhal fished a £20 note out of his pocket during his press conference to prove a point about how the value of his team remains the same despite the beatings they've taken.
Here's Carvalhal screwing up a £20 note to show that the value remains the same despite a battering #swfc pic.twitter.com/lxUbm24vT8

— Chris Holt (@HoltChris) September 26, 2017
He balled it up, he pounded it against the table and, though it likely wasn't his intention, he taunted a roomful of journalists awaiting redundancy via inevitable pivots to video. It was a masterclass in proving a point memorably, succinctly, and assertively.
After seeing this, Jose Mourinho will likely show up to his next press conference like Carrot Top with a trunk filled with props.
---
Follow Brooks on Twitter @BrooksDT. 
Contributors
Howler
TAGS
WELL, IT DEPENDS ON WHAT YOU MEAN BY "FREE."
Enter your best email for full access to the site.