We are going to be doing this until the end of time, so you might as well come to terms with it.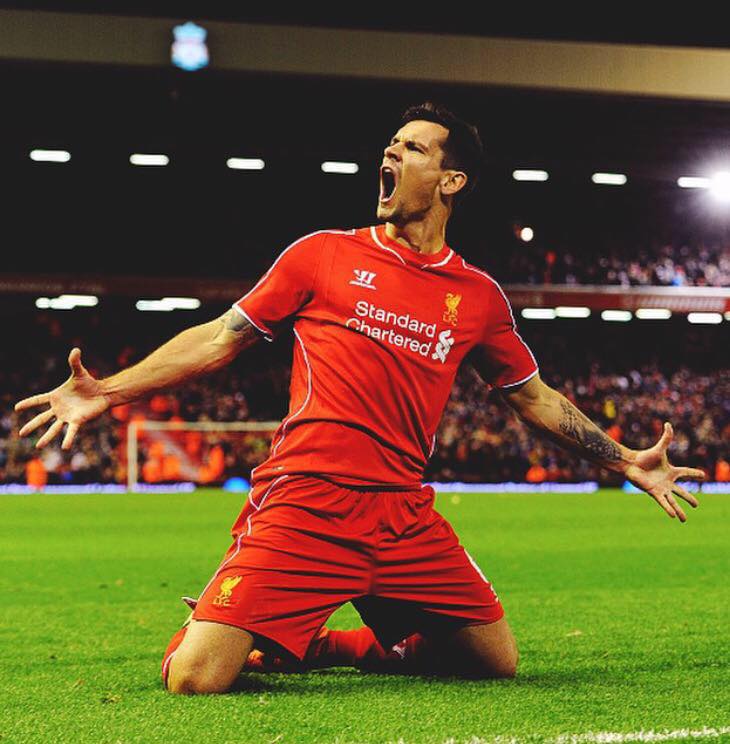 If I told you that Dejan Lovren, the evergreen punchline at the heart of Liverpool's defense, was 30, would you think twice about it? What about 31? 33?
Lovren is actually 28 and just a handful of games into his fourth seasons with the club, but never mind: it sure feels like he's had the full career of a bumbling defender in that time, like the slog through each lapse and its attendant news cycle has caused us all to age a decade with him. Having lived through this exact story so many times, how can any of us remember that Dejan Lovren had a full life before coming to Liverpool? How, for that matter, could he?
The latest installment of Lovren's defensive groundhog day came in the Merseyside Derby, which is to say that it naturally came in the most recent match he played. Liverpool was up 1-0 in the 77th minute when Lovren took it upon himself to delicately shove Dominic Calvert-Lewin in the back. Penalty. Those deeply invested in mitigation can note that it was hardly the most violent of shoves, but the rest of us can rightly shrug as if to say "so these things go." The ghost of Wayne Rooney scored the penalty, and Liverpool went on to draw a match where it had 79% possession and had limited Everton to a solitary shot on target and corner. This is how another week of What's The Matter With Dejan Lovren? begins.
(A brief digression: Dejan Lovren was agreed upon as a subject days before the Merseyside Derby, but your trusted correspondent knew to wait before writing the lede because Dejan Lovren's one of life's few inevitabilities. I empathize with the guy, but that doesn't mean I can't see what's coming.)
The various explanations for Liverpool and Lovren's travails have by this point been endlessly rehashed. Jürgen Klopp's Liverpool, 'tactically minded' columnists keep bleating, plays a system that leaves center backs exposed. Lovren's manager, some of have noted, improves many of his charges but not central defenders; Klopp's best years at Borussia Dortmund came when Mats Hummels and Neven Subotic could be fielded in most matches and the manager was free to worry about other things. Lovren is not ELITE. The triumvirate of Lovren, Simon Mignolet, and whatever other warm body Liverpool trods out to patrol the penalty box lacks leadership. (I'm pretty sure that one means they're foreign, but that's also a decent null hypothesis for Premier League punditry.) Something about Virgil van Dijk, I guess.
Some combination of those theories probably accounts for the Dejan Lovren experience, but none of them can fully express its tragic quality. He was a promising if not great young center back at Lyon, where he vied for playing time with octogenarian Cris, Jean-Alain Boumsong and Bakary Koné. Then came one good season at Southampton followed by the obligatory transfer to Liverpool. Hard as it may now be to believe, Dejan Lovren seemed to have a bright future ahead of him in the summer of 2014. Where, then, did it all go wrong?
What if it didn't? Internationals of Lovren's pedigree are expected to make a leap around 25, but most don't. They remain basically good, but must live with the question of what might have been. So it is with Lovren, who has been good enough to stay in the Liverpool starting XI but not good enough to fix all of its problems. He has not been helped by systems or coaching or teammates in this regard, but would that really change the player we know Dejan Lovren to be?
For all the rending about Dejan Lovren, Liverpool's defense is basically okay. It conceded a non-absurd 42 goals in 38 Premier League matches last year—three more than Manchester City, two fewer than Arsenal—and six goals in its last 10 matches. These are not title-winning numbers, but this isn't really a title-winning side. At its core, the criticism of Lovren and Liverpool is primarily aesthetic: they may not give up hundreds of goals, but those they do concede tend to be of the slow-motion car crash variety. In three-and-change years at Liverpool, the Lovren-led backline has indeed amassed a remarkable collection of soft pushes and missed set pieces.
The category confusion between an aesthetic failure of a defense and a genuinely bad one has made it hard to talk about what's actually happening at Liverpool. Defensively minded sides like Claude Puel's Southampton or Sean Dyche's Burnley in 2016-17 were praised for solidity while leaking more goals. The main difference, beyond salary bills, is that they tended to concede in boring fashion. A Burnley concession, like everything Burnley does, is a fundamentally boring occasion. A Liverpool concession, on the other hand, combines good intentions and unfortunate timing in a manner more commonly associated with romantic comedies. The persistence of this pattern has added a comedic inevitability to this tableau: don't open that closet, Fibber McGee! There is catharsis in saying that Lovren and Liverpool have goofed again but very little explanatory power.
Amidst this defensive churn, Dejan Lovren has been a rare constant for Liverpool. He's been there as Jurgen Klopp waffled between Simon Mignolet and Loris Karius. He's outlasted Martin Skrtel and Mamadou Sakho—the latter somewhat unfairly, granted. He's put up with Liverpool's bargain basement churn of center backs like Joel Matip and Ragnar Klavan. Conversely, most of those players have escaped with less blame for Liverpool's defensive frailties in large part by not being trusted to be on the pitch as often. Dejan Lovren is the survivor in Liverpool's defense and is being repeatedly punished for the feat. You can see the wear on Dejan Lovren his face, which has come to rival Eli Manning's in its shell-shocked emptiness. You also hear about it and the many pain injections he now needs to play. Liverpool has transformed Dejan Lovren into a grizzled, imperfect veteran while still in his nominal prime. If I told you Dejan Lovren was 33, you'd at least have to pause before disagreeing.
Liverpool will likely end this season having conceded a thoroughly normal amount of goals of which an extremely high proportion of them will have been a little silly. Dejan Lovren will likely have been involved in most of the silliness and been on the pitch for nearly all of it. We will trod out the same questions about tactics and personnel. Maybe Liverpool will finally sign Virgil van Dijk and maybe the club won't. Like Dejan Lovren, we are all aging and football is grinding us to dust.
---
Follow David on Twitter @DavidSRudin. 
Contributors
Howler
TAGS
WELL, IT DEPENDS ON WHAT YOU MEAN BY "FREE."
Enter your best email for full access to the site.