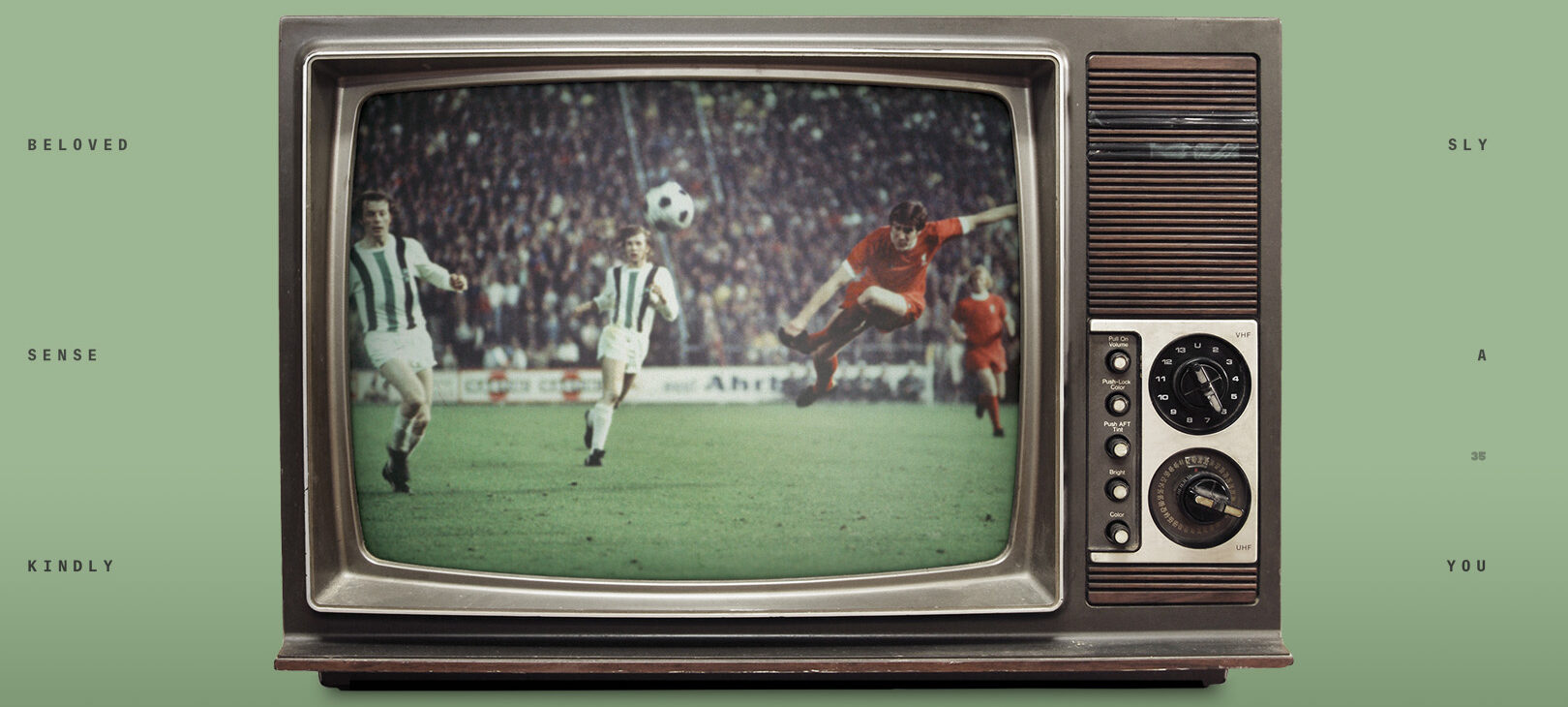 Soccer Made in Germany
November 11, 2021
When Your Deity is a Gentle, Beloved Welshman with a Sly Sense of Humor and a Kindly Voice and He Invites You for a Pint.
OK—we know "Soccer Made in Germany" is old. But everything's old. That doesn't mean it wasn't awesome. For a few years in the '70s and '80s, the PBS show was a tether from America to the soccer world, and its voices—one of which belonged to Toby Charles—were witty, avuncular, wise guides to a place where football was, well, life. A young Seattlite named John Briggs went to that place, and he found that voice.
---
When I first tuned into a "Soccer Made in Germany" broadcast on that Sunday in 1976, I was immediately hooked.
The level of play in the Bundesliga was higher than what I was used to watching in the North American Soccer League. I was entranced by the intricate passing German teams used to work the ball up the field. But the best feature of "Soccer Made in Germany" by far was the announcer, Toby Charles. First, he had such a great voice, with just a hint of a Welsh accent. Second, his enthusiasm for the Bundesliga and its teams was captivating. Teams with intriguing names like 1. F.C. Köln, Werder Bremen and what I always assumed was Charles's favorite, Borussia Mönchengladbach. It was impossible for me to listen to his commentary and not become entranced with the action. Charles's phrases during his commentary became legendary with me and my friends who soon became huge fans of "Soccer Made in Germany": "Won't get another bite at that golden apple" lingers in the memory even now.
Monday lunches at Highline High School in Seattle, my friends and I discussed the game we had seen the day before on KCTS. We debated the virtues of Bayern's Franz Beckenbauer, Paul Breitner and Uli Hoeness as opposed to Mönchengladbach's Berti Vogts, Gunter Netzer and Jupp Heynckes. Bayern and "Gladbach" were often featured on "Soccer Made in Germany" because these two teams pretty much ruled the Bundesliga during the '70s; Bayern won four league championships while Gladbach hoisted the Meisterschale five times.
But just as often, we discussed Toby Charles' commentary. His repertoire of phrases to describe became legendary with my group of friends. Two of his phrases still amuse me. If Berti Vogts blasted a shot that flew so far above and to the side the goal that Sepp Meyer didn't bother moving, Charles would comment that the shot was "High, wide and not very handsome!" However, if Gunter Netzer blasted a shot off the crossbar or either post, Toby Charles would invariably say "It's goals that count and nothing else. Ya don't get anything for banging the woodwork!" From 1976 on, it was a rare Sunday that I didn't watch "Soccer Made in Germany." At the end of each show, the production company logo would appear: TransTel, Cologne.
The first time I encountered a proper football I was fifteen years old. I had played with the oblong six-panel brown ones since I was a nipper, but it wasn't until I was a high school sophomore that I began playing with a round football. I haven't stopped playing with proper footballs since—and on a clear day I can easily see my sixtieth birthday.
Before I began playing soccer in high school, I had tried my hand at plenty of sports. I played Little League baseball, being relegated to the outfield where the coach properly concluded I could do the least damage to our chances of winning. I also played midget ice hockey, which was apt since until I was fifteen I didn't exceed five feet in height. In junior high I ran track and wrestled in the 95-pound weight class. When I spoke to the basketball coach about trying out for the team, he grimaced in a kindly way. So, from about age twelve until age fifteen, I didn't participate in any team sports. It was my "Loneliness of the Long-Distance Runner" phase. Thankfully, it didn't last.
I grew up in Burien, Washington, a suburb eleven miles to the south of Seattle. I attended Highline High School, a bit of a ruin of a building constructed in 1924. Sometime in my sophomore year, I heard that they would soon be offering a new intramural sport, soccer. So on the appointed day sometime in 1975, I turned up at the stadium behind the school and kicked my first proper football. I was hooked.
The timing of my conversion was fortuitous, because at the same time Seattle was being swept by its first round of soccer fever. On May 4, 1974, the Seattle Sounders played their first game in the North American Soccer League against the Denver Dynamos—and it was love at first sight. With coach John Best at the helm, Jimmy Gabriel, Pepe Fernandez, Dave Gillett, Barry Watling and the rest of the Sounders beat the Dynamos 4-1 in front of a over 12,000 Sounders supporters at the decrepit Memorial Stadium at the Seattle Center. That summer, the Sounders became the first American soccer team to sell out their stadium. The Sounders ended the year with a 10-7-3 record and keeper Watling allowed a miniscule 0.80 goals against average and deservedly won Goalkeeper of the Year honors.
Attending a Sounders game at Memorial Stadium was a rather strange experience for several reasons.
First, half the spectators seemed to have only a nodding acquaintance with the rules, which often led them to direct torrents of abuse at the referee for completely illegitimate reasons. Second, the "turf" was worn-out AstroTurf and was appalling; it never once gave the players any favors when it came to ball control. Finally, since the field was sized and lined for American football, the "Beautiful Game" was often in short supply. But I loved the Sounders nonetheless—and I didn't really know the difference anyway.
While Sounders games were great to attend, I wanted to watch more soccer. Unfortunately, at that time trying to find soccer games on TV was a fool's errand. Try as I might, the best I could find was the odd scratchy highlight from a BBC "Match of the Day" rebroadcast on ABC's Wide World of Sports. I was distraught and discouraged. Again, the Gods of Football, actually one God in particular, answered my proper football prayers.
In 1976, I heard from some of my intramural teammates that there was a new soccer show broadcast Sunday afternoons on Seattle's public broadcasting station, KCTS. They told me the name of the show was "Soccer Made in Germany." I was a bit disappointed since for me English football was the gold standard. But it was soccer, on the television, on a weekly basis, so I was thrilled. As a subsidiary benefit, I thought by watching Bundesliga games and listening to the German announcers' play-by-play, might allow me to improve my budding German language skills. Little did I know.
"It's goals that count and nothing else.
Ya don't get anything for banging the woodwork!"
During my third year in college, I made the decision to study abroad for two quarters. I was attending the University of Washington and they offered numerous study locations in Europe. I wanted to go to school in England since members of my family lived there. I got sent to London for Winter quarter. I also decided to go to school in West Germany for the Spring quarter to work on my German language skills. I got sent to Cologne. I knew what I had to do. I had to meet Toby Charles.
Within a week of arriving in Cologne in 1982, I called the TransTel Studio and asked if it might be possible to meet Toby Charles. The receptionist said that shouldn't be a problem in the least. On the appointed day and time, I took the subway to TransTel. After a brief delay, Toby Charles walked into the room. A big fella, his hand enveloped mine with his handshake. I told him how important he was to soccer fans in the U.S in general and to me and my friends in particular. Charles downplayed his importance but I assured him he was mistaken. After a brief conversation, he told me that he was about to tape an episode of "Soccer Made in Germany," and asked me if I would like to watch him record the show. I couldn't believe my luck.
Once in the TransTel building, Charles showed me into a studio. He went into the recording booth, donned a set of headphones, and began speaking into a microphone. Within a few moments, he had me mesmerized as usual as he described the action on the pitch. At half-time, Charles emerged from the booth and said that after the show was over, we would head out for a pint. Unbelievable.
As the tape of the second half began, Charles saddled up to the mike. The first words out of Charles' mouth absolutely floored me. He told his audience that today he had with him a big fan of the Seattle Sounders. He went on to say something along the lines of the following: "And I want the mates of John Briggs to know he is with me today watching the game and he sends you his best." You could have shoved me in front of a bus, and I would have been fine with my fate. After the show, Charles and I went for a pint he promised me. A pint with Toby Charles.
During my time in Cologne, I went to watch the rugby team that Charles coached on several occasions. He was always gracious and humorous and a complete gentleman.
I write these words while watching soccer on Fox in the States. We have plenty of soccer in TV in America now, but the Fox announcers have no chance of impressing me. None whatsoever. Toby Charles describing the Spanish midfield—that would be nirvana.
Contributors
John Briggs
John Briggs lives in Seattle and is the author of Simply America, which urges Americans to support other Americans by purchasing the products they make.
TAGS
WELL, IT DEPENDS ON WHAT YOU MEAN BY "FREE."
Enter your best email for full access to the site.