A major investment that could have a big impact on the expansion of youth soccer in America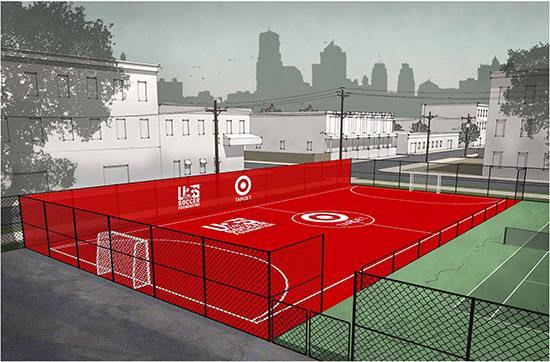 When Target decided that it would end its 16-year NASCAR sponsorship of Chip Ganassi Racing and announced that it would be shifting its focus to soccer, there were probably more than a few people left scratching their heads. NASCAR is immensely popular in the United States—as it's been for some time—while soccer has been steadily gaining in popularity year by year. But while it's become more desirable in America, it hasn't become more accessible to all Americans.
Though the Minneapolis-based brand had already contributed $75,000 to the U.S. Soccer Foundation in January, while also becoming a partner of Major League Soccer and the jersey sponsor of Minnesota United FC, Target's recent decision to invest $14 million in American youth soccer speaks volumes about where they feel the sport is headed in the United States. Of the $14 million Target has committed, $8 million will go towards local grant programs and $6 million will go to the Soccer Foundation's Safe Places to Play initiative to "build 100 new soccer play spaces by 2020."
Soccer occupies a unique space in most societies in that access to the game is rarely limited by socioeconomic status. In fact, many would argue that it's the sport for the underprivileged. How many times have we heard stories about players hailing from impoverished areas, growing up playing barefoot in the streets, eventually rising so dramatically in stature that throngs of people purchase jerseys bearing their names even decades after they've retired from the game? Pelé, Ronaldinho, Hagi, Eusebio, Drogba—the list goes on.
While a similar opportunity is offered by the NFL and the NBA —each has been an avenue to success for young men with immense talent, yet burdened by the realities of their place within the hierarchal structure of American society—MLS is different.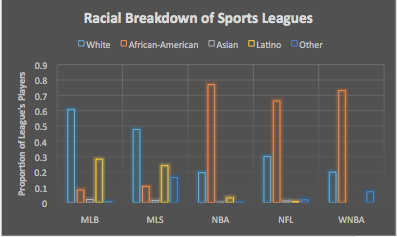 According to the United States Census Bureau, almost 25% of African Americans and 21% of Hispanics live in poverty while only 10% of whites do. It's understandable that youth who grow up in poverty see a career as a professional athlete to be a realistic way of improving their lives. Over 65% of players in the NFL and 75% of players in the NBA are African-American, according to a 2014 study by Harvard Sport Analysis. As almost 50% of its players are white, MLS boasts the most diverse league in American sport. So why aren't more people from the most underserved communities a predominant demographic in America's premier soccer league? 
Soccer has yet to become the sport of the underprivileged in America because of the nature of our youth soccer setup. In an article for the Guardian last year, Les Carpenter suggested that soccer in America is limited to the wealthy who can afford the often outrageous costs of the pay-to-play system. This system, according to journalist Roger Bennett and professor George Kaplan, has resulted in American soccer players being predominantly white and hailing from high income families.
Comparing the backgrounds of each US men's national team member from 1993 to 2013 against NFL Pro Bowlers and NBA All-Stars, Bennett and Kaplan ran a study which determined that the US soccer players were from communities which were whiter than the national average. The NFL and NBA players were from communities which were less racially homogenous, on average, on the same scale.
United States youth soccer programs are drawing in a wealthier demographic of athletes, which has resulted in a failure to cultivate arguably America's biggest and brightest talent pools. Since soccer is a sport that doesn't naturally exclude the underprivileged, as other sports with higher equipment costs can, it makes sense that the USSF would want to focus more of their efforts on discovering and nurturing talented young players from underserved communities across the country.
The United States Soccer Foundation, formed in 1991 with the purpose of assuming the net assets of World Cup 1994, is now tasked with creating 'a permanent legacy for soccer in the United States through the funding of projects designated for long-term growth of the game.' The Foundation places special emphasis on disadvantaged communities across the country where it looks to 'enhance, assist and grow the sport of soccer.'
Clearly, the partnership with Target is a win-win. Contributing to the Foundation's Safe Places to Play initiative in the country's most in-demand cities will undoubtedly be a smart decision that would further the Foundation's mission while benefitting the communities in which they are built. Target's investment may also lead to more corporations deciding to bet on the success of US soccer. Most importantly, we may finally see American soccer become accessible to a more diverse group of kids who love the game.
---
Follow Amadi on Twitter @amadoit_.
Contributors
Amadi Thiam
TAGS
WELL, IT DEPENDS ON WHAT YOU MEAN BY "FREE."
Enter your best email for full access to the site.