A peek at the private communications of Spurs chairman Daniel Levy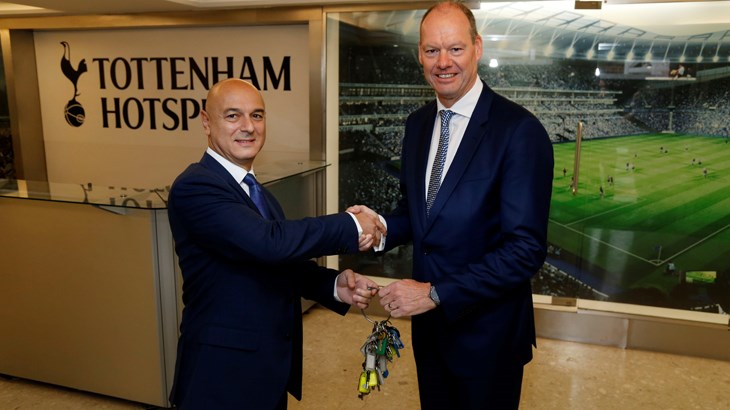 Real Madrid president Florentino Pérez recently revealed Tottenham Hotspur chairman Daniel Levy texts him something to the effect of "Congratulations for winning with my players" whenever Real Madrid wins the Champions League. The story, related in an interview with Spain's premier radio network La Cadena SER, was thought to be in jest. That was until approximately 13.4 million confidential electronic documents relating to offshore investments were leaked to German newspaper Suddeutsche Zeitung and, in turn, the International Consortium of International Journalists. The "Paradise Papers," as they are called, contain the names of more than 120,000 people and companies in 20 countries. The following, communications between Levy and various figures in the soccer world, has been shared with Howler.
Mauricio Pochettino: 😉
Daniel Levy: yes and?
Levy (to Gareth Bale): when r u gonna get a decent haircut?
Lord Sugar: new stadium's a bit tacky innit
Joe Lewis: piss off
Levy: jog on
Levy (ArsenalFanTV Comments): Is that ur analysis?
Levy: bloody ingrates
Michael Emenalo: U got Signal?
Levy: u sure abt this?
Ledley King: ?
Peter Crouch: Wagwan massive?
Levy: How do you always get my number?
Levy: most consistently over-performing lol
Ivan Gazidis: Piss off
Levy: glad ur law degree isn't going to waste
Pochettino: Seriously.
Levy: what?
Levy (to Son Heung-min): Rome is lovely this time of year
Harry Redknapp: Southgate's a knob
Levy: the FA will panic & call u soon
Redknapp: sounds familiar
Levy: FFS
Tim Sherwood: We could've been a contender
Levy: U up?
Eric Dier: GBBO
Aurelio De Laurentiis: we've got them by the balls now, the slippery bastards
Levy: Juve still looking a team tho
De Laurentiis: I meant the FIGC
Levy: fucking hell
Darren Eales: surprised as u r
Levy: of all places? Atlanta?
Eales: ¯\_(ツ)_/¯
Levy: bloody ingrates
Emenalo: U got Signal?
Levy: A tenner and not a pence more
Hugo Lloris: I told you I don't know
Levy: Est-ce que t'es sûr fils de pute?
Lloris: Portuguese is a steal in the market at £15. Douros, no Vinhos Verde.
Levy: That's what I thought capitaine
Pochettino: Why not?
Levy: whyy?
Levy: when is Gareth gonna get a decent haircut?
Luka Modric: he doesn't listen
Levy (to Dele): where's our handshake?
Levy: Ur tattoos r ugly
Kyle Walker-Peters: it's KWP
Levy: i kno duh
Levy: hang in there
Josep Maria Bartomeu: much appreciated
Levy: bloody ingrates
Levy (to Christian Eriksen): Is ur middle name really Dannemann?
Danny Rose: You know what I want
Levy: who dis?
Levy: Gulati's a knob
Jürgen Klinsmann: Lol
Levy: hang in there
Roger Goodell: Much appreciated
Levy: such shame
Jerry Jones: gonna gut him like a sunday hog
Levy: when it's your time to go, it's your time to go
Levy (to José Mourinho): Paris is lovely this time of year.
Levy: in thru the nose
Harry Kane: Please stop.
Levy: out thru the mouth
Kobe Bryant: You don't have to be right when everyone else is wrong
Levy: ?  mentality
Levy: enjoy the international break?
Toby Alderweireld: 😉
Jan Vertonghen: Barcelona is lovely this time of year
Lord Sugar: Should've been in for Naby Keita
Joe Lewis: U got Naby Keita £?
Levy: Broke boi
---
Follow Mapate on Twitter @atMapate.
Contributors
Mapate Diop
TAGS
WELL, IT DEPENDS ON WHAT YOU MEAN BY "FREE."
Enter your best email for full access to the site.